North Carolina Daycare Employees Fired For Taping Shoes to Children's Feet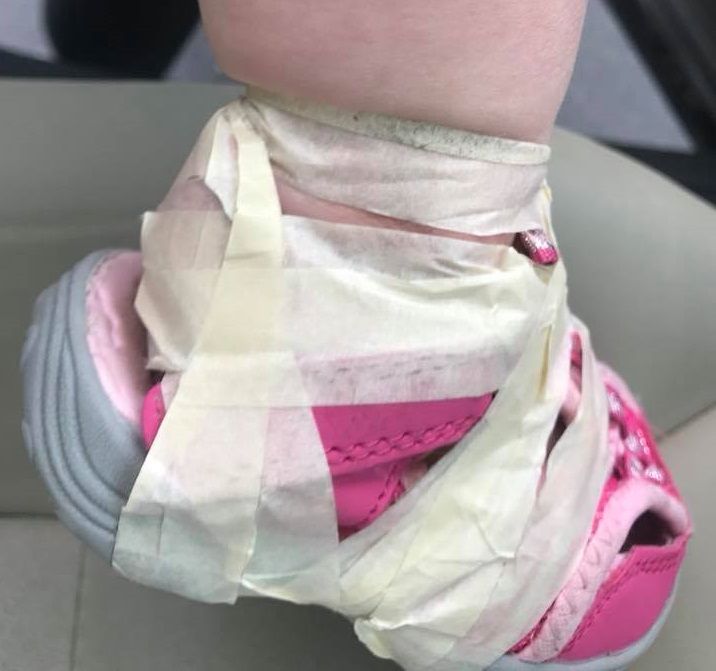 Two employees at a daycare in North Carolina have been fired after being accused of injuring a child by taping shoes to her feet.
Jessica Hayes posted photos to Facebook on May 16 of her 17-month-old daughter with her shoes taped on, along with pictures showing her daughter's swollen and bruised feet.
"Does anyone see an issue with this? And am I the only one?" Hayes wrote in the photo caption.
In a follow up post, Hayes accused workers at the Pleasant Hill Baptist Church Day Care in Elkin, North Carolina, of taping her daughter's shoes on.
"I am upset that this happened to my child as someone was clearly upset that she was learning [to] take her shoes off and done it out of being aggravated. This was also not just her shoes being taped up it was around her ankle," she wrote.
"Yes it does hurt and break trust when you put that trust into two individuals who have been with my daughter since she was 6 weeks old, and come in to her shoes being taped on to her as well as her ankles. This was left on long enough and tight enough to leave marks, cause swelling, and bruise."
Hayes added she went to Maehsell Marley, the daycare's director, who said he was "speechless" at the situation.
In a statement to WXII, Marley confirmed that two employees have since been fired.
"Pleasant Hill Day Care in no way condones or allows any practice that would be harmful to a child," Marley said. "We have an outstanding group of caregivers who strive to meet the highest of expectations on a daily basis for the children in our care, and what occurred in the shoe-taping incident is not a representation of who we are."
According to WXII, a second child also had her shoes taped on around the same time.
Hayes confirmed she has kept her daughter at the daycare for the time being, but will soon be taking her out because of the lack of support she has received from other parents since uploading the photos.
"I have felt very welcomed by the director of the daycare but as for all the stares and bad looks I get from the parents with my child beside me, how immature and disrespectful can you be?" she wrote.
"My child and I have never felt so unwelcome by 'Christian people' and this will be the reason my child gets removed once opportunity arises."