North Carolina Domino's Worker Who Typed N-Word on Order Fired, Says He Didn't Understand Customer's Name
A North Carolina Domino's employee was fired after a customer came to pick up her order and saw a racial slur on the order board in place of her name.
Myasia Nelson told WFMY that she placed a carry-out order for two pizzas and a side of wings at a Domino's in Burlington, North Carolina, on Monday night. When she was waiting for the food to be ready, she noticed on the order board that instead of her name, the n-word, spelled "NIGA," was displayed.
The employee, who has not been named, told his supervisor, Junior Snyder, that there was no ill intent in the word he chose. He claimed that he simply couldn't understand what she was saying. Snyder explained that the employee recounted the story to him and since he didn't know how to spell her name, he just typed anything in to the order system.
However, Nelson wasn't convinced it was a simple mistake. She claimed she was only asked to give her name once and Myasia, which is the name she gave the employee for the order, sounds nothing like the word he chose.
"Racial discrimination. That's what I feel like it is because if it were anyone else they would have never done that," Nelson told WFMY.
By Tuesday, Snyder had fired the employee because regardless of whether the incident was a mistake, he explained to WFMY that what happened doesn't reflect the company's values.
"You can't work for your company," Snyder said he told the employee. "We're not like that."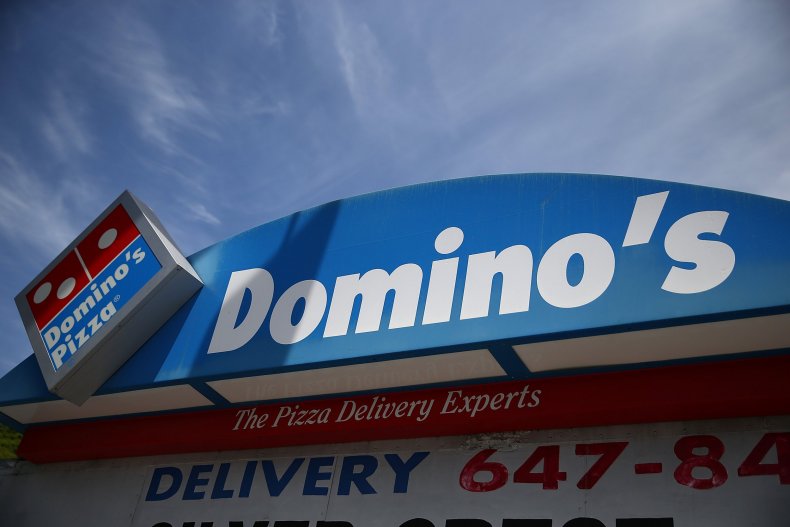 Although the Burlington Domino's is an independent franchise, corporate fully supported Snyder's decision to fire the employee and commended him for doing it immediately after he was made aware of what transpired.
"As you might expect, this behavior is repulsive and intolerable and has no place in our brand," Domino's told Newsweek. "There are more than 15,000 Domino's units in 90 countries around the world – we are a diverse, inclusive brand and there is no tolerance for that behavior."
Snyder apologized to Nelson and he explained to WFMY that moving forward, all he can do is ensure it doesn't happen again, train employees and "make sure everyone understands we don't tolerate this."
Aside from the anger that Nelson felt on behalf of herself, the experience took on a deeper meaning when she viewed it through the lens of being a mother.
"I don't want my daughter growing up being called the words that they wrote about me or being called any type of name," she told WFMY.
Domino's also offered Nelson a $50 gift card, but she refused it on the basis that $50 is not worth what she had to endure.