North Carolina Father Severely Beats Man Allegedly Found Molesting His Two Children, Escapes Charges
A North Carolina father will not face any charges after he allegedly attacked a man he found inside his young children's bedroom naked from the waist down.
Mark Stanley, 60, of Burlington, North Carolina, was arrested on suspicion of two counts of indecent liberties and one count of domestic assault following an alleged incident involving the children whom he is related to.
According to the Spotsylvania Sheriff's Office, Stanley was visiting relatives over the festive period at an address in 6800 block of Luce Lane in Spotsylvania County. In the early hours of December 29, officers responded to a disturbance at the house and were met with a "chaotic scene" upon arrival.
Deputies said they found Stanley with severe facial injuries at the address. After entering the home, they also found another male holding a handgun and quickly approaching the 60-year-old suspect.
The deputies on scene soon managed to persuade the father to drop the firearm.
Sheriff's Captain Liz Scott told the Fredericksburg Free Lance-Starthat she believes the deputies saved the suspect's life by persuading the father to drop his weapon.
Police said that during Stanley's stay at the house, the father—who has not been named—went to check on his children aged two and three years old.
When he opened the door, he found Stanley in the room with the children nude from the waist down allegedly molesting the children.
"It was an absolutely horrible incident," Scott told the Fredericksburg Free Lance-Star.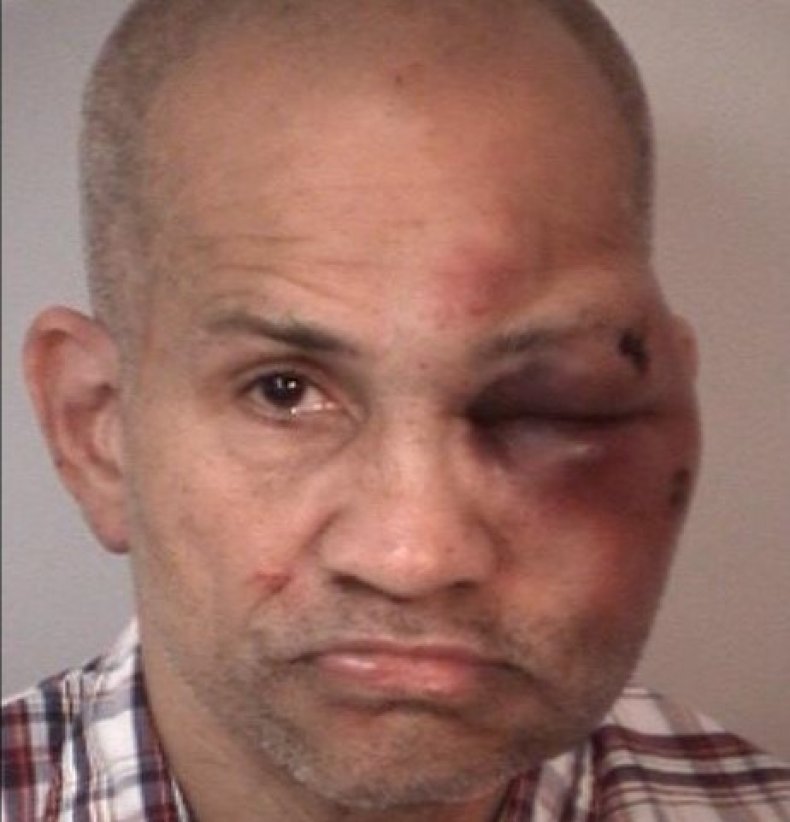 When the father asked Stanley what he was doing, the suspect pushed the father out of the room and then locked the door.
The father forced his way into the room and began beating Stanley.
According to the Fredericksburg Free Lance-Star, a county dispatcher heard loud screaming in the background when someone inside the home called 911. It is not known who called the emergency services.
Stanley was transported to a local hospital. The Spotsylvania Sheriff's Office posted Stanley's mugshot onto social media following his arrest, showing the extent of the injuries to his face.
He was later charged and taken to Rappahannock Regional Jail under no bond.
"Additional charges may be brought against Mr Stanley as the investigation continues," the Spotsylvania Sheriff's Office said in a statement. "No charges were brought against the [father]."
The children were also taken to the hospital to be evaluated. It is not known if they suffered any injuries as a result of the alleged incident.
The Spotsylvania Sheriff's Office has been contacted for further comment.