North Carolina Fears Hurricane Florence May Be Another Floyd, 1999's Deadly Disaster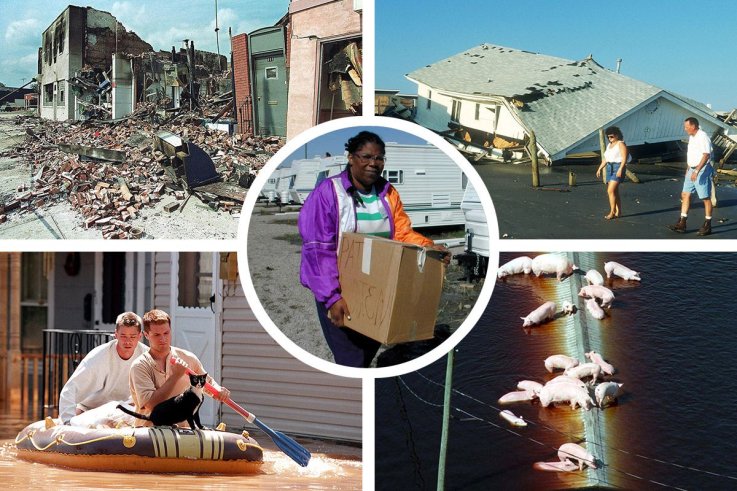 Hurricane Florence, a Category 4 storm with winds of 130 miles per hour, is expected to make landfall on Friday, bringing heavy, sustained rain and potentially deadly flooding to the U.S. Southeast coast. Some 1 million people have been ordered to evacuate. Many in North Carolina are fearful that this storm may turn out to be a repeat of 1999's Hurricane Floyd.
Floyd had weakened to a Category 2 storm by the time it hit North Carolina, but it dumped torrential rainfall that caused flooding that lasted for weeks. The storm's path also took it across the Bahamas, Virginia and New Jersey. The storm and its associated flooding left 57 people dead and caused $6.5 billion in damage.
Rivers in the eastern part of the state exceeded 500-year flooding records, killing hundreds of thousands of poultry and pigs and contaminating waterways with animal carcasses and manure. The shocking photos in this slideshow show the impact of flooding in North Carolina as well as New Jersey and Virginia.
Nearly 20 years later, farmers are rushing to harvest corn and tobacco, stock up on pig rations and reduce levels of liquid manure in outdoor storage pits, while the danger of deadly flooding threatens a state where millions of farm animals are housed.
North Carolina is the country's leading producer of tobacco, second-biggest producer of hogs and a major poultry producer. The state has 8.9 million swine, 12 percent of the U.S. herd. Its crops include corn, soy and cotton, making agriculture the state's No. 1 industry, valued at $87 billion.
The latest forecasts show Florence lingering near the coast, bringing days of heavy rains that could bring intense inland flooding from South Carolina to Virginia. Some areas could see as much as 40 inches of rain.
"This storm is big and it's vicious," North Carolina Governor Roy Cooper said on NBC's "Today" Show on Wednesday. "Flooding is a significant risk here and often when there is flooding the people who can afford it the least get hit the most."
The last hurricane rated a Category 4 on the five-step Saffir-Simpson to plow directly into North Carolina was Hazel in 1954, a devastating storm that killed 19 people.
— Reuters.