North, South Carolina Flooding: Images of Flash Flooding and Destruction Debris in Lake Wylie, Catawba
Flood warnings remain in place for several areas in both North and South Carolina, with record levels of rainfall predicted by the National Weather Service (NWS). Social media users have also shared images of flooding at Lake Wylie Dam, which has closed the Fort Mill Boat access.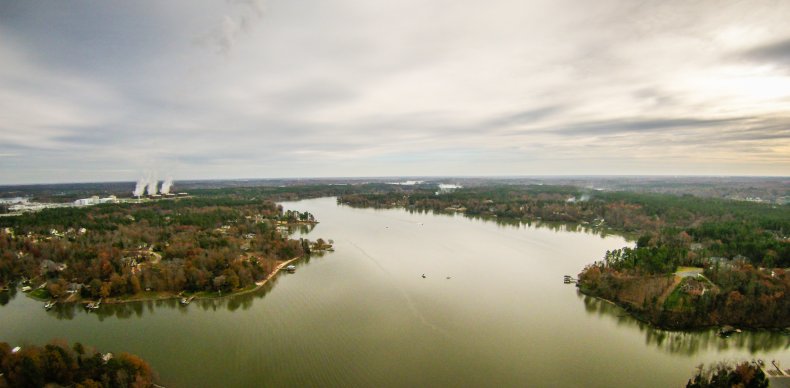 According to NWS, northeastern Catawba County, North Carolina, will be subject to flooding due to the rising water levels along the Catawba River and around Lookout Shoals Lake. The alert, which is in effect until 8:15 a.m. ET today, advises that shorelines will remain flooded in parts of the Carpenters Cove Road area, as well as various lake access points and boat ramps.
Flooding will also be seen in areas across western North Carolina, specifically east central McDowell County and west central Burke County. Lake James will see shorelines flooded. According to NWS, Moose Lodge Campground, House Boat Lane and various lake access points and boat ramps will be affected.
The South Fork Catawba River at Lowell will also see flood warnings for Gaston County. Runoff from heavy rain has worked its way further downstream, according to NWS, resulting in the river levels falling slowly. The flood warning is in effect until late tonight, with the flood stage reported at 13.9 feet on Monday evening. According to NWS, floodwaters could approach the Cramerton Fire Department and the parking lot behind the Cramerton Drug Company. The pumping station at Pharr Yarns in McAdenville may also flood, as well as Lakeview Drive and adjacent parking areas for Pharr Yarns.
At Lake Wylie Dam in South Carolina, Twitter users shared posts of debris floating down the river. One user commented: "There's a dock just floating down Lake Wylie river." The York County Sheriff advised people that the Fort Mill boat access would be closed until further notice due to the hazards in the river and the flooding at the dam.
The Oxford Dam is also causing high flow conditions due to releases, contributing to the flooding. Areas such as Riverbend Park and Hafer Road should be on vigilant. Heavy rain over the past week has also affected the reservoir at Lake Wateree, with releases causing the water to rise rapidly on the Wateree River.
Over the weekend, three people died due to flash flooding in Catawba County, North Carolina, when occupants became trapped inside a vehicle as it submerged in several feet of water.
On Sunday, Catawba County commissioners declared a state of emergency on to coordinate recovery after roads were closed by high water. Residents of a Hickory apartment complex were also evacuated to a temporary shelter due to the rising waters. The shelter is situated in the Catawba Valley Community College, which was closed on Monday due to the severe weather conditions. Other schools in the area are also closed to students, with attendance being optional for teachers.
NWS asks residents to avoid the Catawba River, flooded roadways and other low lying areas, as well as obeying all barricades.