As Republican leaders reportedly eye moving their main convention from North Carolina to Florida, both states have seen a spike in new infections of the novel coronavirus in recent days.
The Washington Post reported on Tuesday evening that the Republican National Committee was eyeing Jacksonville, Florida as the tentative new home for its planned August convention, after officials in North Carolina would not promise to allow a packed arena amid the novel coronavirus pandemic. Under the reported plan, Charlotte would still hold the lower-profile meetings of the convention, while Jacksonville would host the main event.
President Donald Trump took aim at North Carolina Governor Roy Cooper, a Democrat, on June 2, suggesting that the convention would need to be moved if the state would not allow a full-scale event to take place amid the pandemic.
"Roy Cooper and his representatives refuse to guarantee that we can have use of the Spectrum Arena - Spend millions of dollars, have everybody arrive, and then tell them they will not be able to gain entry. Governor Cooper is still in Shelter-In-Place Mode, and not allowing us to occupy the arena as originally anticipated and promised," the president tweeted.
"Because of @NC_Governor, we are now forced to seek another State to host the 2020 Republican National Convention," Trump wrote.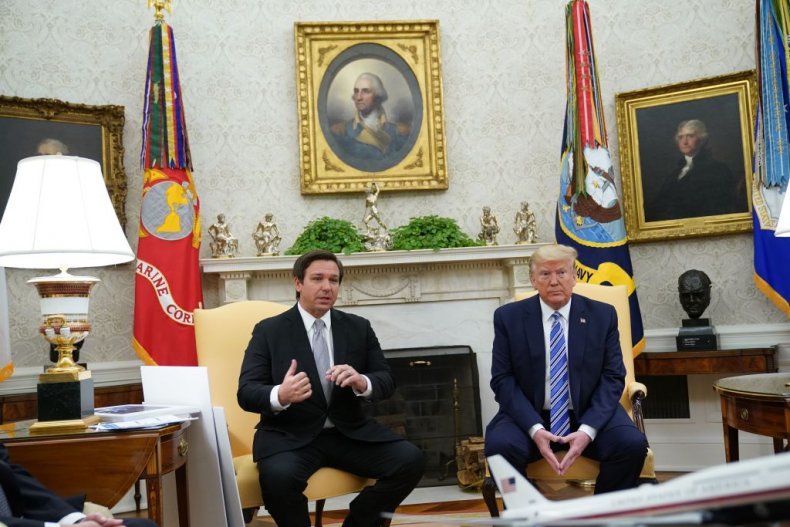 Florida's Governor Ron DeSantis, a Republican, was quick to offer his state as a new home for the convention. "So we've said we want to get to 'yes' on it, and I think you'll be able to do it," DeSantis said when asked about hosting the convention in Florida during a June 4 interview with Fox News.
Meanwhile, new cases of the novel coronavirus continue to rise in both states. Florida recorded its highest single-day increase last week on June 4, with 1,419 new infections reported, according to a tracker maintained by The New York Times. Although the number of new daily infections dropped somewhat over the next few days, the state still recorded 966 new cases on Monday and then 1,096 on Tuesday. In total, Florida has confirmed 65,992 infections and 2,764 deaths since the start of the pandemic.
The situation in North Carolina appears similar. On June 6, the state saw its highest number of new daily infections, with 1,392 reported. That number came after the trend in new cases had risen steadily for several weeks. However, new infections have declined somewhat over the past few days, with 918 reported on Monday and 812 reported on Tuesday. Overall, the state has seen 37,393 confirmed cases and 1,069 deaths.
Newsweek reached out to the Republican National Committee for comment on the planned location to hold the convention, as well as to ask about concerns surrounding the ongoing coronavirus pandemic, but they did not respond by time of publication.