Giant Confederate Flag Raised in North Carolina in Response to Statue Removal
A giant Confederate flag was raised over a highway in North Carolina by the Sons of Confederate Veterans group over the July 4 weekend. The 20-by-30-foot flag has replaced a smaller flag that flew over Interstate 40 in east Burke County.
The flag was raised in response to a number of Confederate statues being torn down across the U.S., following a conversation sparked by the Black Lives Matter movement.
Elgie McGalliard from the Sons of Confederate Veterans told WSOC TV: "The Sons of Confederate Veterans, we're trying to replace the statue with flags, and we try to put them on the interstate so more people can see it.
"Take down our statues, and we're going to put up a flag somewhere along the major interstates in North Carolina."
As the flags are on private property, local authorities cannot remove them. Mayor Wendell Hildebrand of the nearby town of Hildebran told WSOC TV: "I've had numerous contacts from people saying they wouldn't do business in town because of that flag—$800—that could be better used to help veterans."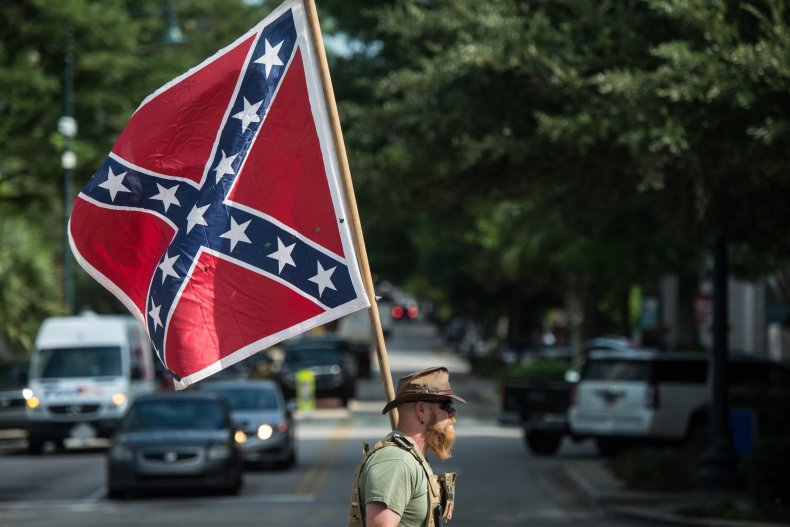 In June, attorneys called on the state's governor, Roy Cooper, to have North Carolina's public Confederate statues removed. In a letter, more than 60 attorneys and law professors said: "Confederate monuments in important civic spaces in North Carolina, including at the State Capitol, offend guarantees in our state and federal Constitutions.
"These displays are inextricably tied to secession, slavery, and white supremacy. We urge their immediate removal."
However, the Sons of Confederate Veterans have said that they are watching a Confederate statue in Morganton to prevent it from being damaged.
Last week, a couple of the group's members placed a wreath at the memorial. According to WBTV, one of the men said: "For our ancestors," and another said he hoped to be able to place the wreath again next year for the Fourth of July. He said that among the 1,350 names on the monument is his relative's.
A petition to take down the statue has reached more than 4,000 signatures. The petition was started by the Humans for Human Rights group, who said: "Confederate statues represent a disgraceful time in American history when the southern states attempted to secede from the Union.
"The men depicted on these statues and their troops who carried the confederate flag killed the men and troops who carried the American flag."
According to the Sons of Confederate Veterans website, the group's aim is to "retain our responsibility and right to adhere to the founding principles of the United States of America remembering the bravery, defending the honor and protecting the memory of our beloved Confederate Veterans, which includes their memorials, images, symbols, monuments and gravesites for ourselves and future generations."