North Carolina Goat "Arrested" After Report of Attempted Break-In
When police in eastern North Carolina arrived at the scene of an attempted break-in on the morning of April 6, they caught the perpetrator red-handed—or red-hoofed.
In a Facebook post, the Greenville police department's Animal Protective Services division reported that they found a black-and-white male goat identified only as "Billy" on the property. The responding officers managed to evade Billy's formidable set of horns long enough to apprehend him.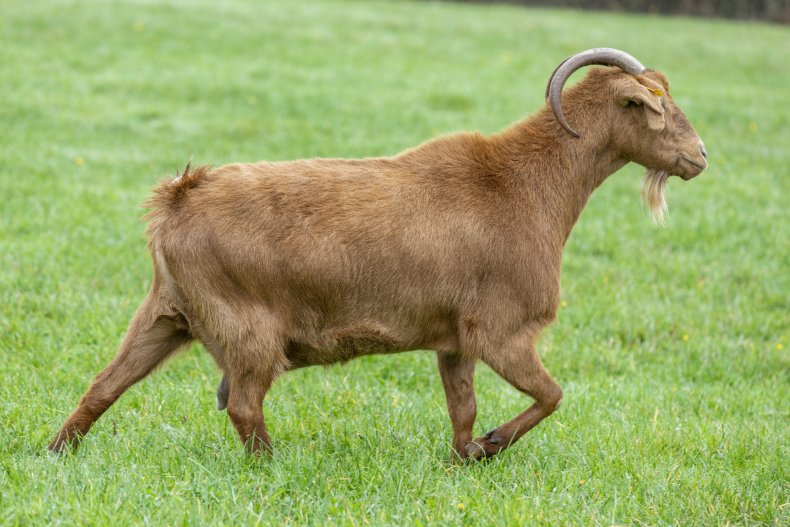 "We received a report for a possible breaking and entering this morning," the division wrote. "When we arrived, Billy was hanging out around the windows of the house. We are happy to report that Billy has been arrested and is no longer a threat."
While they did not provide any further details about Billy's brief crime spree, it's possible that he charged at the house, making noise and spooking the residents. However, he does not appear particularly remorseful in an accompanying photo, which depicts him standing in the back of a van with a yellow rope around his neck and what appear to be French fries at his feet.
Billy was then taken to the local animal shelter to await bail. In the meantime, commenters had a field day with the arrest.
"He is not a Baaaaad goat..," user Charles William Langston wrote.
"Too cute... guess he'll be wearing stripes for a while!! LOL," user Melanie Swain Greene wrote.
Some even volunteered to adopt Billy if he wasn't claimed.
"He is a cutie! Winning over a lot of warm hearts right now...," user Vickie Coward Averill wrote.
"If his owner isn't located I'd be more than happy to adopt him!" user Summer Avery wrote.
But around noon, Billy's owner showed up to spring him from prison.
"Billy has been picked up by his owner to finish his sentence in house arrest," the division revealed in a subsequent edit to the original post.
Billy's owner reportedly promised to keep an eye on his wayward pet in the future. However, Billy is not the only farm animal who's terrorized Greenville in recent months, according to The News and Observer.
On March 9, the police were dispatched to East Carolina University after a hog was spotted wandering the campus. They managed to chase the animal down and even reward it for its cooperation with what they described as "an extended morning walk" in a Facebook post.
"Hey, when you can't beat the stereotypes, might as well embrace them!" they wrote.