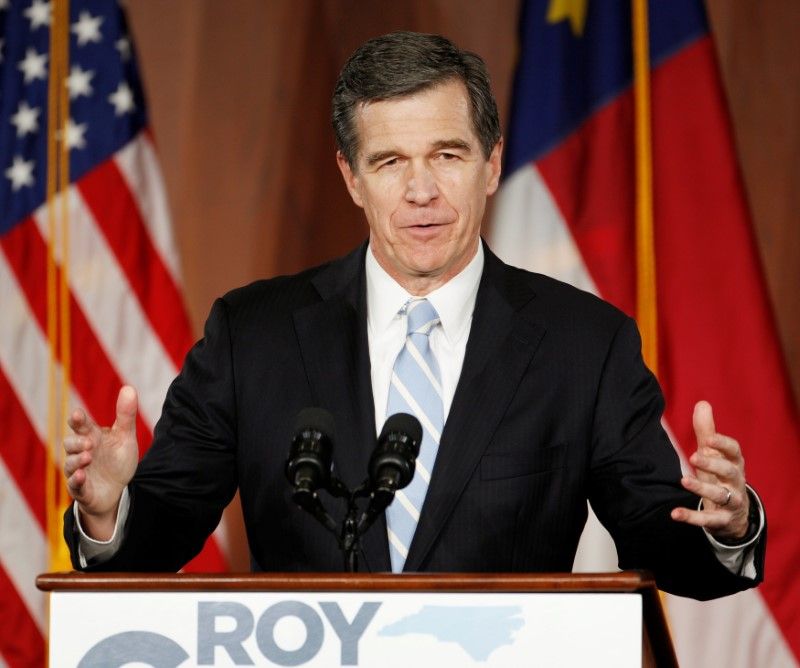 North Carolina's Republican-dominated legislature passed a series of measures on Friday to curtail the executive authority of Democratic Governor-elect Roy Cooper just weeks before he is to succeed a Republican in the executive mansion.
The bills, passed in the last hours of a special "lame duck" session called to help victims of Hurricane Matthew, strip the governor from the power to make cabinet appointments without Senate confirmation, name people to be trustees of the University of North Carolina and the ability to control hiring for about 1,200 state employees.
"What is happening now may look like partisan political games, but the result will hurt North Carolinians," Cooper said on Twitter Friday. He has threatened to sue the Republican-dominated legislature and the outgoing Republican governor, adding that "the courts will have to clean up the mess the legislature made."
Cooper beat incumbent Republican Governor Pat McCrory by a razor-thin 10,000 vote margin in a hard-fought election whose results took a full month to count before a winner was announced Dec. 8.
McCrory on Friday signed one of the measures, lessening the governor's control over the state elections board, and is expected to approve the latest actions before turning over the weakened office to Cooper on Jan. 7.
Republican lawmakers called the changes justified by the state's constitution and meant as a check on executive power.
"This bill is a good step forward in reasserting legislative authority vested by the constitution and entrusted to the members of this body," Representative David Lewis, a Republican and a sponsor of the bill, said during debate on Thursday.
The legislation and related bills came as a surprise, filed late on Wednesday on the heels of a special session of the General Assembly called to consider relief for Hurricane Matthew victims.
Their introduction and passage led to protests in both House and Senate chambers.
"The process, the content, the intention of these bills, they are an affront to the values of our democracy," said Ticie Rhodes, 57, of Raleigh, retired teacher and counselor who was protesting with her church.
Thirty-nine protesters were arrested on Friday, including a man in a Santa Claus suit, Raleigh television station WRAL reported. Reuters was not able to immediately reach General Assembly Police Chief Martin Brock for comment.
McCrory praised the elections bill on Friday, saying it "lays important groundwork to ensure a fair and ethical election process in North Carolina."
But Cooper has said they would curtail his ability to improve health care, education and the environment for North Carolinians.