North Carolina Governor Says State Still Plans GOP Convention Despite Donald Trump's Threats to Move It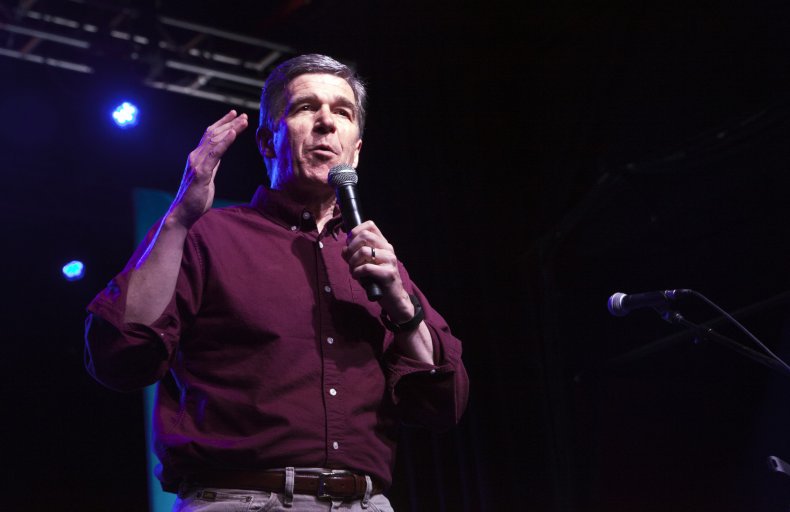 North Carolina Governor Roy Cooper said plans for the Republican National Convention are still underway in his state despite President Donald Trump's threat to pull the event if the Democratic governor doesn't guarantee a full-scale gathering can be held there.
His comment comes as Republican governors in Florida and Georgia stepped up to offer to hold the convention in their states instead.
"We want to see from the RNC what their plans are and we've asked them to submit those plans to our public health officials," Cooper told reporters Tuesday. "We look forward to the back-and-forth on that."
He said officials expect to continue discussions with GOP leaders in the coming days.
North Carolina leaders have been in ongoing talks with Republican Party leaders about how the convention will be held depending on coronavirus pandemic conditions at the time. Cooper said health officials will be in contact with the RNC organizers again "later this week and next week" as they work to hammer down the contingency plans.
"We're talking about something that's going to happen three months from now, and we don't know what our situation is going to be regarding COVID-19 in North Carolina," he said.
But the talks prompted Trump to tweet Monday that the convention, scheduled for August 24-27, could be moved if Cooper doesn't give an answer "immediately" about what would be allowed.
"Plans are being made by many thousands of enthusiastic Republicans, and others, to head to beautiful North Carolina in August. They must be immediately given an answer by the Governor as to whether or not the space will be allowed to be fully occupied. If not, we will be reluctantly forced to find, with all of the jobs and economic development it brings, another Republican National Convention site. This is not something I want to do," Trump wrote over a series of tweets Monday morning.
During an interview on Fox News Tuesday morning, GOP chairwoman Ronna McDaniel said she supports the sentiment behind the president's tweet and similarly blamed Cooper for not giving GOP leaders "the assurances we need." But she said she hopes that issues can be resolved so the event can go forward in North Carolina.
"The president's right to say to the governor, 'You need to assure us before we lock in all these hotel rooms and we bring all this revenue to your state that you're going to let us have this convention,'" she said.
RNC organizers didn't respond to a follow-up request for comment from Newsweek Tuesday.
"We want to have it in North Carolina. The president loves North Carolina," McDaniel said during the Fox interview.
Trump's daughter-in-law and senior adviser to his 2020 reelection campaign, Lara Lee Trump, is a North Carolina native. Trump beat 2016 Democratic rival Hillary Clinton in North Carolina 49.83 percent to 46.17 percent.
White House Press Secretary Kayleigh McEnany declined to speculate Tuesday about what could happen if North Carolina sees a coronavirus spike ahead of the convention.
"Currently we're coming down and that's encouraging to see and we're ready for the convention to take place," she told reporters during a White House briefing.
McDaniel, meanwhile, hinted that officials could begin evaluating other options.
"There's a lot of states calling the president right now saying, 'Hey why don't you bring that revenue to our state,'" McDaniel said on Fox News.
Already, Georgia Gov. Brian Kemp and Florida Gov. Rick DeSantis—Trump allies who were among the first to reopen their states after near nation-wide shutdowns to stop the spread of the novel coronavirus—have jumped in to offer their states as potential alternative sites.
"With world-class facilities, restaurants, hotels, and workforce, Georgia would be honored to safely host the Republican National Convention. We hope you will consider the Peach State, @realdonaldtrump!" Kemp wrote from his official twitter account, tagging the president.
DeSantis made a similar public offer during a press briefing Tuesday and also extended it to the Democratic National Convention, currently slated to be held in Milwaukee, Wisconsin in August.
"I think it will be good for the people of Florida," DeSantis said.
Coronavirus fears prompted DNC organizers to postpone their event by a month—rescheduling from mid-July to mid-August.
In a news release last month announcing that change, DNC chair Tom Perez said officials would continue considering additional contingency efforts depending on the outbreak.
"Ultimately, the health and safety of our convention attendees and the people of Milwaukee is our top priority. And we will continue to be in contact with local, state, and federal health officials as we monitor this fluid situation," he said.
Democratic National Convention organizers did not respond to Newsweek's request for an update on those efforts.