North Carolina Gyms to File Restraining Order Against State to Try and Reopen Earlier Than Allowed
A group of fitness center and health club owners plan to file a lawsuit in North Carolina on Wednesday, pushing back against state orders that prevent their businesses from reopening for at least another month.
The suit aims to protect owners from enforcement procedures that would otherwise be brought against them if they decided to reopen early, Jacksonville-based outlet JDNews.com reported on Tuesday. According to the publication, civil attorney Chuck Kitchen confirmed his intent to file preliminary documents related to the lawsuit in Raleigh district court on Wednesday.
"I am going forward to file a suit and see what the courts say about this," Kitchen told JDNews.com. "After that, we will ask for a hearing date and go from there."
Kitchen is expected to submit a request for a temporary restraining order alongside the business owners' formal complaint, individuals involved in the suit have said online. Those at the legal conflict's forefront—a handful of fitness center, health club and dance studio owners, as well as instructors—publicized their cause through a now-private Facebook group called ReOpen NC's Health Clubs, which had acquired 6,598 members as of Wednesday morning.
The group was created on May 20, the same day one of its administrators, Joel Schlieman, shared objectives to file a lawsuit against North Carolina Governor Roy Cooper in a message shared to his personal Facebook account. "Any gym owners interested in joining me, I plan to get as large a group as possible together," wrote Schlieman, who co-founded and owns a Panther Creek CrossFit, according to his public profile.
Shortly after the Facebook group's launch, North Carolina fitness club owners Robin Gardner-Smith and Amy Gerard organized a GoFundMe campaign to raise money for legal fees associated with the lawsuit. Gardner-Smith is listed as one of ReOpen NC's Health Clubs' administrators. The campaign has so far raised $26,000 of its $30,000 goal over the course of five days.
Newsweek reached out to the Facebook group's administrators, their attorney at Kitchen and Turrentine, PLLC, as well as Governor Roy Cooper's office for additional information about the upcoming legal proceedings but did not receive replies in time for publication.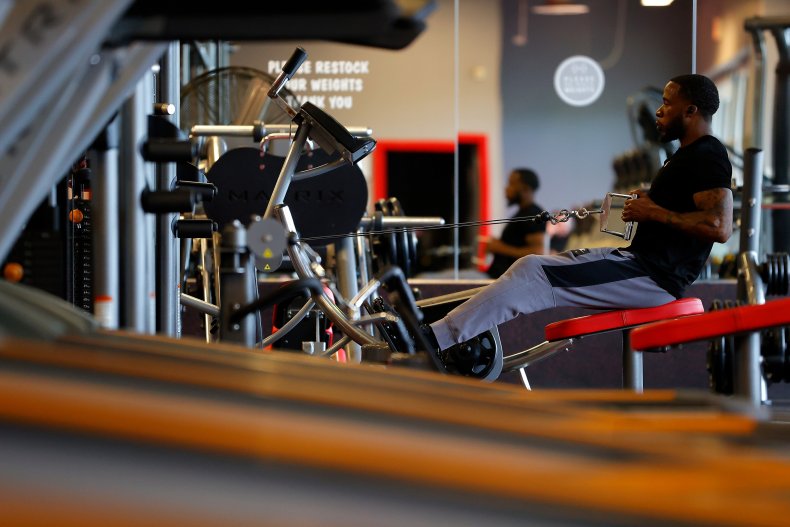 The business owners' lawsuit has come in response to Governor Cooper's reopening announcement last week, which allowed North Carolina to transition into a modified second phase of its Safer-At-Home Order starting May 22. According to the announcement, North Carolina's gyms and fitness studios will remain closed throughout Phase 2, effective until at least June 26.
"Although the state's overall key indicators remain stable, the continued increases in daily case counts signals a need to take a more modest step forward in Phase 2 than originally envisioned," the governor's reopening announcement stated, referencing new diagnoses reported by North Carolina health officials related to the novel coronavirus. At least 24,455 positive cases, 801 deaths and 14,954 recoveries have been confirmed statewide as of Wednesday morning, according to Johns Hopkins University's tracker.