A Comprehensive Timeline of Public Figures Boycotting North Carolina Over the HB2 'Bathroom Bill'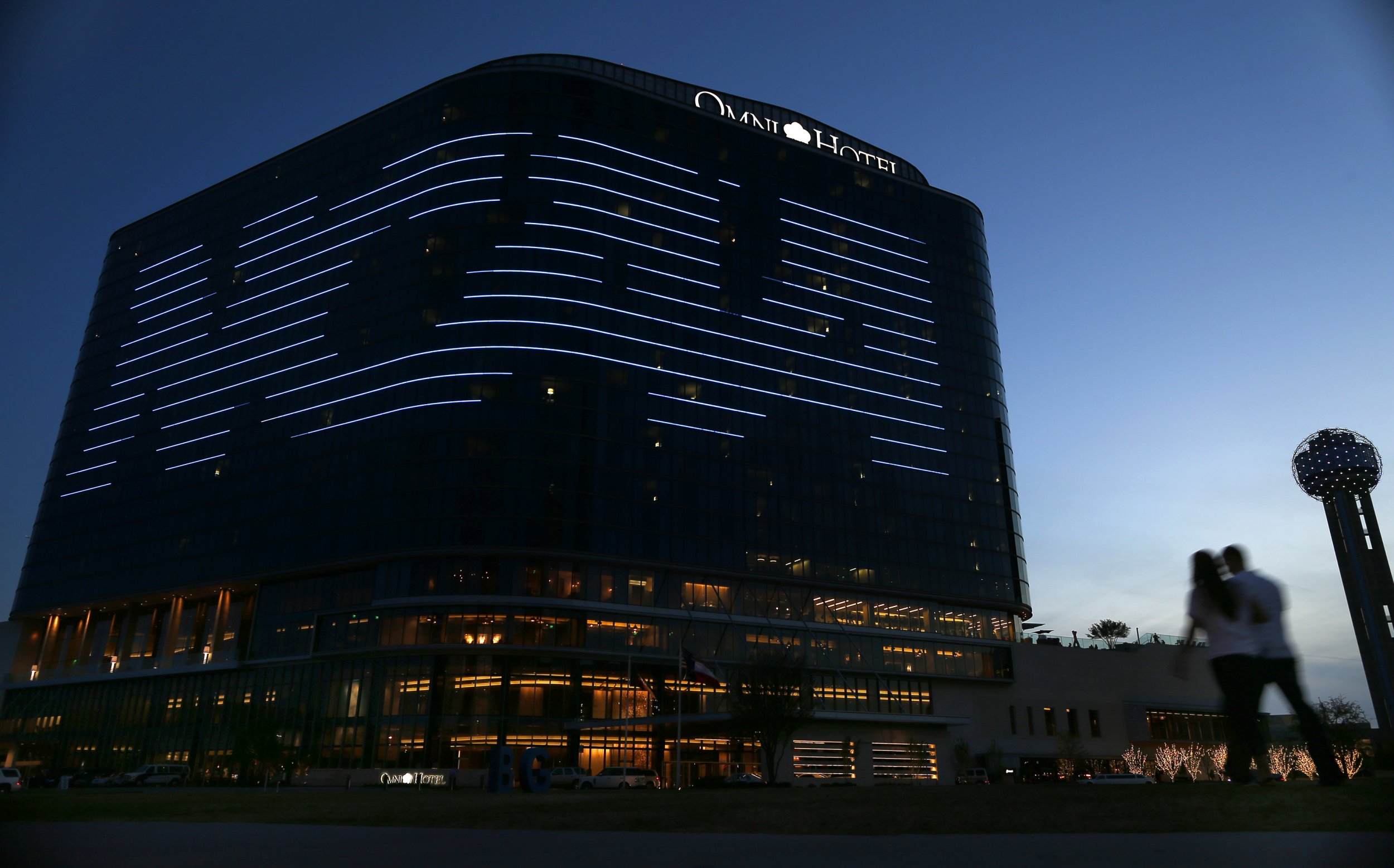 The NCAA on Monday evening announced plans to move seven 2016-2017 championship events out of North Carolina due to the state's controversial HB2 "bathroom bill." Three of these seven championships are Division I events, including part of the first two rounds of March Madness, which had been scheduled to take place in Greensboro. On Wednesday, the ACC decided to move its championships out of the state as well.
"Fairness is about more than the opportunity to participate in college sports, or even compete for championships," said NCAA President Mark Emmert. "We believe in providing a safe and respectful environment at our events and are committed to providing the best experience possible for college athletes, fans and everyone taking part in our championships."
The NCAA's decision is devastating considering the state's rich college basketball tradition, and the North Carolina Republican Party was none too pleased. "This is so absurd it's almost comical," GOP spokesperson Kami Mueller said in a statement. "I genuinely look forward to the NCAA merging all men's and women's teams together as singular, unified, unisex teams. Under the NCAA's logic, colleges should make cheerleaders and football players share bathrooms, showers and hotel rooms. This decision is an assault to female athletes across the nation. If you are unwilling to have women's bathrooms and locker rooms, how do you have a women's team?"
The statement went on to accuse the NCAA of "political peacocking" and wondered why the organization wasn't as worried about "the women who were raped at Baylor." Hillary Clinton, on the other hand, supports the NCAA, which isn't alone in its decision to take their business elsewhere in light of the state's anti-LGBT agenda. Since HB2 was passed in March, musicians, writers, film production companies, sports organizations and others have protested the bill by canceling or relocating events that had been scheduled to take place in the Tar Heel State.
Below is a timeline of the different ways in which these notable figures and institutions have protested the bill. We will update this list as necessary.
March 24: Only a day after Governor Pat McCrory signed HB2 into state law, production studio Lionsgate tells employees that it will no longer be filming the pilot for the Hulu series Crushed in Charlotte. Production had been scheduled to begin in April, with filming to commence in May. Lionsgate said HB2 is "deplorable and discriminatory, and it runs counter to everything we stand for," according to a letter obtained by The Charlotte Observer.
March 31: Wicked composer Stephen Schwartz writes an email detailing his decision to prohibit any institution in North Carolina from putting on a production of any of his shows.
"To my fellow theatre writers and producers: As you no doubt know, the state of North Carolina has recently passed a reprehensible and discriminatory law," he wrote. "I feel that it is very important that any state that passes such a law suffer economic and cultural consequences, partly because it is deserved and partly to discourage other states from following suit.... Therefore, I and my collaborators are acting to deny the right to any theatre or organization based in North Carolina to produce any of our shows. We have informed our licensing organizations and touring producers of this, and I'm happy to say have met with compliance and approval from them."
April 1: A group of 269 children's book authors and illustrators pen an open letter their North Carolina readers detailing their disappointment with HB2.
April 5: PayPal cancels plans to open a new facility in North Carolina that would have created 400 new jobs. The withdrawal comes only two weeks after plans for the new facility were initially announced. "Becoming an employer in North Carolina, where members of our teams will not have equal rights under the law, is simply untenable," said CEO Dan Schulman in a statement. "The new law perpetuates discrimination and it violates the values and principles that are at the core of PayPal's mission and culture."
Author Sherman Alexi tweets that he will cancel upcoming events in North Carolina meant to support his recently released children's book Thunder Boy Jr.
April 8: Bruce Springsteen becomes the first musician to cancel a show in Greensboro in protest of the bill. "To my mind, it's an attempt by people who cannot stand the progress our country has made in recognizing the human rights of all of our citizens to overturn that progress," he wrote of the bill in a statement posted to his website and Facebook page.
The Charlotte Regional Visitors Authority announces that it has lost 13 conventions following the passage of HB2. "We are extremely concerned about the state legislation in place as we continue to hear negative feedback and potential event cancellations from our customers," the group said. "Our city has worked incredibly hard to build a thriving visitor economy over the last 20 years, which has welcomed major events and conventions that greatly give back to the city and the state of North Carolina's economy and overall quality of life. This issue is in danger of setting us back from the progress we've made in positioning Charlotte as an attractive, inclusive destination.
April 12: German financial company Deutsche Bank freezes plans to create 250 jobs at its technology development center in Cary, North Carolina. "We're proud of our operations and employees in Cary and regret that as a result of this legislation we are unwilling to include North Carolina in our U.S. expansion plans for now," CEO John Cryan said in a statement. "We very much hope that we can revisit our plans to grow this location in the near future."
April 13: Ringo Starr cancels a June performance in Cary, North Carolina. "I'm sorry to disappoint my fans in the area, but we need to take a stand against this hatred. Spread peace and love," the Beatles drummer said in a statement. "How sad that they feel that this group of people cannot be defended."
April 15: Famed performance troupe Cirque du Soleil announces the cancellation of shows in Greensboro, Charlotte and Raleigh. "Cirque du Soleil strongly believes in diversity and equality for every individual and is opposed to discrimination in any form," the group said in a statement. "The new HB2 legislation passed in North Carolina is an important regression to ensuring human rights for all."
April 18: Pearl Jam cancels a show in Raleigh. Several artists—such as Mumford & Sons, Cyndi Lauper, Selena Gomez, Dave Matthews Band and Father John Misty—elected to donate the proceeds of their North Carolina shows to pro-LGBT organizations, but that wasn't enough for Eddie Vedder. "We thought we could take the money and give it to them and still play the show, but the reality is there is nothing like the immense power of boycotting," he said while performing in Virginia the night of the cancelation announcement.
Calling HB2 an "ugly expression of intolerance," Boston cancels three upcoming shows in Charlotte, Greensboro and Raleigh. "HB2 has the appearance of an oppressive discriminatory law against a small minority," founder Tom Scholz wrote on the band's website.
April 25: Demi Lovato and Nick Jonas, who were touring together, cancel dates in Raleigh and Charlotte. "North Carolina's discriminatory HB2 law is extremely disappointing, and it takes away some of the LGBT community's most basic rights and protections," Lovato told GLAAD. "But we will not allow this to stop us from continuing to make progress for equality and acceptance."
May 9: The Obama administration files a lawsuit against the state of North Carolina, claiming the passage of HB2 violates federal civil rights law protecting trans citizens.
May 17: Renowned violinist Itzhak Perlman announces on his Facebook page that he is canceling a performance with the North Carolina Symphony. "As my fans know, I have spent a lifetime advocating against discrimination towards those with physical disabilities and have been a vocal advocate for treating all people equally," he wrote. "As such, after great consideration, I have decided to cancel my May 18th concert in North Carolina with the North Carolina Symphony as a stand against House Bill 2."
May 20: Maroon 5 cancels shows in Charlotte and Raleigh which would have taken place on September 11 and 12, respectively. "We have announced that we will be canceling our upcoming shows in Charlotte and Raleigh, North Carolina because of the recent passage of the HB2 legislation," the band said. "This was a difficult decision for us to make as a band. We don't want to penalize our fans in North Carolina by not performing for them, but in the end it comes down to what we feel is morally right."
A spokesman for the governor's office responded by questioning the band's motives. "Hundreds of concerts have been successfully performed across North Carolina, including Beyoncé, over the past few weeks since the law passed," he said. "We may never know why Maroon 5 waited until weeks later to make their political statement, but at this point, the only people they are hurting by hypocritically targeting North Carolina for selective outrage are their fans and the hardworking men and women servicing these shows while they keep tour dates overseas—even in Russia."
July 8: Sixty-eight companies—including Apple, Nike, American Airlines and plenty of other drivers of commerce in America—file a court brief against North Carolina in an attempt to block HB2. The brief was filed along with the Human Rights Campaign. "These companies are sending a powerful message to transgender people and their families that America's leading businesses have their back," said Chad Griffin, president of the Human Rights Campaign.
July 13: A November 12 men's basketball game between Albany and Duke, which is located in Durham, is canceled. Why? Because after HB2 was passed in March, New York Governor Andrew Cuomo banned nonessential state travel to North Carolina. Albany is a public university. "The State University of New York supports Governor Cuomo's executive order banning all nonessential travel to the state of North Carolina,'' SUNY spokeswoman Holly Liapsis told The Herald-Sun in Durham. "We instructed our campuses to immediately review any existing travel plans by faculty and staff. SUNY and its campuses continue to support the governor on taking this stand."
July 21: The NBA announces that it is pulling the 2016-2017 All-Star Game from Charlotte, where it was originally scheduled to take place. The game would have been a marquee event for basketball in the state of North Carolina, and the festivities that surround the game would have been a boon to the local economy. "While we recognize that the NBA cannot choose the law in every city, state and country in which we do business, we do not believe we can successfully host our All-Star festivities in Charlotte in the climate created by the current law," the league said in a statement.
As per usual, the state's Republican establishment issued a pointed, bitter response to the news. "American families should be on notice that the selective corporate elite are imposing their political will on communities in which they do business, thus bypassing the democratic and legal process," Governor McCrory said.
August 22: A report surfaces that Seattle Seahawks quarterback Russell Wilson and pop singer Ciara moved their wedding out of Wilson's home state of North Carolina due to HB2. Wilson himself didn't explicitly say this was the reason the wedding was moved. "I just believe Jesus loves all people and that's honestly what I believe," he told reporters when asked about the decision. "I constantly pray for world peace, I pray for peace in the world, and I pray for joy, but my focus right now is just on the Cowboys and scoring in the red zone."
September 12: The NCAA announces that seven of its 2016-2017 championships will be moved out of the state.
September 14: Following the NCAA's lead, the ACC announces that it will move all of its 2016-2017 championships out of North Carolina. This, again, is a major blow to the state's economy, as the University of North Carolina, Duke and North Carolina State all belong to the conference.
"The ACC Council of Presidents made it clear that the core values of this league are of the utmost importance, and the opposition to any form of discrimination is paramount," said Commissioner John Swofford. "Today's decision is one of principle, and while this decision is the right one, we recognize there will be individuals and communities that are supportive of our values as well as our championship sites that will be negatively affected. Hopefully, there will be opportunities beyond 2016-17 for North Carolina neutral sites to be awarded championships."
The ACC is only the latest organization to take steps to disassociate itself with the state in light of HB2. It won't be the last, and unless North Carolina repeals the bill, the state will continue to suffer economically as a result of those protesting HB2, only some of which are listed above. In May, the UCLA School of Law think tank the Williams Institute published a report citing how the bill could cost North Carolina $5 billion annually, a sum that no number of scathing, defensive comments from North Carolina Republicans can recover.