North Carolina High School Cheerleaders Pose With 'Trump 2020' Banner During Game, Are Placed on Probation for Rest of the Season
There is a rally planned in support of a group of North Carolina cheerleaders placed on probation by local education officials after they posed in uniform with a Trump 2020 banner, contravening a policy on political campaign materials.
The cheerleaders at North Stanly High School were pictured with the Trump flag at their football team's game on August 30 where the evening's theme was "Red, White and Blue."
They posed with the flag's owners Carson Palmer and Matthew Mangham, both juniors at the same school, in an incident that landed them all in front of the principal a few days later.
Following a probe by the Stanly County Board of Education, the students were found to have breached the rules banning the distribution of political campaign materials on school grounds, WCNC reported.
Moreover, because the cheerleaders were in uniform representing the school, it could have been perceived as the institution endorsing a political campaign, which is also prohibited under the rules.
As a result, the girls are now on probation for the remainder of the football season, which is not a punishment but is a notification that their behavior broke the rules and will be monitored for any further infractions, which would likely result in sanctions, such as fines or suspension.
"I think it's just been blown way out of proportion and twisted a lot from what it was intended to be," Palmer, who feels bad for the cheerleaders, told WCNC. "It was never our intention to upset the community and never was our intention to get the cheerleaders on probation."
North Carolina High School Athletic Association Commissioner Que Tucker told The Stanly News & Press that one of their organization's rules is "every contest should be conducted in a wholesome, athletic environment."
"We take that to mean that it's in an environment where good sportsmanship is shown, where people feel safe...that respect for all people participating is being shown," Tucker told the newspaper about the decision to place the girls on probation.
There is now a rally planned at this Friday's high school football game in support of the cheerleaders and their First Amendment rights. Jeremy Onitreb, a local man, is organizing the protest and the Facebook event he set up has more than 800 people interest in attending.
"The more the merrier. I'd love everybody to line the street so that everybody going to the game goes through the biggest Trump rally they've ever been to. That would be phenomenal," Onitreb said in a video posted to the event page.
"But remember, we are here and we are doing this strictly to support those girls who feel like they're wronged, who feel like they've done something inappropriate when they absolutely haven't."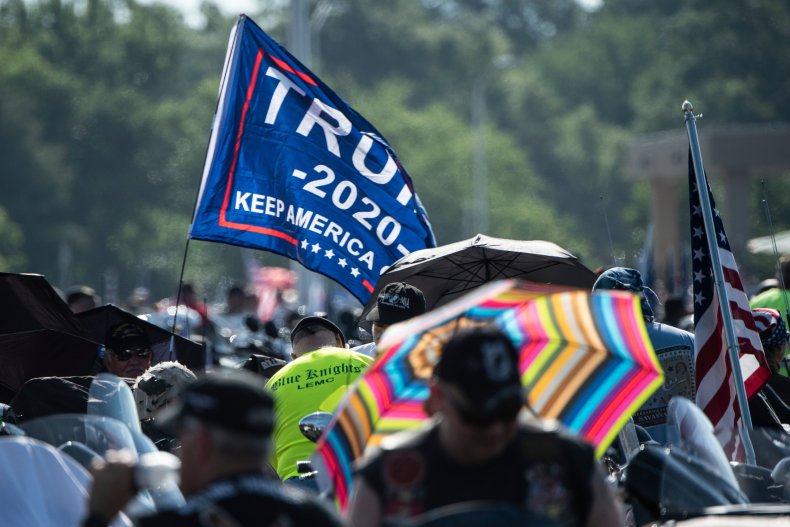 He encouraged those attending the protest "to bring flags, wear your MAGA gear, etc etc, and then even after go to the game. Buy a ticket to the game, go in there, support them that way. Fill up their side...of the stadium with love and support.
"Let them know that we're there for them, that the community supports them, and their country supports them, and the residents of the state of North Carolina support them. This is our president.
"Whether you voted for him or not, whether you agree with all of his policies or not, this is our president. This is a position that we have to respect...We all know it's not racist. But you know that's the card they play every time. Democrats, lefties, always place the race card."