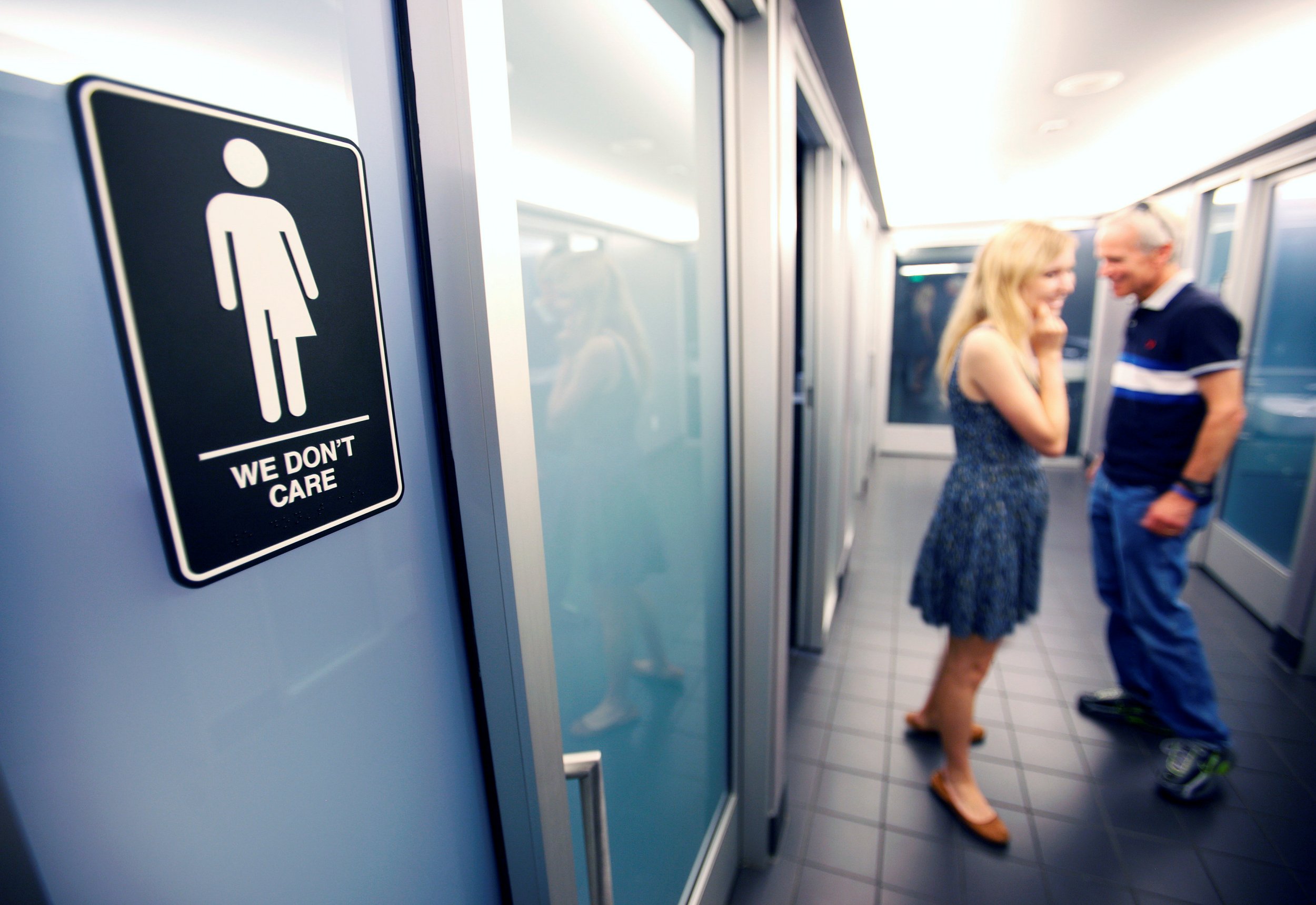 The fate of North Carolina's controversial House Bill 2 is up in the air after the Justice Department said it violates the U.S. Civil Rights Act.
The Justice Department on Wednesday informed North Carolina Governor Pat McCrory that the bill, which he signed into law during an emergency legislative session in late March, violates the U.S. Civil Rights Act and Title IX, a federal statute that protects students against sex-based discrimination.
Federal officials gave McCrory until May 9 to respond "by confirming that the State will not comply with or implement HB2." The bill was passed in response to a city ordinance in Charlotte that allowed people to use bathrooms based on the genders they identify with, rather than the sex listed on their birth certificates.
Responding to the Justice Department, McCrory issued a statement on Wednesday night that read: "A claim by the Obama administration charges that one part of House Bill 2, which requires state employees in public government buildings and students in our universities to use a restroom, locker room and shower facility that match their biological sex, is now in violation of federal law."
"The Obama administration has not only staked out its position for North Carolina, but for all states, universities and most employers in the U.S.," said McCrory. "The right and expectation of privacy in one of the most private areas of our personal lives is now in jeopardy. We will be reviewing to determine the next steps."
North Carolina risks losing hundreds of millions of dollars in federal education funding if the state decides to uphold HB2, The Charlotte Observer reports.
Last month, Target joined the list of businesses and stores that have spoken out against the bill, and it released a new policy that said it welcomes "transgender team members and guests to use the restroom or fitting room facility that corresponds with their gender identity."
Earlier this week, Sandy Rios, director of government affairs for the American Family Association (AFA), which describes itself as a pro-family organization, told a Breitbart News radio show: "We've already had people testing this, going into Targets, men going into bathrooms."
The so-called testing of Target's bathroom policy has already proved to be a controversial and dangerous tactic. Earlier this week, reports of an active shooter inside an Illinois Target store turned out to be a man in the women's bathroom who was protesting the store's policy.
North Carolina isn't the only state that has debated and passed a discriminatory bill like HB2, but the state and McCrory have been on the receiving end of a large amount of the resulting furor. In addition to national mayors and governors announcing state-funded travel bans to North Carolina, entertainers including Bruce Springsteen, Pearl Jam and Ringo Starr canceled shows in the state.
While Beyonce performed in Raleigh this week, she highlighted the work of Equality NC, a local organization working to advance LGBT rights in the state.
"As The Formation World Tour makes its stop in the Tar Heel state in the midst of such a controversial time, we think it is important for us to bring attention to those who are committed to being good and carrying on the message of equality in this core of controversy," she said in a statement on her website.