North Carolina Lake Disappears Making Hundreds of Fish Suffocate to Death
A North Carolina lake is disappearing, causing hundreds of fish to suffocate to death.
Lake Wilson is a reservoir in the eastern part of the state. It doesn't supply the area's drinking water, but it's home to an abundance of wildlife.
In a statement posted to Facebook, city officials said that drought conditions have caused the lake's water level to drop, "killing and endangering fish." They attended the site on July 25 to clean it up.
Lake Wilson's levels have been dropping through the whole summer. It's now about six feet below where it normally would be.
"The U.S. Drought Monitor currently shows nearly all of Eastern North Carolina in drought with Wilson County nearly divided between abnormally dry and moderately dry," the statement said. "Meanwhile the U.S. Geological Survey shows most areas of the county have received less than a quarter of an inch of precipitation in the last week."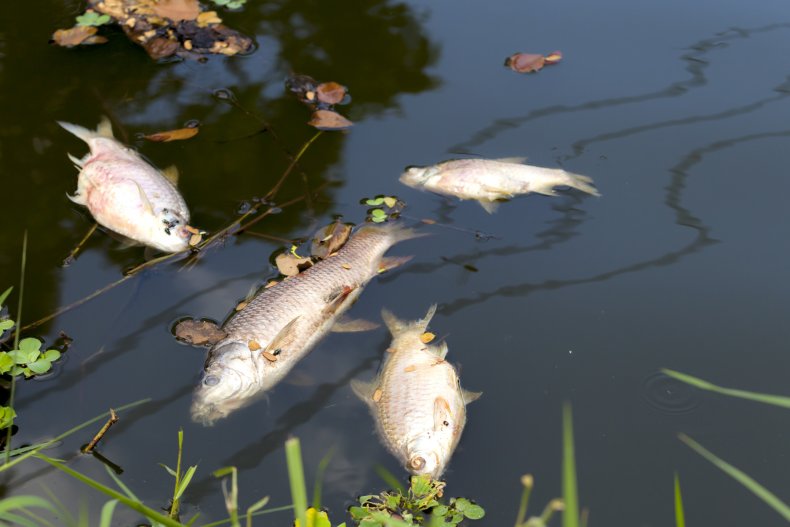 A gate in Silver Lake, in New Hanover County, has been opened to allow water to flow into Lake Wilson, the officials said, meaning they've seen "a bit of improvement."
"There's not much else we can do right now other than hope for rain. Luckily, the forecast is showing some possibilities starting this evening."
The whole of North Carolina is in a severe drought. According to the North Carolina Drought Management Advisory Council, the state saw less than two inches of rain in June.
Throughout June, much of the state was under an excessive heat warning, with temperatures reaching triple digits.
The officials said in the statement that while Lake Wilson's water levels are a concern for wildlife, "the drought is not threatening the city's water supply." However, if it continues, the city may need to limit its usage of the lake.
The same can't be said for other bodies of water that are drying up across parts of the country. The western U.S. is currently in the grips of a megadrought, which is causing reservoirs that are integral to the area's water supply, to dry up.
One such reservoir is Lake Mead, which is seeing a dramatic drop in water levels.
Auroop Ganguly, a professor of civil and environmental engineering at Northeastern University, told Newsweek that droughts across the U.S. can be explained by climate change.
"What has exacerbated the current megadrought is the consistent extreme heat, leading to hot and dry air which has sucked up the soil moisture," he said. "Climate change has been the major threat multiplier causing these hot and dry conditions. This drought would have happened under climate variability, but it is human-induced climate change that makes it so much more intense and long-lasting."
Update 7/27/22 ET 9.57 a.m: This article was updated to note Auroop Ganguly's role at Northeastern University.