North Carolina Man and His 17 Cats File Civil Rights Lawsuit After County Seizes Animals
A North Carolina man is suing for what he claims are civil rights violations related to the seizure of over a dozen cats from his home by animal control officers.
Damon Fields filed the lawsuit in early January in Gaston County, but in a curious legal move 17 of his cats are listed as co-plaintiffs in the lawsuit, Fox 46 reported.
Fields, who lives in Cherryville, was visited by county animal control on November 5 of last year after a neighbor complained about his home. According to The Charlotte Observer, when animal control entered the domicile, the odor of cat urine was so potent that they had to wear masks.
According to Assistant Gaston County Attorney Sam Shames, the ranch home was littered with cat feces all over the floor and officers removed 17 cats from Fields' home, including five kittens.
Get your unlimited Newsweek trial >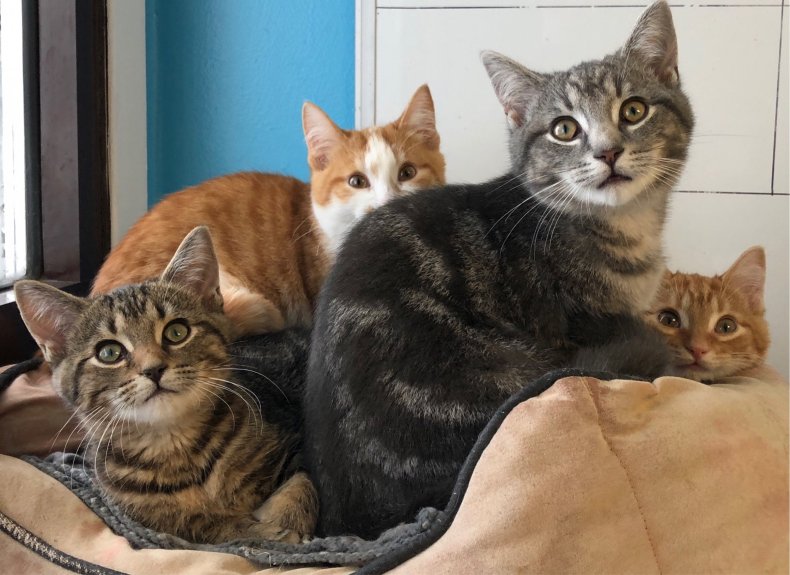 The animals boarded with the county animal shelter as the investigation continued. However, the Observer reported, this was not the first visit animal control made to Fields' home. Over the summer, a previous visit had found him with nearly 50 cats in his care.
On November 14th, Fields was arrested and charged with animal cruelty.
He claimed that he was unable to clean up after the cats because of a car accident that occurred earlier in the year. According to Fox 46, when asked if 17 cats are an excessive number to own, Fields replied "people have 12 kids. That's [an] excessive amount."
Get your unlimited Newsweek trial >
After his arrest, Fields was released with terms set by the county: he could select five cats to keep as long as he had them neutered and acquiesced to regular inspections of his home by animal control for the next six months. The rest of the animals would be placed for adoption.
The county considered the case closed until they found themselves party to Fields' lawsuit. In the suit, Fields claims the cats are "therapy companions" that were seized unlawfully because he "wasn't expecting any guests."
Fields filed the suit in Charlotte federal court, with cats "Boo Loo," "Tony Tiger," "Girlfriend Sara," "Rascal Russell" and others listed as co-defendants. In addition to the return of all 17 of the seized animals, he is demanding $2,500 in financial compensation.
If he wins, Fields plans to use the money to build a rescue and park area in his backyard for the animals.
Shames told the Charlotte Observer "I have never seen a cat listed as a party to a federal lawsuit. This case has a very unusual set of facts."
Fields did not respond to Newsweek's request for comment.
The legal rights of animals to file suit is a remarkably complex subject in the United States. In 2018, the Animal Legal Defense Fund (ALDF) filed a $100,000 lawsuit in Washington County, Oregon against the former owners of Justice, a quarter horse who had been abused and neglected. If the ALDF is successful with the suit, the money would be placed in a trust for the animal's care that would follow him through the rest of his life.
The case was dismissed in September 2018 by a circuit court judge, but the ALDF has appealed and is awaiting a decision.
North Carolina Man and His 17 Cats File Civil Rights Lawsuit After County Seizes Animals | News