North Carolina Open to Re-implementing Stay-at-Home Order if Coronavirus Cases Worsen
North Carolina could re-implement a stay-at-home order if coronaviruses cases continue to increase, according to the head of the state's health department.
"If we need to go back to stay-at-home [orders], we will," Department of Health Secretary Mandy Cohen told NPR's Morning Edition. "I hope we don't have to. I think there are things we can do before we have to get there, but yes, we are concerned."
Cohen's comments come as the state is in the second phase of its reopening plan, which began on May 22 after the state lifted its stay-at-home order. But data from the health department show coronavirus cases are on the rise.
North Carolina saw its largest increase in cases just a day after the order was lifted, 1,107 on May 23, the health department reported. But this number has since been surpassed on five different occasions. There were over 1,100 newly confirmed cases on May 30, June 4, June 5 and June 11, with a new record number for a single day, 1,370, on June 6.
Overall, the state has now reported over 39,000 confirmed cases, as well as at least 1,106 deaths.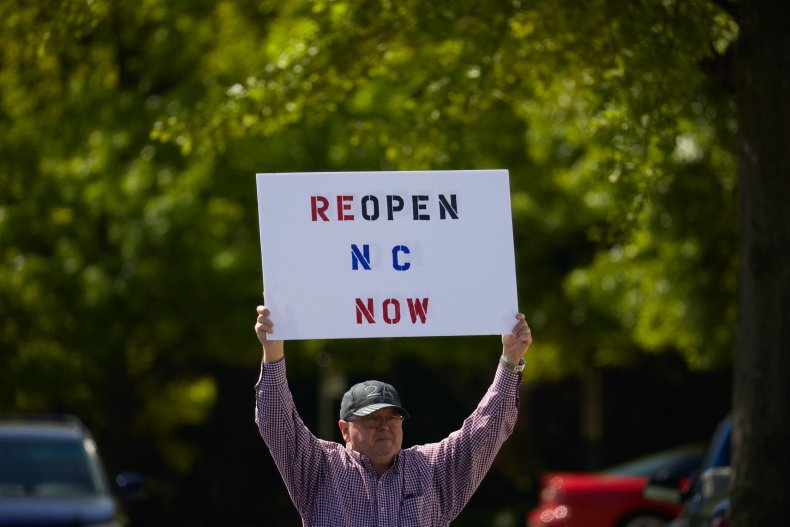 While speaking with NPR, Cohen explained that North Carolina "never got a first surge or a first wave" of cases and noted that the numbers over the past two weeks have been "going in the wrong direction."
"In the last week, we've had four days of more than a thousand new cases in each one of those days," she said.
During the interview, Cohen was also asked about President Donald Trump's recent announcement that he will begin holding campaign rallies, with trips already planned to North Carolina, Oklahoma, Florida and Arizona. Despite his announcement, Cohen noted that the state needs to remain cautious about mass gatherings such as a campaign rally.
"Well, the data and science tells us that mass gatherings are one of the most concerning kinds of activities related to viral spread—right?—when lots of people close together can spread this virus. And we have seen that happen here in our state where there have been gatherings that have spread the virus," Cohen said.
She continued, "So right now, we are asking our folks in North Carolina: If you've been to a mass gathering like a protest or going back to church, we want you to get tested. We think that that is exposure. We think that that's a risk. And we want folks to get tested. So am worried about mass gatherings. For us in North Carolina, our rules still are that we do not want to have any mass gatherings."
Cohen also spoke about things North Carolina residents can do to slow the spread of the virus and avoid a re-implementation of the stay-at-home order.
"So we want to make sure that we are particularly focused on getting people to wear face coverings, wait 6 feet apart and wash their hands. There are individual actions that people can take right now, and I think they're so important," she said. "We really need to get our testing up. And then we need to trace folks. And folks need to stay isolated and stay home if they're sick."
Newsweek reached out to North Carolina's health department for further comment but did not receive a response before publication.