North Carolina Parents 'Shocked' by Middle School Art Assignment Depicting a Sexual Act
North Carolina parents are upset about a sexually explicit art assignment that was given to their children in a Charlotte-Mecklenburg middle school.
Six-graders at Kennedy Middle School were given an assignment to study work by artist Kara Walker that depicted a sexual act, local news station WSOC-TV reported on Thursday.
Parents told the news outlet that the assignment was inappropriate for the students with one parent saying that she was "shocked" about it.
"I was shocked. I didn't think I needed to look up what my child was learning in an art class," said school parent Samantha Davis, according to WSOC-TV.
Davis said that she discovered the artwork after she saw her daughter's assignments and learned that the students, including her daughter, were studying the artist in class.
"I understand the topic being appropriate for college and adults. I don't find this artist and what she depicts as something age-appropriate for middle school kids to see," Davis said, according to WSOC-TV.
"To just pull it is nice, that's great—but it shouldn't have been there in the first place," she added.
The school district reportedly pulled the imagery of the artwork and the middle school principal addressed the parents' concerns in a letter.
"It was brought to my attention that there were some inappropriate artist images that were inadvertently included in a 6th-grade art lesson while the teacher is on maternity leave. I worked with the art teacher to have the pictures removed from the CANVAS platform," the principal of Kennedy Middle School said in the letter sent out to parents, according to WSOC-TV.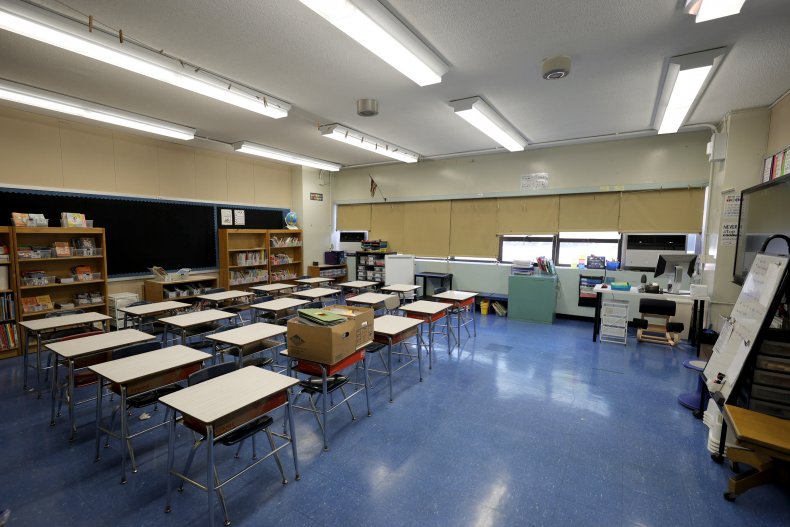 The principal also assured parents that the school will make sure that all digital materials including imagery and links will be vetted before teachers use them in the classroom.
Newsweek reached out to the school district and Kennedy Middle School for comment.
A few incidents in which North Carolina school teachers were criticized unfolded this week. On Wednesday, two mothers of students at Piedmont Community Charter high school said that a teacher asked their sons not to speak Spanish to each other.
The teacher at the Gastonia campus reportedly stopped the two students in the school hallway and criticized one of them for not speaking English.
The mothers said that their two sons were speaking to each other in Spanish about sneakers before the teacher approached them and asked them to speak in English while at school.
"They traumatized him because he's like, 'I can't speak my language,'" Aneurys Serrano, one of the two school parents said.
"You are making the kids feel like, 'Okay, being Hispanic is wrong,'" said Elizabeth Salcedo, the parent of the other student.
Several parents reportedly claimed that the school later officially announced that students should only speak other foreign languages in foreign language classes.
But, Jennifer Killen, Head of School at Piedmont Community Charter School, told Newsweek on Thursday that this claim is untrue.
"Piedmont has never made any formal announcement that Spanish cannot be spoken at school," Killen said. "Students have always been allowed to speak their native language at school, including the hallways. Piedmont Community Charter School does not have a policy regarding the language spoken by students at school."