More Than 50 Arrested in North Carolina During Protests of Anti-LGBT Law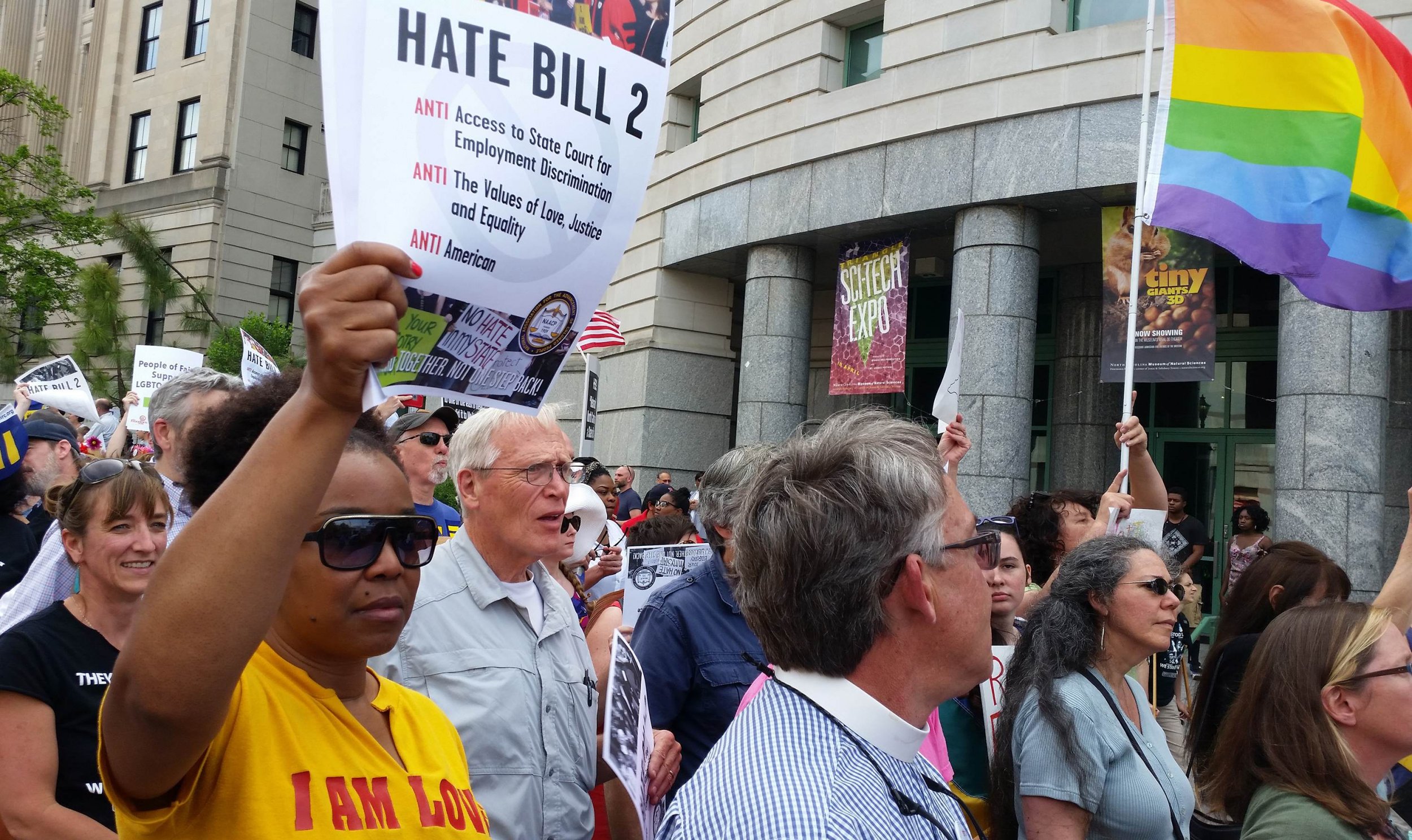 Dozens of people were arrested outside the North Carolina statehouse in Raleigh during a protest against the state's anti-LGBT law House Bill 2 (HB2).
Thousands of opponents of HB2—referred to by many on Monday as "Hate Bill 2"—gathered at the capitol on the first day of the state legislature's annual work session. Protesters took part in sit-ins outside the offices of key legislative leaders and shouted as lawmakers attempted to adjourn the session on Monday night.
"We won't do HB 2," the protesters chanted. "North Carolina sticks together."
HB2 was signed into law in March by Governor Pat McCrory during a special session and has led to national outcry. Performers such as Bruce Springsteen and Ringo Starr have canceled appearances in North Carolina over the bill, while a number of businesses have spoken out and some, including PayPal, pulled out of planned expansions in the state, taking away hundreds of jobs.
All 54 arrests happened in and around the office of House Speaker Tim Moore: 18 people were arrested when they refused to leave Moore's outer office, and another 36 were arrested while sitting on the floor or on chairs outside Moore's office, the Associated Press reports. All were charged with second-degree trespassing and violating building rules or the fire code, according to Acting General Assembly Police Chief Martin Brock. One person also faces a charge of resisting arrest.
Also on Monday, 180,000 signatures on a petition opposing HB2 were delivered to McCrory's office in dozens of brown boxes by the Human Rights Campaign, a national LGBT rights organization. However, McCrory's office called the delivery a "national smear campaign" and published photos showing what appeared to be only enough signatures to fill two boxes.
Supporters of the bill, including Christian conservatives, also gathered at the statehouse on Monday. Those in favor of the bill believe it protects women and children from men and boys entering female public restrooms and locker rooms. McCrory has long insisted that HB2 is about maintaining privacy and "common sense gender-specific restroom and locker room facilities in government buildings and schools."
A recent study found increased suicide rates among transgender teenagers who have faced bathroom discrimination.
The North Carolina House was scheduled to reconvene on Tuesday morning, although no votes were expected to take place on legislation until Wednesday. House Democrats on Monday filed House Bill 946, which seeks to repeal HB2 in full.
"It is never too late to do the right thing," Representative Darren Jackson, lead sponsor of House Bill 946, told Raleigh newspaper The News & Observer. "It is time for the governor and the General Assembly to make it clear that we are focused on creating jobs."