North Carolina Racetrack Holds 'Peaceful Protest' Car Race, Violates Social Distancing Order For Third Time
A North Carolina auto racing track sold more than 800 tickets to a packed race Saturday in violation of Governor Roy Cooper's orders, but organizers have avoided citation so far under a local sheriff who views statewide social distancing mandates as "unconstitutional."
Ace Speedway in Altamahaw, North Carolina on Saturday defied the North Carolina governor's executive order which forbids gatherings of more than 25 people in Phase II of the state's reopening plan. But the racetrack owners billed the event as a "protest" race against "injustice and inequality," and dubbed the event a "unity rally with racing." On the Friday before the race, the governor's office issued a letter urging the Alamance County Commission and Sheriff Terry Johnson to stop the track from holding events.
But local officials have remained defiant, labeling the Democratic governor's executive order "unconstitutional," and setting up a political showdown across state government. Photos and videos posted to social media and reports from Greensboro, North Carolina local Fox affiliate station WGHP-TV showed attendees packed into the stands and not wearing face coverings. But organizers said venue staff was on-hand to conduct temperature checks of fans at the gate.
Update: Spectrum News Triad reporter Taylor Neuman reported Tuesday the governor has closed ACE Speedway and declared the facility an "imminent hazard."
The track held two previous races against the governor's orders, which Cooper described as "reckless" and "dangerous" in a press conference last month after he found out about the events. But Johnson said he did not cite the owners for the races because they were exercising their First Amendment rights.
"They were going to have signs," the local sheriff told the Winston-Salem Journal last month. "From my understanding, they were going to have the pace car go around asking for unity of our nation for what is going on. You know, the fires, the tax on law enforcement, burning of buildings and stuff. And, by doing that, to me, that gives them the First Amendment right to protest peacefully."
A Republican challenger for the state's Lt. Governor position, Mark Robinson, was grand marshal for the CARS Tour race event Saturday, and opened the race by declaring to cheering fans: "Today is about celebrating the freedom of North Carolinians, and not being afraid to stand up against the tyrant we have for a governor and telling him, Mr. Cooper, we will not comply."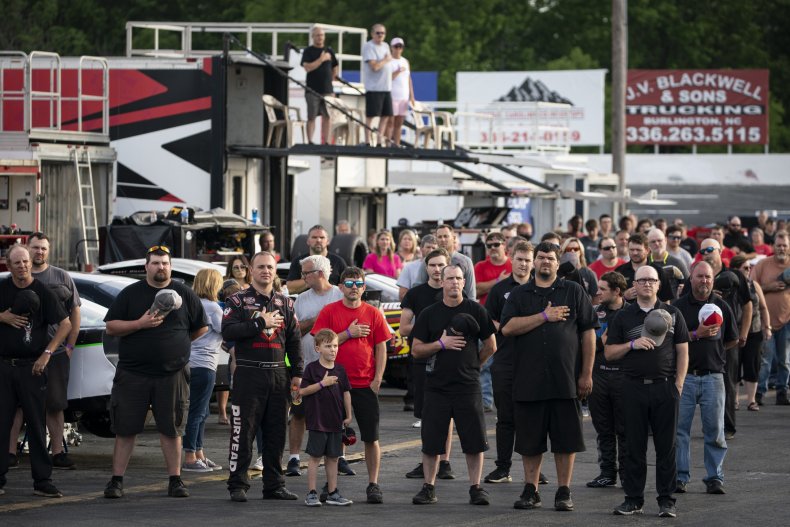 Attendees, organizers and drivers alike described the event and latest CARS Tour event to WGHP-TV as a "small business" in dire need of business, like many industries throughout the country in the wake of the pandemic.
"A lot of folks don't understand this racetrack as a small business, and with all the COVID-19 situation, a lot of small businesses have been put under a lot of great pressure, and many of them have closed. This race track has reached a point where they had to race or they were going to run out of money and were going to have to close," Randy Pettit told WGHP-TV.
Newsweek reached out to Ace Speedway organizers for additional comment Monday afternoon. The Drive reported Sunday that Johnson is now being required to enforce the fines and levy potential charges against the Ace Speedway owners because General Counsel William McKinney stepped in and threatened legal action.
Across the United States, racing has been overwhelmingly placed on hold during the pandemic. "The Greatest Spectacle in Racing," the Indianapolis 500, was postponed from its traditional Memorial Day weekend date until August. But this week, Indianapolis Motor Speedway owner Roger Penske said the race will only be held if fans are allowed to attend, even if that means postponing the event once again into October, RACER Magazine reported last week.