Chainsaw-Wielding Man Arrested After Allegedly Menacing Hotel Guest
North Carolina police officers have arrested a man who allegedly carried out a kidnapping while menacing the victim with a chainsaw at a hotel.
John Vanderburg, 27, was apprehended by Raleigh officers after he allegedly terrorized at least one person at the Super 8 motel at South Saunders Street on Saturday night.
A spokesperson for the RPD said in an earlier statement on the force's website: "At approximately 9:14 p.m. on March 20, officers responded to a disturbance call in the 25000 block of South Saunders Street where the suspect was using a chainsaw to menace the victim."
According to an incident report, the suspect damaged two room doors, one being at the motel and another at the nearby Claremont Inn, which is also located on the same street.
It is unclear how many people were present during the incident and what Vanderburg's connection to the victim is. Vanderburg then allegedly fled South Saunders Street in a dark-colored car and was arrested the following day after the Raleigh Police Department asked the public to help identify him.
Police then issued a photograph of the suspect who was seen wearing a dark green baseball cap, a long white coat, dark jeans and white socks. The suspect could also be seen holding a chainsaw in his right hand while walking around the area.
According to a Sunday evening news release, Vanderburg was brought into custody and charged with second-degree kidnapping, two counts of assault with a deadly weapon, going armed to the terror of the public, four counts of injury to real property, felony larceny of a firearm and disorderly conduct.
Garner Police Department officer Kevin Pena also told The News and Observer, that Vanderburg allegedly broke into a hardware store in the town and stole items.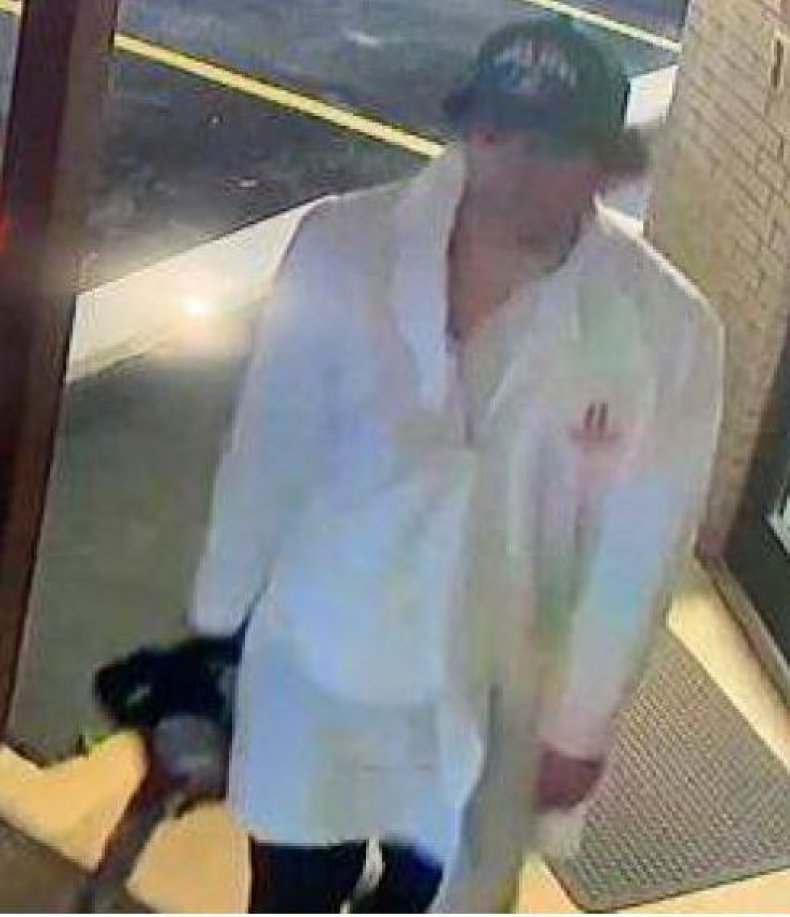 After the RPD said it identified Vanderburg as the suspect, the force thanked the public for their support during the manhunt.
In a March 21 statement, the spokesperson tweeted: "We have a suspect in custody. Thank you to everyone who helped with the search and getting information out. Jacob Vanderburg has been arrested in connection with this incident."
Police urge anyone with any information that might assist the investigation to call the RPD or Raleigh CrimeStoppers at (919) 834-HELP or visit raleighcrimestoppers.org for text and email reporting options. It added CrimeStoppers pays cash rewards for anonymous tips that help solve cases.
Newsweek has contacted the RPD for comment.