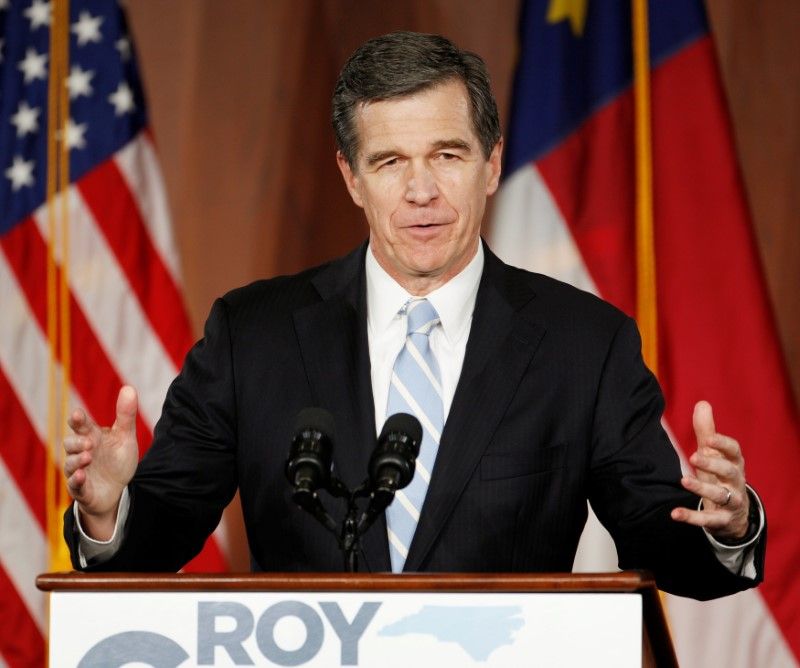 North Carolina's governor-elect said on Monday a deal could soon see the repeal of a law limiting bathroom access for transgender people, following nine months of economic boycotts and protests over the legislation, which rights groups called discriminatory.
Under the law adopted in March, North Carolina was the first U.S. state to ban transgender people from using government-run restrooms that match their gender identity. The law, which catapulted the state to the forefront of U.S. culture wars over LGBT rights, has been blamed for hundreds of millions of dollars in economic losses and the relocation of major sporting events.
In an unexpected series of developments on Monday, incoming Governor Roy Cooper, a Democrat, said Republican leaders of the state legislature planned to call a special session as soon as Tuesday to repeal the law, known as HB 2.
"I hope they will keep their word to me," Cooper said in a statement. "Full repeal will help to bring jobs, sports and entertainment events back and will provide the opportunity for strong LGBT protections in our state."
Earlier on Monday, the city council in Charlotte, the state's largest city, voted to repeal a non-discrimination ordinance that triggered the bathroom legislation's passage. The city this year added protections for marital and familial status, sexual orientation, gender expression and gender identity.
Noting that state law pre-empted their efforts, city council members urged the state legislature to immediately repeal HB 2, highlighting its economic impact.
Fallout over the issue helped to seal the defeat of Republican Governor Pat McCrory in a razor-thin election widely seen as a referendum on the bathroom issue.
McCrory's office said he planned to call a special session following the developments in Charlotte, but did not offer specifics on when it would take place.
"This sudden reversal with little notice after the gubernatorial election sadly proves this entire issue originated by the political left was all about politics and winning the governor's race at the expense of Charlotte and our entire state," the governor's press secretary, Graham Wilson, said in a statement.
Last week, the state's Republican-dominated legislature passed measures to curtail the executive authority of the incoming Democratic governor.
Lawmakers in a few Republican-led states including Texas are considering introducing similar transgender bathroom limits when their legislatures convene next year.