North Carolina Salon Stops Serving Tyson Foods Employees Due to Local Plant's Coronavirus Outbreak
After hundreds of Tyson Foods employees tested positive for the novel coronavirus at a poultry plant in North Carolina, a nearby hair salon said it would not accept customers connected to the facility until early June.
The SmartCuts establishment alerted clients to new entry protocols in a written notice posted to its Wilkesboro storefront, which was photographed and shared to Twitter on Tuesday afternoon.
"To our clients who currently work at Tyson — we appreciate and care for you very much and we hope the current Covid 19 outbreak you are dealing with subsides quickly!" the salon's message began, referring to Tyson Foods' announcement last week confirming that more than 25 percent of its Wilkesboro staff had contracted the respiratory illness. SmartCuts said its decision to temporarily suspend service to the local plant's employees was due to concerns about transmission.
"Given the close contact experienced during our services, we will be unable to serve Tyson employees until approximately June 8, once the recent Covid 19 outbreak has been controlled and enough time has passed," the notice continued, adding that customers impacted by the policy will receive discounts once restrictions have lifted. Newsweek reached out to SmartCuts and Tyson Foods for comments regarding the Wilkesboro salon's interim client regulations but did not receive replies by time of publication.
Numerous meat processing facilities across the United States, including several operated by Tyson Foods, have reported virus outbreaks among staff over the last two months. Many of them suspended or limited activities as a result, though most that initiated short-term closures have since reopened. Tyson's Wilkesboro plant limited its operations during the first two weeks of May, after health officials in Wilkes County identified a growing number of infections linked to the facility and tested more than 200 of its employees.
Tyson went on to implement facility-wide testing procedures at the Wilkesboro plant. The meat processing corporation confirmed 570 of the plant's 2,244 employees had tested positive for the novel coronavirus in a statement released on May 20, which said most cases identified were asymptomatic. The plant had resumed regular operations six days earlier, and noted that "production has begun to ramp up at the facility" in its comprehensive virus report. Tyson said additional protective measures to promote ongoing virus mitigation at the plant had been implemented.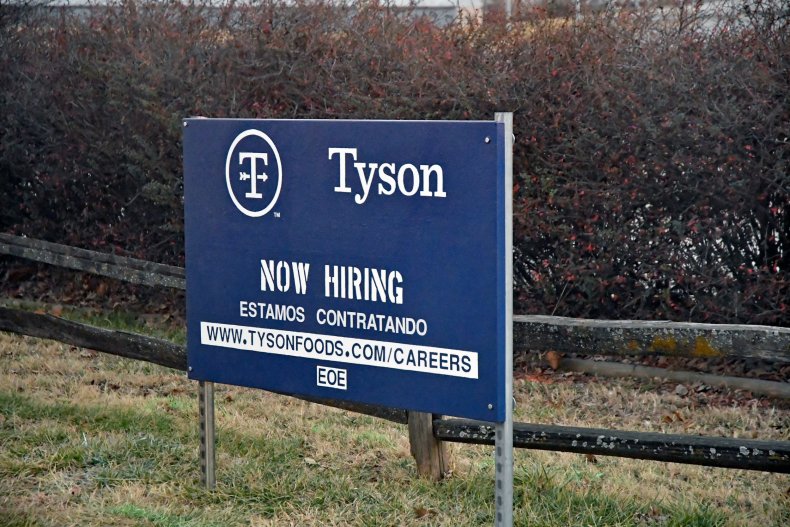 Tyson has reported outbreaks of various sizes among staff at meat processing facilities in several U.S. states, including Virginia, Nebraska, Maine, Washington and Iowa, in addition to North Carolina. Though some of those locations shut down or modified operations as a result, all have now resumed some degree of production.
Like Tyson, meat processing plants owned by other large corporations, including Smithfield Foods and JBS USA, have either continued or resumed operations after staff tested positive for the novel coronavirus. The companies were incentivized to do so after President Donald Trump reinstated the Defense Production Act at the end of April, which classified U.S. protein facilities as critical infrastructure and required them to continue operating throughout the pandemic.