North Carolina Sees Only 1 Percent Uptick in Vaccinations After $1M Lottery Launch
North Carolina has only seen a 1 percent increase in the state's vaccinated population since the governor announced a $1 million lottery for those receiving the jab earlier this month.
Governor Roy Cooper, a Democrat, announced on June 10 that North Carolina would automatically enroll anyone 18 or older who has received at least one dose of a COVID-19 vaccine in the special Summer Cash $1 million lottery. However, he admitted on Friday that the number of vaccinations had not increased "significantly" since the announcement—meagerly rising from 54 percent to 55 percent over the past couple of weeks.
"We're hoping over the next few days and few weeks that we will see some significant improvement in our numbers," Cooper said during a press conference.
The governor explained that the vaccination rate has been on a downward trend for several weeks, but expressed optimism that the situation could improve steadily moving forward.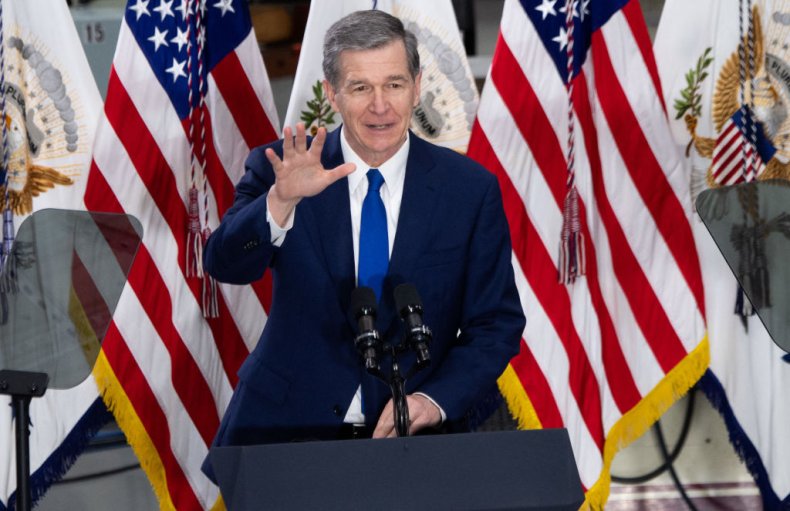 North Carolina's vaccination rate among adults 18 years of age and older is currently equal to that of North Dakota, Indiana and Missouri—all of which have 55 percent of their adult populations vaccinated. However, these states rank toward the bottom of U.S. states and territories, according to The New York Times tracker. Vermont, Hawaii and Massachusetts lead the nation, with adult vaccination rates of 84 percent, 82 percent and 81 percent respectively.
Many other states and municipalities have offered various incentives and cash prizes in a bid to urge Americans to get vaccinated. Ohio was the first to introduce a COVID-19 vaccine lottery, offering a $1 million prize like North Carolina later chose to do. Ohio saw an initial boost—with more than 2.7 million adults in the state going to get the jab after the lottery was announced.
An analysis by the Associated Press said this was a 33 percent increase in Ohio. But the Midwestern state's adult vaccination rate continues to rank relatively low when compared to other U.S. states and territories. As of Saturday morning, the rate stood at just 59 percent—just a few percentage points above North Carolina.
"It's just not working," Irwin Redlener, who directs the Pandemic Resource and Response Initiative at Columbia University, told Politico for an article published on Saturday. "People aren't buying it. The incentives don't seem to be working—whether it's a doughnut, a car or a million dollars."
Polling conducted by Kaiser Family Foundation in late May showed that about 62 percent of U.S. adults reported receiving at least one dose of a COVID-19 vaccine. Notably, Democrats were nearly twice as likely to be vaccinated as Republicans. The survey found that 59 percent of Democrats had received at least one dose of the vaccine while just 31 percent of Republicans reported being vaccinated.
Democratic and Republican leaders have both urged Americans to get vaccinated. Former President Donald Trump has admitted that his voters are more hesitant about getting vaccinated, but he has repeatedly asserted that it's safe and effective. Trump has touted the rapid vaccine development as a significant achievement of his administration—as his Operation Warp Speed initiative provided substantial funding and resources to develop, produce and deploy the vaccines far quicker than many analysts initially expected.
Newsweek reached out to Cooper's press office for comment, but did not immediately receive a response.