North Carolina Shark Attack: Boy, 8, Bitten in Third Attack This Month
An 8-year-old boy who was bitten on the leg by a shark in North Carolina yesterday was taken to hospital and is expected to survive, local authorities said.
The child—whose identity has not been released—was attacked while swimming in the ocean around 4 p.m. at Bald Head Island, WECT reported. Village manager Chris McCall said the boy had been treated at the scene, then transported to a nearby hospital on the island ferry.
The injuries sustained did not require assistance from an air ambulance, but McCall said the child had multiple puncture wounds. It is not known what type of shark attacked him.
"A young boy was bitten by something [that was likely] to be a shark given the type of wounds sustained and assessment made by first-responders," the Bald Head Island manager said in a statement this weekend. It was the third shark attack in the state over the last month.
A holidaymaker who arrived at the beach roughly an hour after the young boy was bitten, Devan Davis, told WECT: "I've heard about shark bites and attacks, but nothing really here, so this is kind of news to me. It can happen anywhere, but it also might not happen. It's not to scare people, but if you see something, get out of the water a minute, watch, and just be careful."
McCall did not immediately respond to a request for additional comment.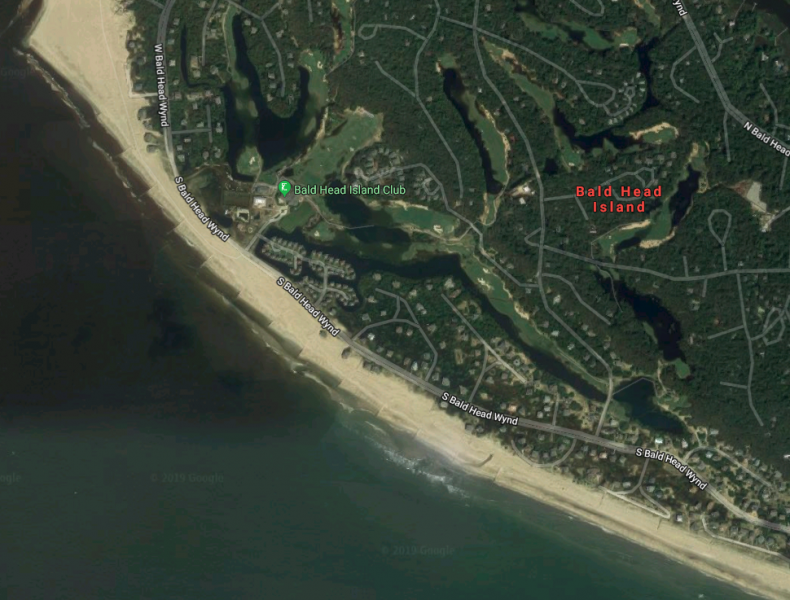 On June 10, a 19-year-old student called Austin Reed was rushed into hospital after being bitten by a shark while surfing with family at North Carolina's Ocean Isle Beach.
The victim's brother, Ethan Reed, told ABC11: "He said 'yo, I got bit by a shark!' And Austin is one to goof around a lot so Tyler thought he was just kidding. And he looked at his foot and realized he wasn't." Reed was expected to make a full recovery, medical officials said.
On June 2, a 17-year-old called Paige Winter was injured in a shark attack close to Fort Macon State Park. The victim lost fingers and had to have part of her leg amputated during surgery, her family said. Janet Winter, the teen's grandmother, also said on Facebook that the girl's father had "punched the shark in the face five times" while trying to save his daughter's life.
In a statement at the time, the Vidant Medical Center in Greenville confirmed that Winter had been bitten by a shark. The teenager was identified with permission from her family.
It said: "Her family expresses their appreciation for the first responders, the individuals on the beach who helped and her heroic father who saved her life. Paige is an unwavering advocate for the marine life and the animals who live in the water. She wishes for people to continue to respect sharks in their environment and their safety."
The graphic below, provided by Statista, illustrates the number of reported sharks attacks around the world.