A strong winter storm that reached the Carolinas over the weekend brought more than a foot of snow in some areas and caused traffic snarls for hundreds across the states.
North Carolina was hit incredibly hard and some areas of the state saw up to 16 inches of snow. Monday morning the National Weather Service office in Raleigh, North Carolina was experiencing a communication outage.
A notice on the NWS website said, "The NWS Forecast Office in Raleigh is experiencing communication problems due to a communication line outage in the region. Technicians are working on the issue. Until it is repaired, we will be unable to provide most web-based content such as snowfall and aviation maps, and we will have limited access to NWSChat and other online services."
The NWS office there did share some of the snowfall totals on Twitter though at 6:38 a.m. EST Monday morning. Those totals showed that northwest Durham had received 14 inches of snow at that time and South Sedge Garden had 11 inches, as did Burlington.
The dangerous conditions for travel were expected to continue through Tuesday morning in central North Carolina, according to the NWS. There was a winter weather advisory issued there and light rain through the day was expected to turn to a wintry mix of snow and sleet at times. The NWS advised that those traveling should be especially careful while traveling in the late afternoon and evening when the temperatures were expected to drop again.
There was a winter storm warning in effect for western North Carolina issued by the Blacksburg Virginia NWS office and that was to remain in effect until 11 a.m. EST Monday. Additional snow accumulation was only expected to be about an inch at that time.
One person died Sunday during the storm when a tree fell and hit their vehicle causing them to drive into a building, CNN reported. The driver died and the passenger was taken to the hospital.
The National Oceanic and Atmospheric Administration predicted that the coming winter would be more mild than others with higher than normal temperatures across much of the northern and western regions of the country. Additionally, above average precipitation is expected across much of the south and east during the winter months as well.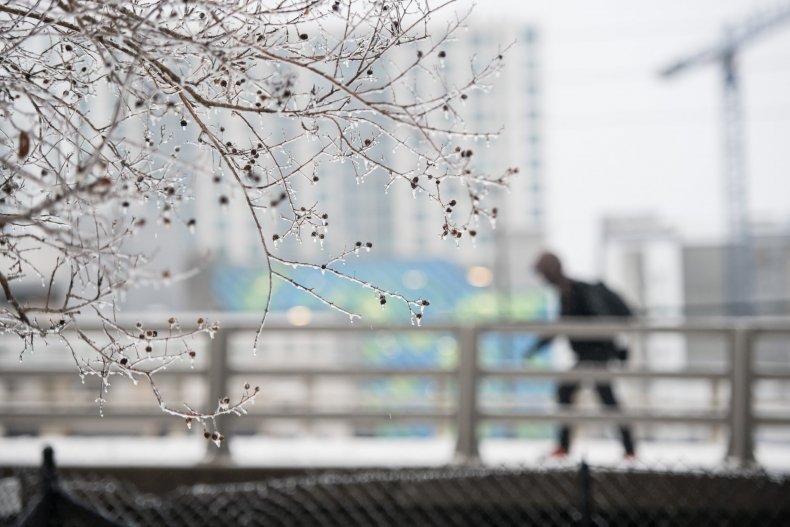 ​