North Carolina Snowstorm Latest Updates: Two Deaths Reported, Governor Roy Cooper Cautions Against Driving
A North Carolina snowstorm claimed the lives of at least two people and left thousands of residents without power.
Governor Roy Cooper shared news of the deaths on Twitter Monday morning, writing that the snow "turned into a nightmare and tragedy for some," and that the state mourned the loss of life as he extended his sympathies to the victims' families.
Although the worst of the storm has passed, according to Cooper, he implored residents to remain vigilant because of the immense amount of snow, ice and rain that fell. In some parts of the state, Cooper said that a year's worth of snow fell in just one day.
The Matthews (North Carolina) Police Department told CNN that one of the weather-related deaths occurred when a tree fell on a vehicle, which caused the vehicle to crash through the front lawn of a church and hit the front of the building. The driver was killed and a passenger was taken to a local hospital with minor injuries.
The National Weather Service in Raleigh shared snowfall totals on Monday morning, showing that areas along the western Virginia-North Carolina border received up to 24 inches of snow. Throughout the state, between eight and 18 inches was more common.
Jason Dunigan, a North Carolina Department of Transportation engineering technician, told WTVD-TV that 1,600 tons of salt had been put down on roads in Wake County since the storm started. While he said the hard part was over, continued snowfall raised concerns that conditions could worsen on Tuesday morning.
"I have a major concern about every road tonight," he explained. "There's going to be ice all over."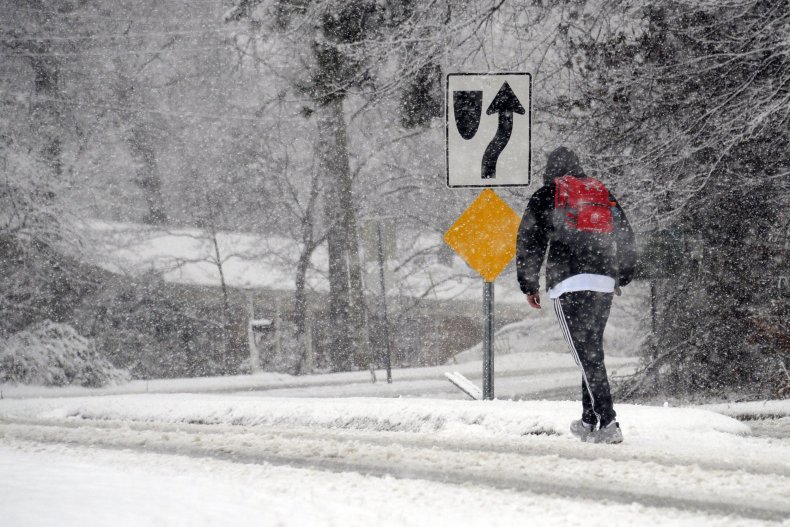 More than 70 schools were closed on Monday, and Cooper issued a state of emergency that activated the National Guard to help with relief efforts. Among the tasks of the 172 National Guard troops were pulling out stuck vehicles and helping first responders escort people to the hospital. Although the snow had let up in some areas, Cooper cautioned residents against going out into the elements before it was deemed safe.
"Please let Mother Nature and [and the North Carolina Department of Transportation] road crews finish clearing the roads before you venture out," Cooper wrote on Twitter. "Don't risk your safety or that of emergency responders by venturing out."
If you must go out into the storm, the governor specifically warned drivers about black ice, urging them to drive slowly and keep a safe following distance. Since the storm started, Colonel Glenn McNeill of the North Carolina State Highway Patrol said the force had responded to 672 collisions.
As of Monday morning, an estimated 144,000 North Carolina homes were without power, Cooper said.
North Carolina Snowstorm Latest Updates: Two Deaths Reported, Governor Roy Cooper Cautions Against Driving | U.S.