North Carolina Tattoo Artist Arrested for Opening Store in Defiance of Coronavirus Lockdown Measures
A tattoo artist and business owner was arrested near Raleigh, North Carolina, on Wednesday afternoon, after law enforcement learned he had opened his studio despite state lockdown regulations.
A video shared to Twitter by local news reporters in Apex, where the tattoo studio is located, shows two police officers removing the artist from his establishment and escorting him into the parking lot outside, where at least two additional officers waited. Per the video clip, all law enforcement personnel wear face masks throughout the interaction, as do several journalists filming the scene. The tattoo artist does not appear to be wearing protective equipment in the video.
The arrest came less than one week after North Carolina Governor Roy Cooper extended the state's stay-at-home order, which mandates nonessential businesses halt operations that cannot be performed remotely. The order, originally scheduled to terminate on April 29, was extended through May 8. In the extension announcement, Cooper's office said the decision was based on data that showed North Carolina had "not yet seen a downward trajectory" in terms of new coronavirus cases reported each day.
"North Carolina needs more time to slow the spread of this virus before we can safely begin lifting restrictions," Cooper explained, adding that the state intended to increase its capacity for diagnostic testing and contact tracing before relaxing lockdown measures as well.
Though a few Southern states have permitted retailers and cosmetic service establishments—like barbershops, nail salons and body art studios—to reopen with heightened safety measures in place this week, the terms of North Carolina's stay-at-home order instruct all entities not considered essential to its COVID-19 response to remain shuttered if telework is not possible. Restaurant services, as is the case in many other states, have been limited to carry-out or delivery.
Cooper's executive order defers enforcement of the directives outlined to state and local police officers, noting that violations could be subject to prosecution. It states that offenses are punishable as Class 2 misdemeanors, which carry a maximum penalty of 60 days in jail with a fine of $1,000 in North Carolina. Whether the tattoo artist arrested Wednesday will be prosecuted is unclear, and the nature of his charges, if any, have not been disclosed. Apex Police Department did not respond to Newsweek's request for comment regarding this story by the time of publication.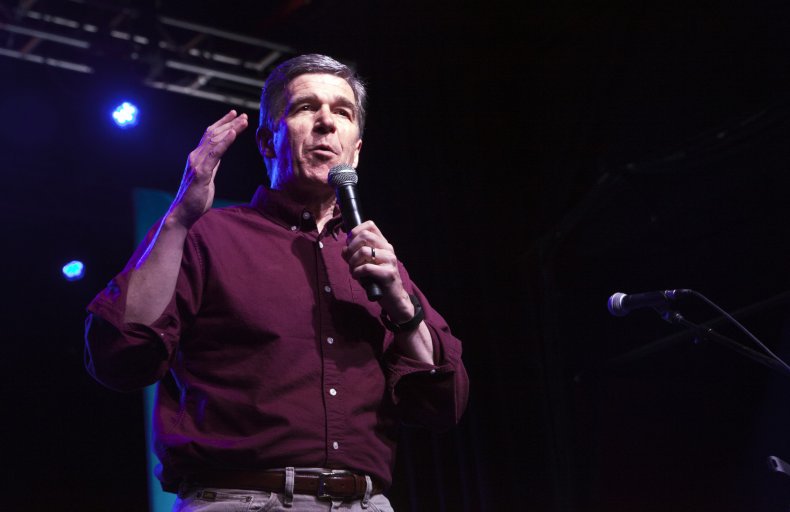 North Carolina has confirmed at least 10,107 cases of the new coronavirus and 379 subsequent deaths as of Wednesday afternoon, according to Johns Hopkins University's tracker. Conforming to the guidelines set by the White House's national economic reopening plan, individual states must see a leveling or decreased incidence of positive coronavirus tests and hospitalizations over a 14-day period before beginning to restore activity.
When North Carolina's stay-at-home order was extended last week, the governor's office said its hospitalization trajectory had largely leveled with slight increases over the previous 14 days. Its case numbers continued to increase along an upward trajectory, though at a slower rate than it had in week prior.