North Carolina Man Who Brutally Punched 11-Year-Old Black Girl in Viral Video Sentenced to Racial Justice Workshop
A North Carolina man who punched to the floor an 11-year-old black girl must take part in a racial justice workshop as part of his sentence after he pleaded guilty to the assault.
David Steven Bell, 51, of Black Mountain appeared in court on Monday over the incident outside a mall in Asheville back in January.
A shocking video of what happened went viral across social media at the time.
Many criticized Bell's actions as unjustifiable and racist, though some internet commentators argued he was defending himself against a threat.
The "mall punch" footage shows a group of girls surrounding and taunting Bell, who is 6'5 tall and weighs 250 pounds.
He turned and pushed one of those confronting him. She ran towards Bell, who caught her with a left hook.
The girls dispersed screaming as their friend lay on the floor, reeling from the heavy punch.
It is not clear what started the incident. But Bell's attorney claimed that the group of girls were harassing a woman at a bookstore and he helped her to leave before they set upon him.
Andy Banzhoff, Bell's attorney, also told the Asheville Citizen-Times back in January that his client is undergoing treatment for a traumatic brain injury and has PTSD.
"His actions were in an effort to defend himself against the perceived threat from a large pack of youth who had trapped and surrounded him," Banzhoff said.
After the group dispersed, Bell flagged down an Asheville Police Department officer and told him what happened at the bookstore.
According to the Buncombe County District Attorney, Bell pleaded guilty to one count of misdemeanor assault on a child under 12 and one count of assault on a female.
He was sentenced to one 60-day suspended sentence and placed on unsupervised probation for 12 months.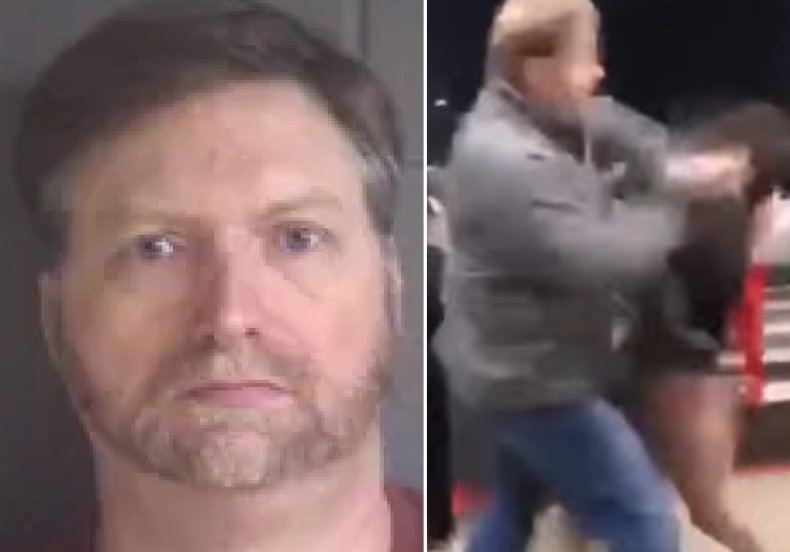 Bell will receive credit of two days for time served to go against the suspended sentence.
Moreover, Bell was sentenced to participate in a racial justice workshop, anger management counselling, community service, and to pay court costs.
There was also a third charge relating to an alleged assault on a female but "after multiple unsuccessful efforts to subpoena and contact the victim in that case, the State entered a dismissal," the district attorney's office said.
According to Heavy, Bell's now-deleted social media and internet profiles show he is married with two children and a piano teacher.
In a Facebook post after his release from jail following his arrest in January, Heavy reported that Bell uploaded a picture of actor Zach Galifianakis with the words: "Have you ever noticed? In every group of friends..The shortest one is the craziest."
North Carolina Man Who Brutally Punched 11-Year-Old Black Girl in Viral Video Sentenced to Racial Justice Workshop | News