North Carolina Holds Do-Over Election: Why Dems and Republicans Are Watching Closely
Tuesday is an important voting day in the Tar Heel State, one that will be watched by 2020 candidates and Congress alike: Republican Dan Bishop and Democrat Dan McCready are going head to head for the House seat representing the state's Ninth district.
Last November, McCready lost to Republican challenger Mark Harris but Harris was never sworn into office. That's because he found himself at the center of a ballot-harvesting scandal that forced him to give up the seat he had just won. Now we're back, with McCready still in the race facing a new Republican challenger.
It's a very close race, and a very expensive one, too. The candidates are polling within a margin of error of each other, and nearly $20 million has been spent to date.
Aside from the candidates themselves, the Democratic Congressional Campaign Committee has spent about $5 million, and so has the National Republican Congressional Committee and the Republican super-PAC the Congressional Leadership Fund. The amount of money pouring into the race shows that this isn't just about two candidates, it's about something bigger. There is a lot of election momentum riding on this district, which Trump won by 12 points in 2016.
Some experts, however, have warned that these special elections don't mean as much as we want to think they do: Remember last time around when Democrats seemed to be picking up seats left and right ahead of midterms but had their momentum fall apart when it came to actually winning back the Senate?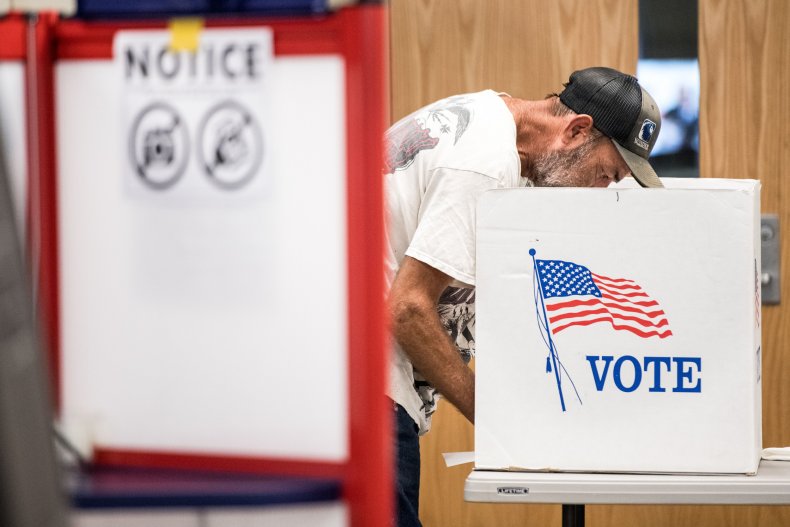 Either way President Donald Trump wants a win. He went down to North Carolina to campaign on Bishop's behalf. "Tomorrow, right here in North Carolina, we take the first steps to firing Nancy Pelosi," he told a roaring crowd at the Crown Complex in Fayetteville.
The last time a Democrat held a seat in the district was in 1962, and if Dems win tonight it could send a clear message to Republicans: Watch out, 2020 is going to be a bloodbath. If Republicans win, they can say that the president is able to hold onto Republican districts and that the narrative that some traditionally red states are turning purple is all wrong. McCready, after all, had the full weight of the Democratic party behind him and spent an unprecedented two years of campaigning and $4 million on the race.
Working America, the community affiliate of the AFL-CIO, spoke face-to-face with 2,817 working-class voters in predominantly African-American areas in the district and found that only 63 percent of likely Democratic voters said they would cast their ballot for McCready.
About 4 percent said they'd vote for Bishop, and 33 percent said they were unsure, indicating that they might have been unaware of the special election. Less than four out of 10 likely Democratic voters said they saw any difference in their lives when a Democrat or Republican was in power, potentially indicating a general apathy towards voting in the election.