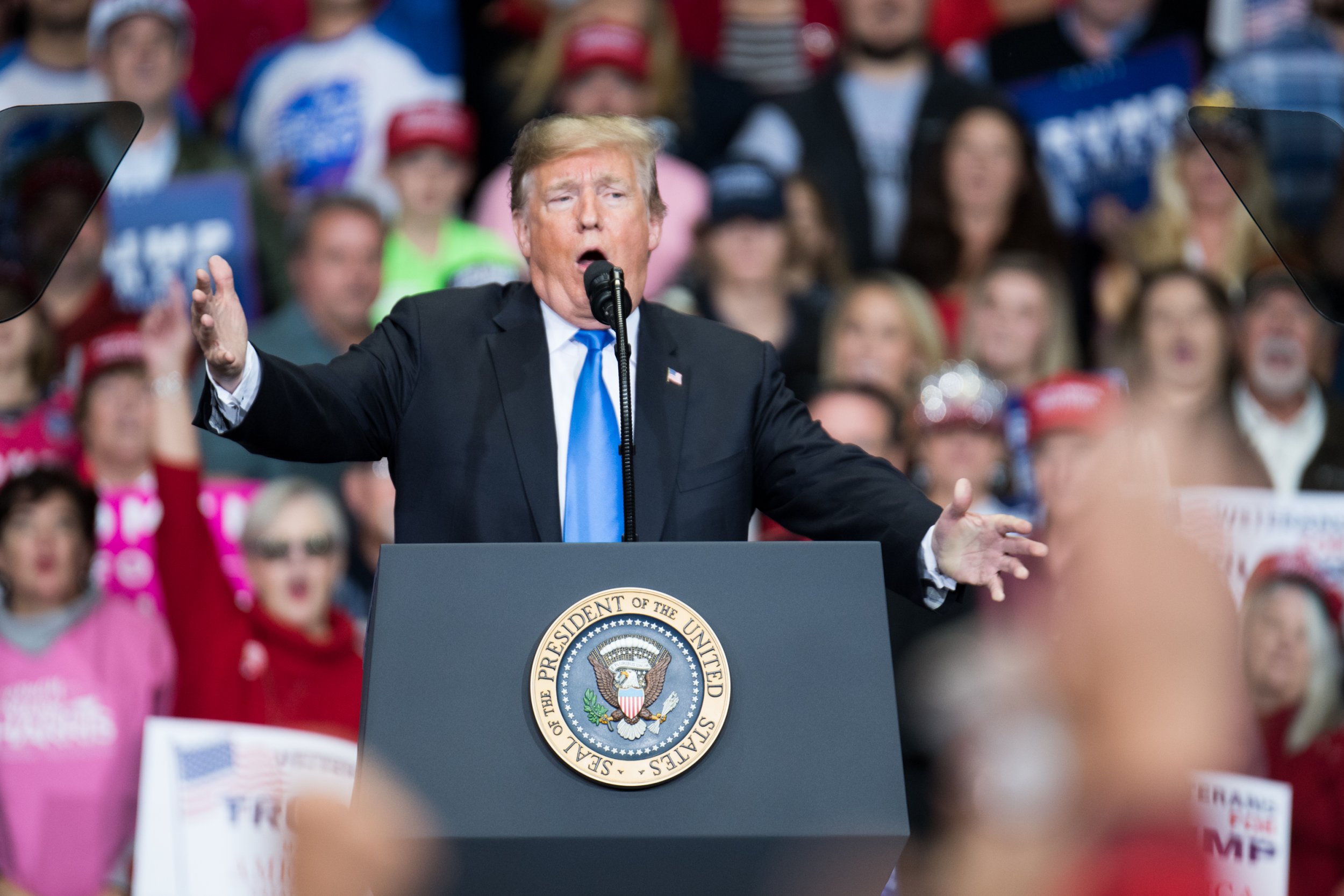 President Donald Trump has long made accusations of voter fraud a cornerstone of his administration's public messaging efforts. In a November interview with the conservative website The Daily Caller, he accused voters of changing clothing and hats in order to vote multiple times in the same election, although he provided no evidence for this claim.
In November, the president made accusations of voter fraud in midterm election recounts, again, with no evidence.
"The Florida Election should be called in favor of Rick Scott and Ron DeSantis in that large numbers of new ballots showed up out of nowhere, and many ballots are missing or forged," he wrote. "Just out — in Arizona, SIGNATURES DON'T MATCH," he tweeted. "Electoral corruption - Call for a new Election? We must protect our Democracy!"
Yet the president has remained silent about a North Carolina congressional race in which actual evidence of illegal ballot-harvesting by the Republican candidate has led the executive director of the North Carolina Republican Party, Dallas Woodhouse, to support an election do-over.
In North Carolina's 9th District race between Republican Mark Harris and Democrat Dan McCready, one of Harris's operatives, Leslie McCrae Dowless, has been accused of tampering with election results through a sophisticated, absentee-ballot scheme.
President Trump visited North Carolina before the election to campaign on behalf of Mark Harris.
The first sign of a problem emerged on election night, when Harris beat McCready by 905 votes, and the state Board of Elections refused to certify the results.
Now, documents released Tuesday by the board show that Dowless had personally requested more than 600 absentee ballots from one county in the district. Sworn affidavits reveal he then directed staffers to go and collect completed absentee ballots, which is in violation of state law. Some accuse Dowless's staff of filling out the ballots for voters, which is also against the law.
While it is not illegal to help voters in requesting their absentee mail ballots, another person cannot collect and send in the ballot. That practice, known as ballot-harvesting, is considered a form of election fraud.
The Associated Press revoked its call of a Harris win on Friday, and North Carolina officials voted to keep investigating allegations of potential fraud.
"Make no mistake, I support any efforts to investigate allegations of irregularities and/or voter fraud, as long as it is fair and focuses on all political parties," Harris said.
"But to date, there is absolutely no public evidence that there are enough ballots in question to affect the outcome of this race. Accordingly, the board should act immediately to certify the race while continuing to conduct their investigation. Anything else is a disservice to the people of the Ninth District."
Still, the North Carolina State Board of Elections and Ethics Enforcement has at least six instances of sworn testimony from Bladen County, where voters said their ballots were collected by campaign officials, sometimes before they were filled out completely.
Da­tesha Montgomery, a Bladen County voter, said in her testimony that a woman came to her home in October and asked to collect her ballot. Montgomery had only voted in two races, but gave the woman her unfinished ballot anyway. "She said she would finish it herself," Montgomery said. "I signed the ballot and she left. It was not sealed up at any time."
The North Carolina Republican Party did not let these allegations stop them from declaring Harris as the winner.
"Unless they have strong evidence the outcome of the race was changed or there was a substantial likelihood the race could have been changed, Congressman-elect Harris needs to be certified the winner while the criminal investigation continues," said Robin Hayes, chairman of the North Carolina Republican Party, this week.
Republicans in North Carolina have focused their efforts on instituting strict voter ID laws, using the Bladen County issue as their sticking point.
"This situation we're all reading about is an embarrassment and an impediment to the integrity of our entire election system," said Representative David Lewis, a Republican sponsoring the voter ID bill.
Republicans have been fighting to pass tougher voter ID laws for years, long before these issues occured. Democrats argue that the rules would make it more difficult for marginalized voters to cast their ballots.
Strict voter ID laws are generally considered ineffective in preventing ballot-harvesting.