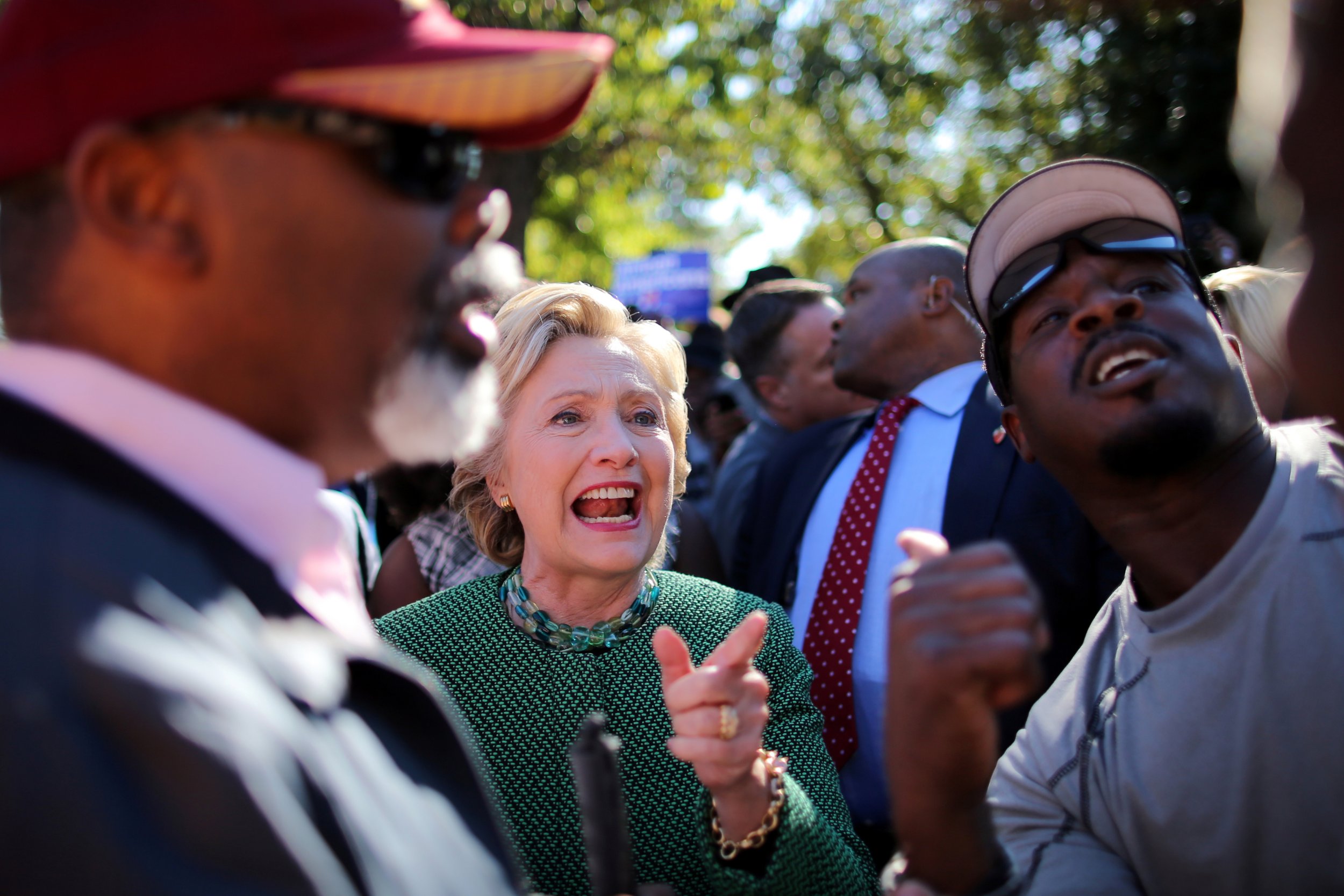 North Carolina's African-American community has fought to overcome numerous barriers to voting over the past century—from poll taxes and literacy tests to a 2013 voter ID law that, according to a federal appeals court ruling this summer, was designed to "target African-Americans with almost surgical precision." So as the state's early-voting period gets underway in the 2016 election, black voters are not about to let concerns about conflict at polling places—fanned by Donald Trump's sinister predictions of voter fraud—keep them from casting their ballot.
"We don't take what Donald Trump has to say as a deterrent for us to come and vote," North Carolina Central University student Brian Burton told Newsweek on October 20, following a rally featuring Democratic vice presidential nominee Tim Kaine at the historically black university in Durham. Burton said he thinks the Republican presidential nominee's talk of rampant voter fraud (which is unfounded) and exhortations to his supporters to go out and watch "other communities" vote are "only driving more Democrats to the polls, versus actually driving them away." He said he was planning to vote the next day.
Others on campus were equally nonplussed. "I'm not really worried about anything," said freshman Saniya Farrow, who planned to go home to another part of the state, where she is registered, to vote over the weekend. She said warnings of vote rigging are "nothing new," though she added she wasn't familiar with the concerns specific to this election.
In downtown Durham, voters didn't appear fazed by the presidential race's harsh rhetoric or the rain in the next day's forecast. A line snaked out the door of the Durham County Board of Elections office, one of five early-voting sites now open in the county. Another eight will begin operating on October 27 through Election Day. Volunteer poll monitors said the crowds had been pretty consistent since voting began October 20.
That's a good sign for Democrats. Durham County, part of the "Research Triangle" and home to Duke University, is a Democratic stronghold in North Carolina, with one of the state's largest black populations as well as an affluent white professional class. The party needs a strong turnout here, and in the heavily African-American counties in the state's east, to have a chance at winning the presidential contest in North Carolina, where Trump and Democrat Hillary Clinton have been locked in a virtual tie for months.
At his rally at North Carolina Central, Kaine called North Carolina not just a battleground state but a "checkmate state"—one of just a handful (along with Ohio and Florida) that could decide the presidential election. A loss here and the Trump campaign is essentially toast.
But it's not just the presidential race that is roiling the Tar Heel State. Its governor's mansion, a Senate seat and the state Supreme Court are all up for grabs in a campaign season that's been shaded by a bitter culture war, which has come to be symbolized by the state's controversial transgender bathroom law, HB2. Signed last spring, HB2 was just the latest in a series of hyper-partisan laws introduced in the state, from strict new curbs on abortion to a measure that represented the most comprehensive set of new restrictions on voting in the country. There's perhaps no other state that better epitomizes the gaping divide between left and right that this election has opened.
It's only because of federal intervention that North Carolinians are even able to vote this early. In July, the 4th U.S. Circuit Court of Appeals ruled that the Republican-controlled state Legislature intended to discriminate against minorities when it passed the 2013 law, violating the federal Voting Rights Act. After the Supreme Court declined to hear its appeal, the state had to roll back large portions of the law, dropping ID requirements and extending early voting back to 17 days. It was a victory for civil rights groups and for Democrats more generally, as African-Americans and students, two traditional Democratic voting blocs, have been found to make up a disproportionately large percentage of early voters.
Local officials and activists seemed determined not to let the legal tug-of-war confuse or deter voters. At North Carolina Central's campus, Burton noted, "We've had people that have been here, signing folks up to actually be registered here in Durham County" and making sure they know when and where to vote. The university's law school is hosting one of the early-voting sites that opens this week. Durham resident Antoine Person said he'd "had people coming up to me at Wal-Mart, different places, to say, 'Have you registered?'" The 43-year-old had just voted for the first time on October 21, a process he said was remarkably easy.
At the Durham County Board of Elections office, a sign taped to a railing near the polling place entrance reminded voters, "NO PHOTO ID NEEDED TO VOTE." A couple of volunteer poll monitors wearing bright yellow "Vote Protector" T-shirts were also on hand to make sure no one had problems voting. The volunteers, members of the local progressive advocacy group Democracy North Carolina, asked voters who did report problems to take a survey regarding the nature of various problems. They've also set up a hotline number to help voters who feel they've been disenfranchised.
Jen Jones, Democracy North Carolina's communications director, says thus far the biggest concern has been reports of three- and four-hour waits in Wake and Mecklenburg counties—home to the state's biggest metropolitan areas around Raleigh and Charlotte—during the first few days of early voting. The group has not received any reports of individual voter intimidation from Trump-aligned poll monitors. Trump's website asks users to volunteer as poll watchers, but Jones said her organization had not heard of the GOP training any observers who may have signed up. The state Republican Party did not respond to an inquiry from Newsweek.
"What we're concerned about is...you have a people who are not involved with the political process until this election going to the polls and just standing there and watching. And that can be intimidating," says Jones. She also noted that many polling locations in the state are subject to open carry gun laws: "You may have someone with a gun standing there watching you vote."
Autrice Campbell Long, a middle-aged bank employee, didn't have any problems while voting October 21 in Durham but said the rhetoric coming from Trump and his supporters made her a little nervous. If anything happens, "I think it's going to be more on Election Day, I get that sense," she said. "I plan to bring my mom and have her vote early as well, to avoid any drama that might occur."