North Carolina Walmart Shooting: Man Killed Near Grocery Aisle, Police Say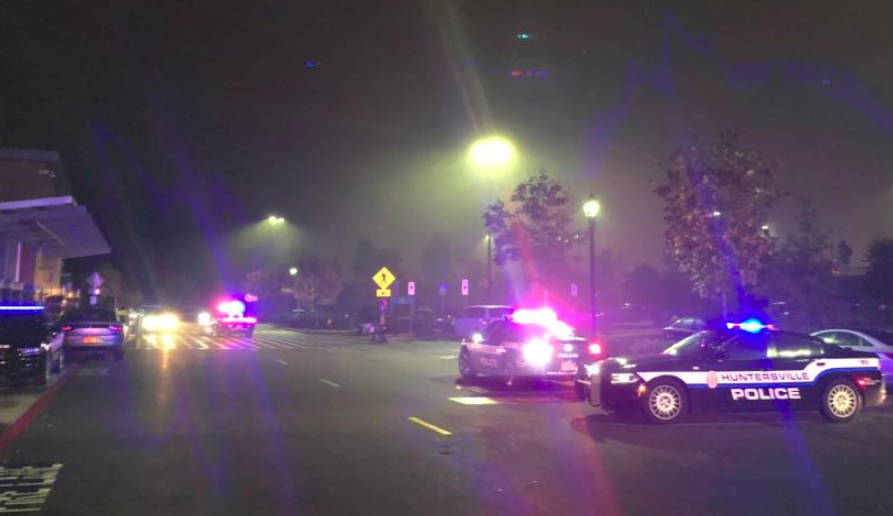 A man was shot and killed on Monday evening at a Walmart retail store in Huntersville, North Carolina and one suspect has since been taken into custody, police say.
Dozens of customers were sent into a panic after shots rang out inside the store at around 6 p.m. with officials from the Huntersville Police Department later confirming that a black male had been pronounced dead at the scene on the 1000 block of Bryton Town Center Drive.
An on-duty officer who was in the store at the time heard at least one gunshot and took a black male suspect into custody, Huntersville Police Chief Cleveland Spurill said in a media briefing. The chief said the incident occurred in the aisles near "the produce section, the food section."
In a statement posted to Facebook, the department said the suspect was questioned at the scene. It said several individuals were taken into custody due to a separate "altercation."
"As more information becomes available it will be released," the police statement read. "We are not releasing any names at this time until the family has been notified. Your cooperation during this time is greatly appreciated. At this time there is no reason for the community to feel unsafe as we believe all responsible parties have been taken into custody."
Spurill told reporters after the shooting that it was too early to attach a motive to the crime. He said it was not possible to rule out the suggestion it was linked to a robbery attempt. The police chief estimated that "a lot" of customers had been in the Walmart at the time.
And he noted that it was "very uncommon" for a shooting to happen in the retail store.
"We have an individual who is a person of interest that we do have in custody," Spurill added. "At this point we are still trying to piece together exactly what his involvement was."
WB-TV reported that SWAT officers attended the scene and escorted customers to safety. Police said the team had been engaged in a closeby training exercise.
One regular shopper at the store, named as Denise Burton, told Fox46: "I [didn't] want to be a sitting duck. As soon as the coast was clear I got my daughter. I didn't know if it was a terrorist, with everything that's happening today you just don't want to be sitting there."
In a statement obtained by WSOC-TV after the shooting, a Walmart spokesperson said: "We are deeply saddened by what has happened. We are thankful for the quick actions by the Huntersville Police Department that has resulted in an arrest. We are working closely with law enforcement. Since this is an active investigation, we will refer additional questions to them."