North Carolina Woman Told She Can't Vote Because She's Listed As Dead
A North Carolina resident went to exercise her right to vote, only to be told was not allowed to because she's dead.
Maryann Leonard, from High Point, went to the Deep River Recreation Center to cast her vote, like she has done numerous times before in previous elections. This time she got a shock when the staff at the voting booth said she was "ineligible" to vote, reported Fox 8 News.
"I said, 'I can't imagine why.' [The ballot assistant] said, 'Let me find out.' Then she told me, 'It says you're dead,'" Leonard said.
Every two years Maryann Leonard and her husband Pat have voted early at the center but this year, the couple became worried. The Leonards were "flabbergasted," said her husband Pat, who considered "voter fraud" to be a possible reason why his wife's ballot was awry.
"Oh my goodness. This is a year when so much is going on. So much has happened and so many people have died," Maryann Leonard said.
The couple got straight onto the county and state boards of election to find out what the issue was. They were told it was a simple case of a clerical error—a name mix up with another woman with a similar name and birthday.
"It's just a warning to people to be cautious," Pat said, "If you're mailing in your vote you would never know this," Maryann said.
"You don't want to go on Election Day and find out that you're not eligible for election," Pat said.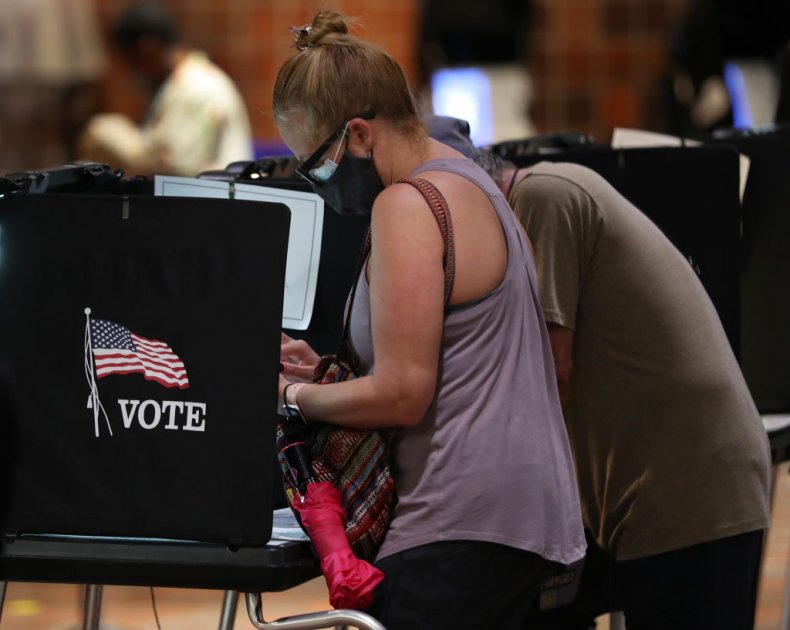 This year, during the coronavirus pandemic, 37 percent of registered voters are considering a postal vote, according to a recent survey by the Democracy Fund & UCLA Nationscape project. Postal votes allow individuals to maintain social distancing.
The research also found that 48 percent of total postal voters were likely to be Joe Biden supporters, compared to 23 percent backing President Donald Trump.
Trump has previously suggested via Twitter that postal voting could encourage fraud. "So now the Democrats are using mail drop boxes, which are a voter-security disaster," the president tweeted in August.
"Among other things, they make it possible for a person to vote multiple times.
"Also, who controls them? Are they placed in Republican or Democrat areas? They are not Covid sanitised – a big fraud."
Specifically speaking to residents in North Carolina, the president tweeted on 12 September: "NORTH CAROLINA: To make sure your Ballot COUNTS, sign & send it in EARLY. When Polls open, go to your Polling Place to see if it was COUNTED. IF NOT, VOTE! Your signed Ballot will not count because your vote has been posted. Don't let them illegally take your vote away from you!"
Twitter said the president's 12 September tweet to North Carolinians was in violation of "civic and election integrity." The company has allowed the tweet to remain with a warning on its website: "This Tweet violated the Twitter Rules about civic and election integrity. However, Twitter has determined that it may be in the public's interest for the Tweet to remain accessible."
Democrats have claimed Trump's anti-postal vote stance is an attempt to lower voter turnouts rather than to prevent voter fraud.