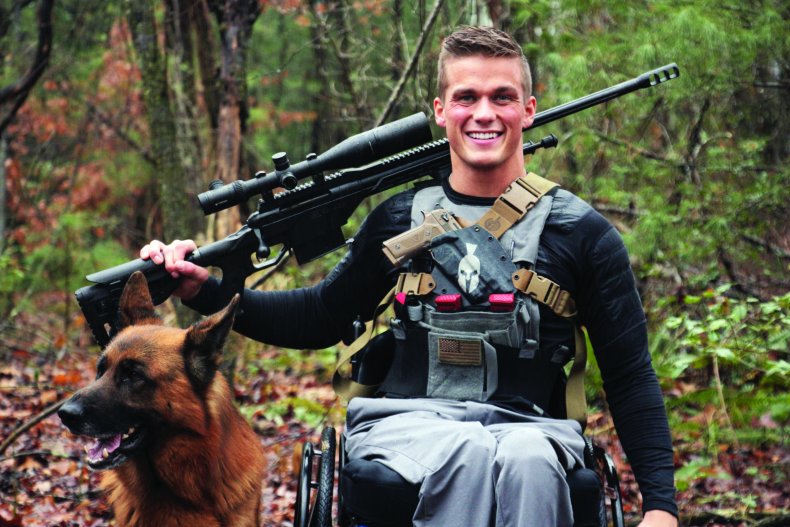 If he's successful in November, Madison Cawthorn will become the first member of Congress who was born in the 1990s.
It's a distinction that isn't lost on the 24-year-old Republican running for North Carolina's open 11th District seat, but it does make it more jarring when he describes a darkly existential reason for seeking office.
"My biggest fear in life is lying on my death bed and looking back at the world and not seeing any relevant change that I personally created to help my fellow man," he told Newsweek in a recent interview. "We have a lot of problems in our country."
Cawthorn, who was partially paralyzed in a 2014 car wreck and had to spend a year in the hospital, stunned political observers when he trounced Trump-backed Lynda Bennett in the GOP primary in the race to replace Trump's chief of staff Mark Meadows. Meadows left Congress for the White House earlier this year.
The race was Trump's first GOP primary endorsement to lose in 2020.
But Cawthorn, who described himself as "far-right," said he's still a loyal Trump supporter. He said he has spoken with the president since the election and expects to travel to the White House in the coming weeks to meet with him in person.
"The president was great," Cawthorn said of their call, adding that he believed Trump was taking advice from others when he endorsed Bennett.
Asked for comment, the Trump campaign referred Newsweek to tweets noting the president's call congratulating Cawthorn. Trump hasn't tweeted about the race.
Bennett's campaign didn't respond to Newsweek's request for comment.
"She ran a great race," Cawthorn said. "She's been a conservative icon in her county."
Cawthorn, who owns a real estate investment company, was homeschooled and had planned to enroll in the U.S. Naval Academy until the wreck. He's recently engaged and said thinking about how he wants the world to be for their children often drives his actions.
"I want to make sure they have a safe world to grow up in," he said.
The congressional district is considered deeply conservative. Political analysts from the Cook Political Report, Sabato's Crystal Ball and Inside Elections have all rated the race as solidly Republican. The state underwent a court-ordered redrawing of its districts last fall that put some more Democratic voters in the 11th than before, but left it still staunchly Republican.
Moe Davis, the 61-year-old Democrat who faces Cawthorn on the Nov. 3 ballot, described his Republican opponent as "charismatic" but said he lacks the experience needed in Washington.
"It's a novelty," he said. "I understand the attraction of something like that."
Davis is a retired Air Force colonel who was chief prosecutor of the Guantanamo military commissions until he resigned in 2007 in protest over the use of evidence obtained by waterboarding suspects. His nearly three-decade military career spanned longer than Cawthorn's entire life.
"People always say this is the most important election in my lifetime ever," Davis said. "This one truly is."
From campaigning in the district, Davis said, he believed people are "worn out from chaos over the past 3.5 years."
"I think they're looking for someone with experience—someone who's been tested and ready," he said.
He said he sees Cawthorn as someone who lacks policy substance and is merely focused on Trump's support and red-meat issues.
Davis said he wants to focus on issues to solve poverty and other problems that plague the district.
"When schools closed and they sent kids home with laptops—that laptop is a big paperweight if you don't have internet at home," Davis said.
Cawthorn, however, said his youth makes him a good messenger for the Republican Party "winning the battle of the hearts and minds of the people."
"To me, it's not a policy battle, it's a cultural war," he said.
He said he's frustrated by the state of the GOP, who he says squandered a period of control over the House, Senate and White House when Trump took office and Democrats didn't control the House.
"I feel like we wasted opportunity because there are too many career politicians in Washington," he said.
And like Trump, Cawthorn said he's running against "cancel culture"—a form of group shaming of people or entities that have done offensive things. Many conservatives complain that the practice, lofted by social media, has gone too far, amid waves of people losing jobs or corporate sponsorships. Cawthorn said he also disagreed with the recent toppling of monuments and other statues, seen as an extension of cancel culture during a wave of anti-racism protests.
"I think there is a time and a place to discuss whether we want to keep Confederate monuments up, but I don't think that the judge, jury and executioner should be an angry mob," he said. "My ask to the people of America would be let's try to have a sober and well-thought-out discussion about how we can make our country better."