North Dakota Saw 80 Percent Increase in COVID Cases in September With a Death Toll Double Previous Record
Over the course of September, North Dakota has seen roughly an 80 percent increase in confirmed coronavirus cases, with the state currently leading the nation in terms of the number of infections per capita.
On August 31, the state had recorded 11,999 COVID-19 cases but that total has now risen by nearly 10,000 to 21,846 in just one month. New cases have been rising steadily since July and for much of September, North Dakota has constantly broken new records for active coronavirus cases—of which there are currently 3,661.
Joshua Wynne, from the University of North Dakota, told Newsweek that the latest trends are "disturbing and headed in the wrong direction," with other experts criticizing the state government's response to the pandemic.
The state's rate of infection has increased 600 percent since June and it is currently experiencing "uncontrolled spread," leaving its most vulnerable individuals at risk, Mark Cameron from Case Western Reserve University told Newsweek.
North Dakota has reported a record number of COVID-19-related deaths in September—a total of 100, which is significantly higher than more than any other month in the pandemic. For comparison, the next highest monthly total for deaths came in May when the state recorded 43 fatalities. The number of active hospitalizations has also increased steadily over the course of September and reached a record-high of 102 on September 25.
The state's test positivity rate is currently hovering around nine percent, while its 14-day rolling average test positive rate has been rising since July, when much of the U.S. started experiencing a second surge.
"While not alone in this current trend, North Dakota's daily new case rates, active hospitalizations, and deaths-by-month are way beyond their late-May peaks," Cameron said. "All of these numbers have taken especially bad turns over the last two to three weeks."
An increase in the test positivity rate—which indicates the percentage of tests that come back positive out of the total number conducted—suggests that the latest outbreak is growing. It currently stands at around nine percent, which is greater than the World Health Organization recommendation that a region should remain at five percent or lower for at least 14 days before reopening.
While North Dakota has conducted more tests per 100,000 people than any other state, experts say this does not explain the recent spread of the virus.
The number of unique tests North Dakota is performing—referring to people who have only been tested once—hasn't increased since May, although the state has been conducting more serial tests, meaning several tests performed on the same individual over a period of time in specific settings like nursing homes, health care providers, or prisons, according to Cameron.
"To be clear, performing more tests does not artificially inflate case rates, especially when you consider the rolling averages. If the pandemic is actually under control, more testing would show a decrease in daily new cases. We have more than enough data from the multiple surges in the U.S. and around the world to disprove that more testing now unfairly boosts case numbers."
Cameron said it is difficult to pinpoint exactly why the state is experiencing a worsening outbreak. But he said most active cases in the state are currently occurring in young adults, with state health data showing the 20 to 29-year-old group represents the largest proportion of infections. He pointed to universities returning and Labor Day weekend—but this is not unique to North Dakota.
Cameron said the lack of a mask mandate could be an important factor. While Republican Governor Doug Burgum has advocated for the use of masks—appealing to residents' sense of personal responsibility—he has rejected the idea of issuing a statewide mandate, and North Dakota is currently one of the few states without one.
"The fact that North Dakota doesn't have a statewide mask mandate doesn't help," Cameron said.
He said that in Ohio, where he is based, case numbers were brought back under control after a mask mandate was introduced.
There is now widespread scientific consensus that universal wearing of masks is effective for slowing the spread of COVID-19, Jennifer Horney, an epidemiologist from the University of Delaware, told Newsweek. "Again, this is very important since many people do not know they are infected, and community spread—rather than household spread or travel—is responsible for the majority of the cases in North Dakota," she said.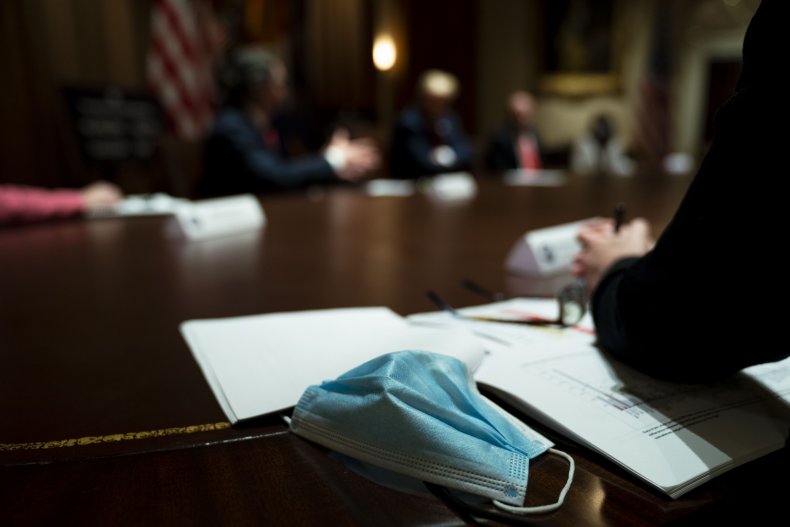 Experts also pointed to the state having few coronavirus restrictions compared to many others across the nation. It currently has no limitations on travel, the size of gatherings, or the reopening of businesses and is one of eight classified by the Kaiser Family Foundation—an American non-profit organization focusing on national health issues—as being "completely reopened."
"There is no comparison [to other states]—we have no actual, mandated restrictions nor plan nor enforcements of 'guidelines,'" Shelley Lenz, Burgum's Democratic opponent, told Newsweek. "The Governor touts a 'light touch of government,' which in reality has meant abdicating his duties to local control. This approach has failed by every metric."
According to Lenz, a "failure of leadership" by Burgum has been one of the main factors that have contributed to North Dakota's recent outbreak, saying that he has not conveyed a "coherent" crisis management plan has been implemented.
"September has been a month of astronomical growth in COVID-19 cases, hospitalizations, and deaths in North Dakota. My heart goes out to those who have been affected by COVID. At the same time it is important to note that these tragic losses were preventable. The pandemic is totally out of control, with no evidence of plans to change our state's trajectory—because partisan politics rather than science is driving decision making.
"The ongoing decision to put partisan politics ahead of protecting the health and well-being of North Dakotans by refusing to put in place appropriate guidance and executive orders to stem the spread of the virus. Other states have proven it is possible with proper leadership. Burgum has failed," she said.
In a statement provided to Newsweek, a spokesperson for Gov. Burgum said: "Under Gov. Burgum's leadership, North Dakota has taken pragmatic, targeted actions to save lives and livelihoods with a strong focus on protecting the most vulnerable."
"One of the first things Gov. Burgum did when this pandemic began is activate the Unified Command," which fulfills the function of providing fact-based, data-driven recommendations to the governor, the spokesperson said. "For example, Gov. Burgum and the Department of Health just announced adjusted quarantine guidelines designed to incentivize mask-wearing, based on science."
"Gov. Burgum has been and continues to be a strong advocate of wearing masks to slow the spread of coronavirus. Regarding the claim of 'no evidence of plans,' those allegations are baseless and without merit. North Dakota's Vulnerable Population Protection Plan (VP3) has been nationally recognized by Dr. Deborah Birx as a model for the rest of the nation, with the most recent White House state-specific report calling it an 'excellent proactive protection plan for nursing homes, assisted living, and elderly care sites.'"
The spokesperson said the governor outlined steps on Thursday to protect residents and workers in long-term care facilities. For example, those facilities experiencing outbreaks are conducting more testing, while professional cleaning services are being deployed to sanitize high-touch surfaces and common areas.
"North Dakota has remained one of the most open states in the nation, as the governor understands that a healthy economy has a direct impact on the physical, mental and emotional well-being of North Dakotans of all ages. North Dakota's unemployment rate in August was sixth-lowest in the nation," the spokesperson said.
This article has been updated to include comments from the office of Gov. Burgum.