North Dakota COVID Mortality Rate Highest in the World, With 1 in Every 1,000 Residents Dead
One in every 1,000 North Dakota residents have died from covid-19.
The state is facing one of the worst coronavirus outbreaks as it struggles with a shortage of health care workers. As of Tuesday November 17, 769 of the roughly 762,000 residents of North Dakota have died after testing positive for covid-19, including 615 deaths due to covid-19 and 118 deaths where covid-19 was not the primary cause. Death records were still pending for the remaining 36. Per state law, this can take up to 10 days from the date of death.
North Dakota currently has the highest daily mortality rate—18.2 deaths per 1 million people—of any domestic state or country in the world, according to a recent analysis conducted by the Federation of American Scientists. Czechia, a country in Europe, came second with 18 deaths per 1 million people and South Dakota followed closely behind with 17.4 deaths per 1 million people. The stats were taken from a seven day period ending November 15.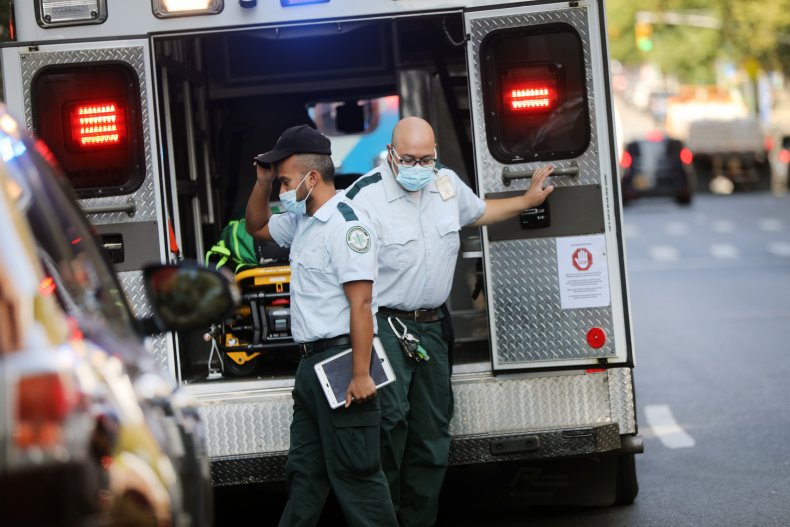 Nearly 66,000 individuals have tested positive for covid-19 in North Dakota, according to state records. North Dakota's 7-day average testing positivity rate sat at 14.9 percent at the time of publication, a slight decrease from the 18 percent that was recorded earlier this week.
On November 9, North Dakota's Republican Governor Doug Burgum ordered symptomless health care staffers to remain at work despite testing positive for covid-19. The decision—made as hospitals reached full capacity—drew anger among doctors and nurses who say the move put lives in danger.
About a week later, on November 14, Burgum issued a statewide mask mandate as the virus continued to spread rapidly. Under the order, signed by Interim State Health Officer Dirk Wilke, face masks are now required in indoor public spaces, including businesses, and outdoor public areas where 6-foot social distancing isn't possible. Citizens with a medical condition or disability, religious services and children under the age of 5 are exempt from the rule.
"The most effective weapon against COVID-19 is wearing a mask. This is a simple tool, but one that's critical in helping protect our loved ones and slow the spread," Wilke said.
Burgum has also signed into effect a slew of other covid-related orders to curb the spread, including limiting bars and restaurants to 50 percent capacity and suspending all high school sports until December 14.
"Our situation has changed, and we must change with it," Burgum said. "We believe in North Dakotans. We believe in the power of individual responsibility. And we need individual responsibility now more than ever to slow the spread of COVID-19."
Newsweek reached out to North Dakota Governor Doug Burgum for further comment.