Arrests Made as Protesters Cleared From Dakota Pipeline Camp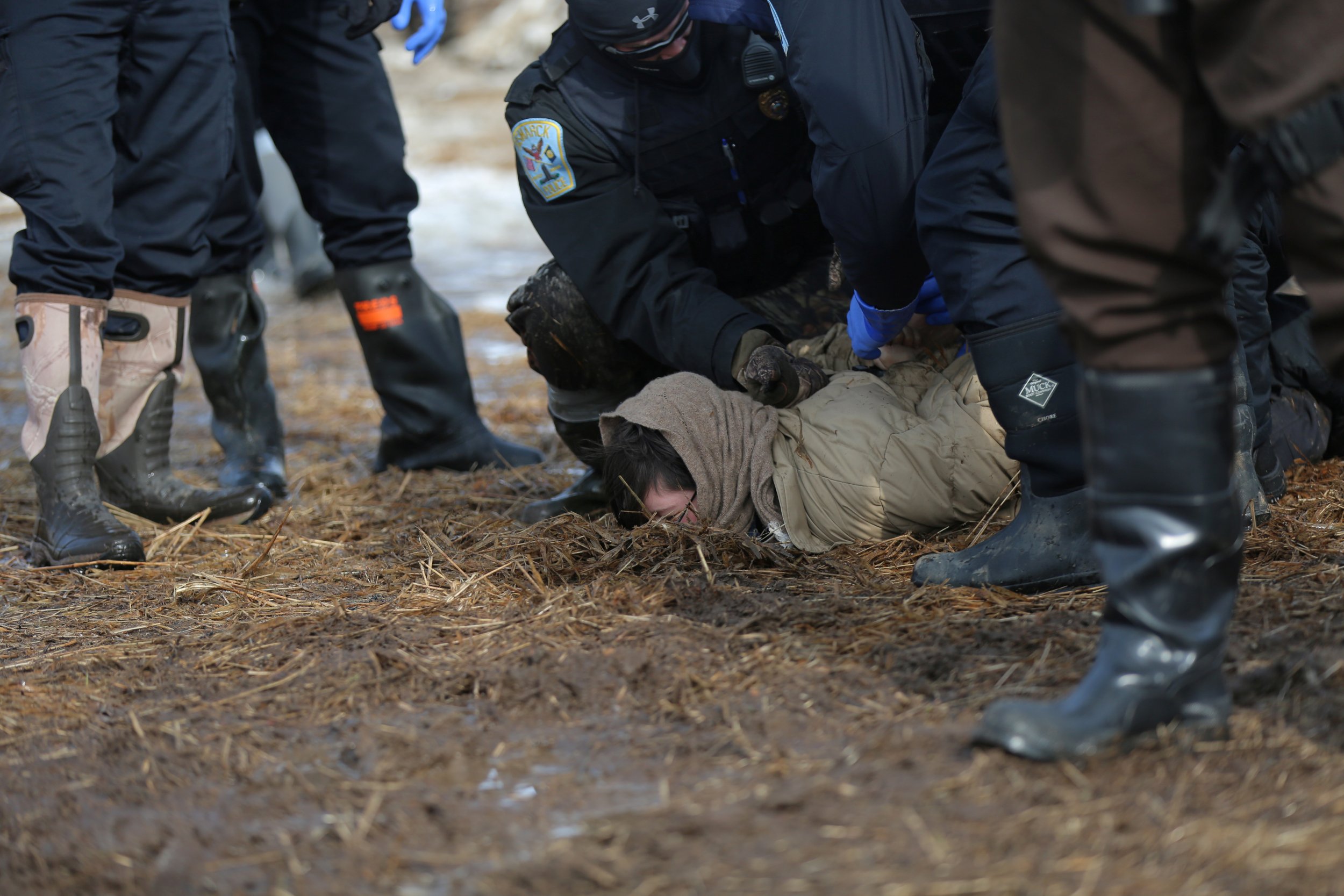 Dozens of armed law enforcement officials swept through a protest camp near the site of the Dakota Access pipeline Thursday, clearing the camp that for months served as a base of opposition to the multi-billion dollar project.
About 50 police in riot gear, aided by National Guardsmen, moved slowly through the camp in Cannon Ball, North Dakota, checking structures for any of the several dozen protesters who had stayed beyond the Wednesday deadline to evacuate.
The Oceti Sakowin Camp was completely vacated shortly after 2:00 p.m. CST, the Morton County Sheriff's Department said in a statement. Forty-seven people were arrested on Thursday, said Maxine Herr, spokeswoman for the department.
About a dozen Humvee vehicles entered the camp at around 12:30 p.m. CST and a helicopter flew low overhead, with more police officers and National Guard members stationed outside the site.
Around 200 law enforcement officials from North Dakota, Indiana, Wisconsin and Alabama took part in the operation, Herr said.
"Things went very smoothly. We are very happy with the operations," she said.
Members of the Army Corps of Engineers, which owns the land where the camp was built, also began entering the site for cleanup efforts. By Thursday afternoon, heavy equipment was being used to tear down structures at the site.
"It's really hard being here right now but we know we need to be here because we know that they are wrong and we are right," said Raymond Kingfisher, 59, a protester from Seattle, Washington.
Some protesters were helping with cleanup efforts. Several buildings that were set on fire on Wednesday ahead of the deadline were still smoldering, sending acrid smoke across the camp.
Other protesters who stayed past the deadline said they were not afraid of another confrontation with law enforcement, which has clashed multiple times with demonstrators, resulting in more than 700 arrests.
"They have been pointing a gun at our head since day one, so the feeling of fear becomes pretty normal," said Jeremiah Barnes, 24, a protester from Oregon who has spent the past five months at the camp.
Thousands poured into the protest camp starting in August to oppose the 1,172-mile pipeline that Native Americans and environmental activists say threatens the water resources and sacred land of the Standing Rock Sioux Tribe.
But a push by President Donald Trump since he took office in January to quickly complete the $3.8 billion project has dealt a series of setbacks to those wanting to see the pipeline stopped or redirected from passing under Lake Oahe on the Missouri River.
The Army Corps of Engineers and Republican Governor Doug Burgum set a Wednesday afternoon deadline to clear the camp.
Energy Transfer Partners LP said Thursday that 99 percent of the pipeline is complete after receiving all necessary federal authorizations earlier this month.
Those in opposition to the pipeline used social media to generate widespread support from Hollywood celebrities, military veterans and politicians. During Energy Transfer Partners' earnings call on Thursday, one analyst said the project was "probably a PR failure," for the Dallas-based company.
"There is no way we can defend ourselves there," Kelcy Warren, the chief executive officer of Energy Transfer Partners, said during the call.
"There was a mistake on my part," he added. "I underestimated the power of social media. I didn't realize people could just say things that aren't true and freely do it, but they did."