North Dakota Man Dies After Fighting With Police Officers, Stealing Patrol Car and Crashing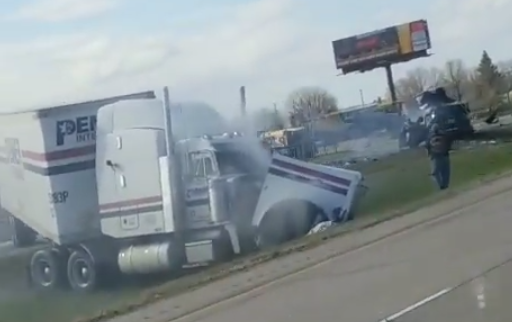 Police in North Dakota are investigating after a man who allegedly fought with officers and fled the scene in their police patrol vehicle was killed in a crash this week.
The fatal incident happened in Grand Forks yesterday at approximately 5:05 p.m. on Interstate 29. Footage of the crash has emerged on social media. The victim remains unidentified. A name will not be released until next-of-kin has been notified, the local police department said.
According to a media release, deputies had been sent to "check the welfare" of a man at a local business—but the situation quickly escalated after they found he had a warrant out for his arrest. The man allegedly resisted arrest and tried to lash out at an officer's firearm.
Grand Forks police said: "The fight was serious to the extent an officer's holster was broken while the male was attempting to disarm him. The male...fled the scene in the patrol vehicle."
In a clip uploaded to Facebook by user Louella Martin—which has since been shared thousands of times—an officer could be seen banging on the window of the patrol car as it sped away.
According to the police department, the suspect had initially traveled northbound on the I29 but later crossed the median and directly into the path of a tractor-trailer truck going southbound. The crash left the truck "disabled" and totaled the patrol car. The driver was found deceased.
In a separate video, uploaded to Facebook by user Isaac Dahl, the mangled remains of the police car could be seen between the highway lanes. Smoke billowed from the front of the truck. Dahl described the incident as "probably one of the craziest things that I have ever witnessed."
Referencing the collision with the driver and the large truck, Dahl told the Grand Forks Herald: He [the suspect] made a bee-line straight toward it. He just shot ... straight at it and hit it."
The truck driver was "shaken up" after the crash but not believed to be severely injured, Grand Forks Lt. Derik Zimmel told WDAZ News. Deputies closed the area for a few hours after the collision, resulting in "significant delays." Lanes have now reopened.
On Facebook yesterday, local police appealed for help from the public. It said: "This investigation is active and ongoing and the Grand Forks Police Department would ask anyone who may have information regarding this incident to contact investigators."