North Dakota man Akmal Azizov pleaded guilty to attempted murder October 7 after attacking a woman he believed to be a witch.
The Bismarck Tribune reports Azizov had stalked the woman for three weeks because he "needed to slay her." Azizov allegedly believed that the woman was "the cause of all the stress and negativity in his life" because she had cursed him.
Court documents at the pretrial in 2018 alleged a pre-existing relationship between Azizov and the woman, but that she had discontinued the relationship after Azizov told her about his "disturbing dreams."
Azizov allegedly began following the woman, a student at the University of North Dakota, and learning her schedule. He reportedly shattered the back window of her car. When the woman came outside her apartment, Azizov attacked her.
According to Grand Forks Herald, Azizov used an antique knife with a silver blade. Court documents alleged Azizov had conducted online searches for instructions on how to destroy witches and demons. He allegedly believed that using a silver weapon was the only way to kill a witch.
At the time, Azizov's attorney claimed the knife was not sharp enough to cause harm. The victim received several wounds, but none of them were serious enough to require hospitalization.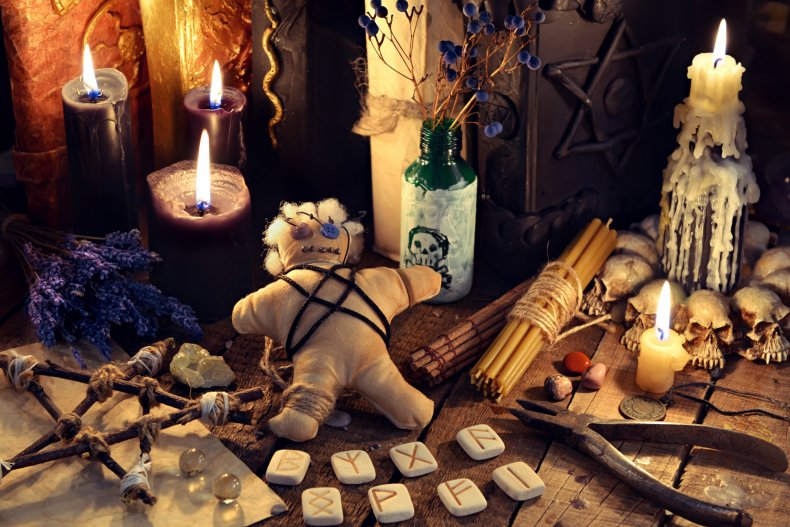 KFOR reported that when Azizov was arrested, he told officers that if he were bonded out, he would make another attempt to kill the woman. Theodore Sandberg, Azizov's attorney, claims his client suffers from schizophrenia. Azizov was allowed to receive mental health treatment at a behavioral health center, but left the treatment program voluntarily to return to jail.
Azizov's sentencing is scheduled for November 12. Along with the attempted murder charge, Azizov pleaded guilty to stalking and criminal mischief. He will spend at least four years in prison for the attempted murder charge.
Azizov is not a naturalized citizen and may face deportation to Uzbekistan when he is released.
While it has not been established if Azizov's victim was actually a witch, the hunting of alleged purveyors of witchcraft is still popular and lucrative and around the world.
The Economist reported in 2017 about approximately 150 women die each year for being a witch. If the mobs, usually comprised of a victim's neighbors and relatives, don't kill their intended target, then the alleged witches are ostracized or banished.
Often, people will not marry into a family where someone has been branded as a witch. This causes rifts within the families. But it sometimes turns out that a close relative is the one who instigated the witch hunt in an attempt to gain land owned by the alleged witch.