Petition Asks Donald Trump to Merge North and South Dakota to Become 'MegaKota'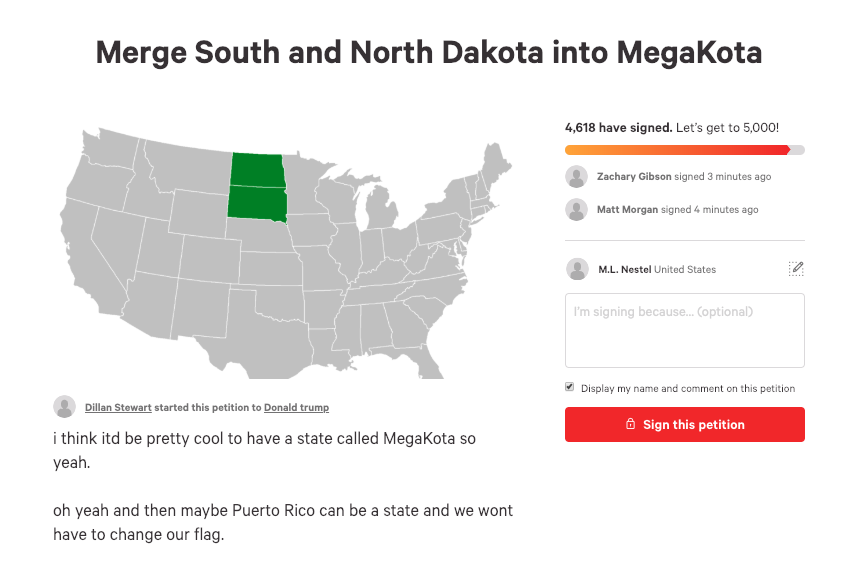 One person fed up with divisions in the country is setting out to make a change.
A petitioner wants to reimagine the Great Plains by doing away with North Dakota and South Dakota and blend them into one state to become: "MegaKota."
It's all the brainchild of a pioneering MegaKotan named Dillan Stewart.
Launched on Sunday, the petition comes off like a cartographer's wily daydream, almost half-heartedly hoping it would gain some traction and one day be considered by the 45th president.
"i think itd be pretty cool to have a state called MegaKota so yeah," the lark of a petition addressed to "to Donald trump."
It's riddled with typos and written in all lower case letters and ends in mid-thought.
"oh yeah and then maybe Puerto Rico can be a state and we wont have to change our flag."
In the aftermath of the Spanish-American War back in 1898, Puerto Rico became a U.S. territory. As the island-born population were recognized as U.S. citizens, a strong push has been made by politicians seeking statehood.
The two-sentence declaration of Dakota independence is set under a truncated map of the United States. While North Dakota and South Dakota are green, the rest of the states (minus Hawaii and Alaska and some of southern Texas and Florida) are grey.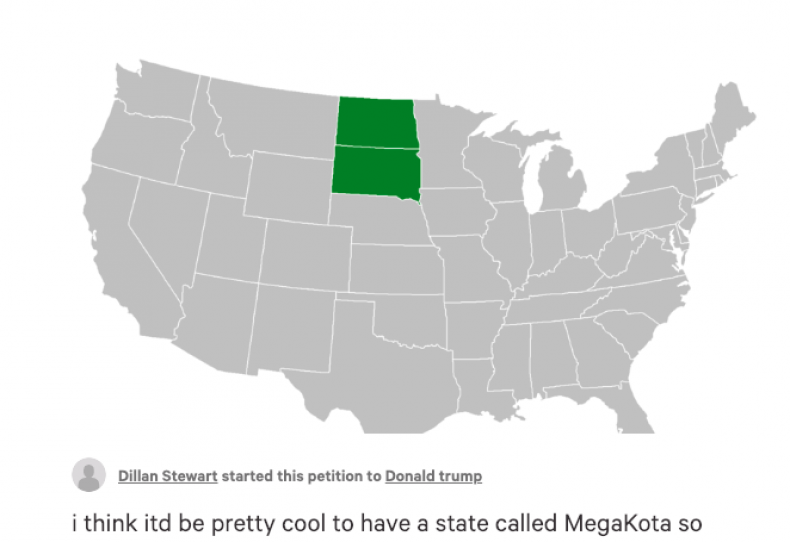 But the push is attracting interest.
Already, around 4,900 signatures (of the 5,000 goal) as of Wednesday morning.
On Tuesday, after local outlets picked up the petition, Stewart posted a mystified response of "wow" to the legions of MegaKotan backers.
"This made the news in north dakota and many other news sites. let's keep it going boys," the message reads before ending with the hashtag: "#MegaKota".
Some chimed in on why they signed Stewart's petition on the website Change.org.
Juan Neri wrote that he signed as a way to get North Carolina and South Carolina to come together. "I want to Unite both Carolinas."
Some just fancied the name.
"I want to see the world taken over by MegaKota," wrote Sam Schleif.
Ian Carey agreed. "Because Megakota, tough said," he wrote.
In a kind of self-deprecation, Haven Smith signed, won over by the idea because it would give the altered state a better identity, writing: "Because we would be known for something."
And others, like Ben Wasson, signed in solidarity to Stewart, and posted how the petition was long overdue.
"I'm signing because it's about damn time."