Democratic Socialists Pin Worn to White House by North Dakota State Football Player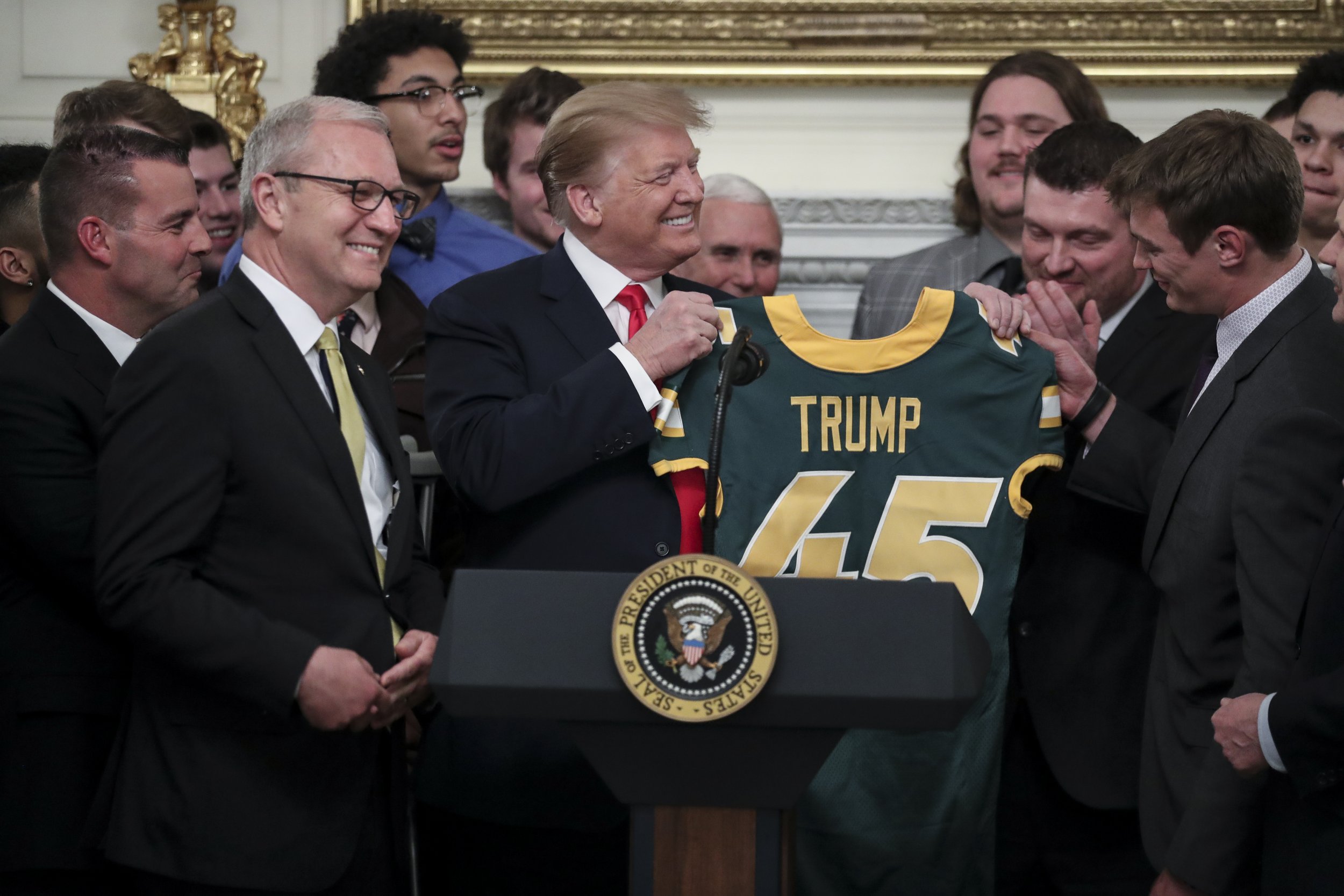 A college football player wore a Democratic Socialists of America (DSA) pin on his suit jacket during a visit to the White House.
North Dakota State offensive lineman Jack Albrecht was among the Bison players invited to visit President Donald Trump on Monday and he chose to do so by wearing a DSA pin.
The pin, which features a black hand and a white hand shaking surmounted by a red rose, was clearly visible on the pictures Albrecht posted on his Twitter account after his visit to the capital.
In one picture, Albrecht is stood in front of President Trump, but it is not known whether the latter noticed the pin or commented on it if he did.
According to The Hill, Albrecht is a member of the Red River Valley chapter of the DSA in Fargo, North Dakota.
A Facebook post from the local branch featured the same pictures Albrecht posted on his Twitter account.
"Democratic socialism is for every worker on earth," it read. "You, me and 6-5, 275lb champion offensive linemen invited to the White House."
Along with other Republicans, Trump has repeatedly lambasted the concept of socialism and used it as a stick to beat the Democrats with.
Speaking at the Conservative Political Action over the weekend, the President insisted "America will never be a socialist country" and that there were lessons to be drawn from the political crisis in Venezuela ahead of the 2020 elections.
"Socialism is not about the environment," he told the audience, as reported by CNN.
"Socialism is not about justice. Socialism is about only one thing, it's called power for the ruling class. Look at what's happening in Venezuela.
"The future does not belong to those who believe in socialism."
The President invited the Bison to the White House after North Dakota State won a seventh title in eight years in the Football Championship Subdivision.
The Bison went 14-0 during the season and beat Eastern Washington 38-24 in the championship game on January 5.
As was the case when the Clemson Tigers visited the White House in January after beating Alabama, the Bison were treated to a combination of Big Macs, Chick-fil-A sandwiches and French fries.
The Tigers' visit came during the government shutdown and Trump suggested he had to pay for the food himself. The government has now reopened but the menu wasn't very different on Monday night.
"I know you people," he remarked jokingly, as per a White House pool report.