North Dakota State Rep Apologizes for Sending QAnon Video to Fellow Lawmakers
North Dakota State Representative Terry Jones has apologized for sending a QAnon video to his colleagues, saying it was only for educational use.
The state lawmaker told the Bismarck Tribune he thought the video was "a message from the president that he couldn't get to us any other way," but he added, "Turns out it isn't what I thought it was, and so I apologize."
Jones told Forum News Service in a phone call Saturday, "I sent it to legislators for information purposes and we get information from all kinds of different sources at times, and we try to stay as informed as we can so we can properly represent our districts and the people that we are working for."
He added that he's appalled by what he considers censorship by media companies, and he wanted to ensure colleagues had everything they need to understand events in the country.
Although many believe that the video incited further violence following the insurrection on January 6, Jones said that the clip doesn't reference any violence and is not a call for action.
"There was no ill intent in any way," said Jones. "No attempt to pick sides with any opinions or thoughts. It was just so [lawmakers] would have it in their toolbox of information to serve their constituents."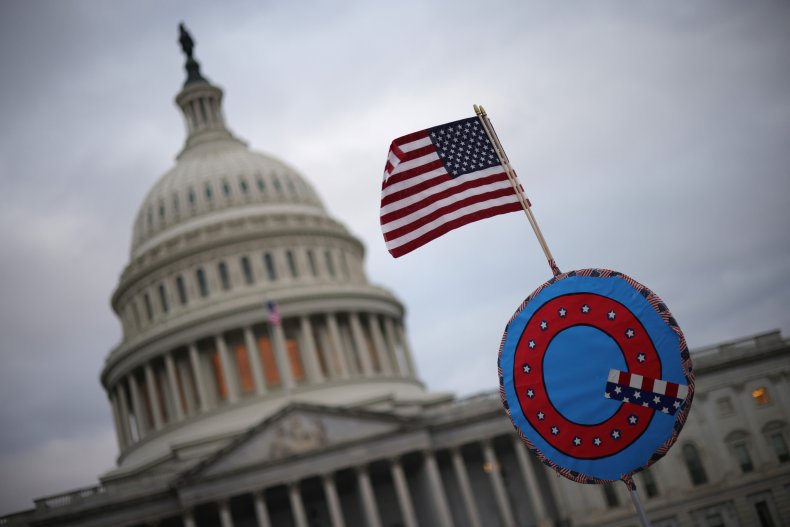 The 3-minute long video, titled "America Reborn," called for a "great reawakening" in the U.S. ahead of President-elect Joe Biden's inauguration on January 20.
The video was made up of old speeches by President Donald Trump, with lines such as "the time for empty talk is over, now arrives the hour of action."
It was first uploaded by filmmaker Matthew Scarboro on January 1. However, the video was shared more than 60,000 times Parler, a Twitter alternative prominently used by far-right conservatives, before the social media platform was recently suspended by Amazon, Apple and Google Play.
The clip also references a number of phrases linked to QAnon, a conspiracy theory based movement listed as a domestic terrorist threat by the FBI. Among them is "WWG1WGA," which stands for "where we go one, we go all," a rallying cry for the group.
Jones sent the video to all of North Dakota's state lawmakers early Saturday morning in an email without a corresponding message, according to Forum News Service.
Jones since said he cannot verify any of the information in the video, but wanted lawmakers to form their own conclusions.
North Dakota House Majority Leader Chet Pollert told The Washington Times that Jones "should pick and choose" to whom he sends videos in the future. Pollert added Jones "has to live up with that decision to send it out," and he "should be a little more careful of the content."
In an emailed statement to Newsweek, Jones said he "apologized for not vetting the source. I thought it was important and appropriate, but I sent it on the wrong forum."