North Dakota Superintendent's Scathing Email Slams CRT, Compares Democrats to Nazis
A North Dakota school district superintendent called critical race theory "bigotry cloaked in academic theory" and compared the Democratic Party to Adolf Hitler in a recent email that was sent to school administrators across the state.
A copy of the email from Starkweather Public School District Superintendent Larry Volk was obtained by Forum News Service and published on Thursday. Volk sent the email to a mailing list run by the North Dakota Council of Educational Leaders, according to Forum News Service correspondent Jeremy Turley.
In the message, Volk said he felt it was "time to move away from godless corrupt woke, left-wing ideology and back to the devout Christ centered Republic the founders envisioned."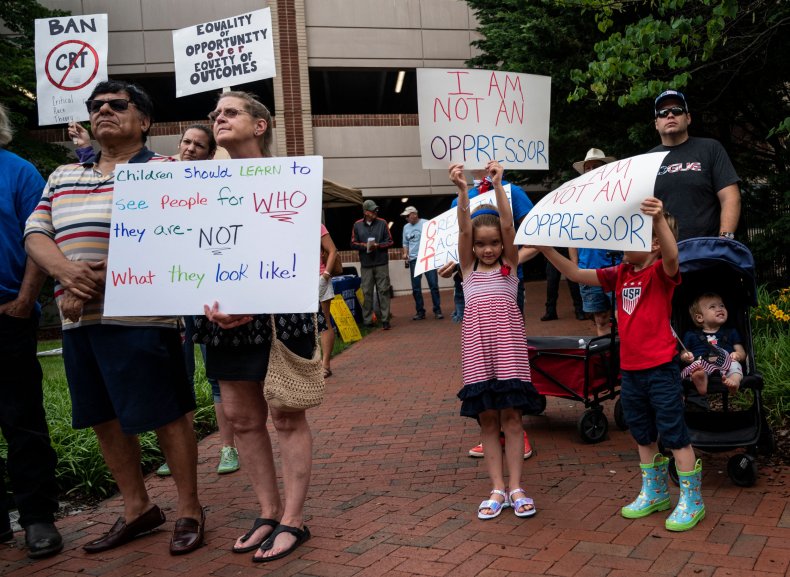 In a statement emailed to Newsweek, Volk described his motivation for sending the email.
"My goal is simple—teach our founding history from the perspective of the Founders, exploring their words, reading our founding-era documents and show how the Declaration of Independence affirmed the equality of all humanity as the Founders said, 'created equal.' We do not need to transform America; we need to get back to teaching our founding heritage," he wrote.
Volk told Forum News Service he had meant to email the message out to one person but mistakenly sent it out to the mailing list for the North Dakota Council of Educational Leaders.
In his email, Volk said he had been upset about a supporter of critical race theory speaking at the council's 2022 summer conference. Turley reported that a woman responding to a phone call at the council office characterized the incident described by Volk as untrue but would provide no further comment.
Volk's email to the council also said "there is no systemic racism in America created by the Founding Fathers—the racism is the project of the godless Democrat party that has rejected god, family, and America and embraced secularism in the form of Marxism."
Volk's email also linked Democrats to the enslavement of Black people and said the party "embraced the culture of death" by favoring pro-abortion rights, a move he likened to Hitler replacing people's names with numbers.
The superintendent also said that Democrats supporting the "racially motivated riots (Military wing of the Democrat Party—Antifa and BLM) for political gain shows how they continue to use race as a wedge to drive people apart."
Volk continued, "Critical Race Theory is a bigoted politically distorted view of American history that uses racist language."
As Turley reported, there is no evidence that critical race theory has been taught in North Dakota schools, yet last month Republican Governor Doug Burgum signed a bill into law that prohibits the theory from being taught in public schools.
Chris Berg, president of the Starkweather School Board, told Forum News Service he supports the superintendent's views.
"I know Mr. Volk very well and know exactly what his views are," Berg told the news outlet. "I completely back his views 100% and we agree completely on that. We are very tired of the woke leftists pushing their garbage on the school systems and the United States as a whole."