North Dakota Will Reopen Businesses This Week Despite Rise in Coronavirus Cases
Republican North Dakota Governor Doug Burgum announced on Monday that the state's shuttered nonessential businesses will be allowed to reopen on May 1 if the state continues to see a low rate of coronavirus cases.
However, Governor Burgum's announcement coincides with a resurgence of new cases in the state with 75 new cases being announced Monday, the state's second-highest number of new cases since its previous high of 89 cases on April 18.
Mike Nowatzki, Communications Director for Governor Burgum's office said that the that the governor noted in his announcement that the 75 cases "came on a record day for testing in North Dakota – 1,987 tests, for a positive test rate of 3.8 percent. By comparison, the 89 cases on April 18 were from only 621 tests, for a positive test rate of 14.3 percent."
"One of the criteria Gov. Burgum outlined for a ND Smart Restart was widespread, rapid testing capacity, and the state has made significant progress in that area," Nowatzki wrote to Newsweek.
On March 19, Governor Burgum closed the state's schools and non-essential businesses including its entertainment and sports venues, gyms, barbers, nail salons, massage parlors and dine-in service for all bars and restaurants.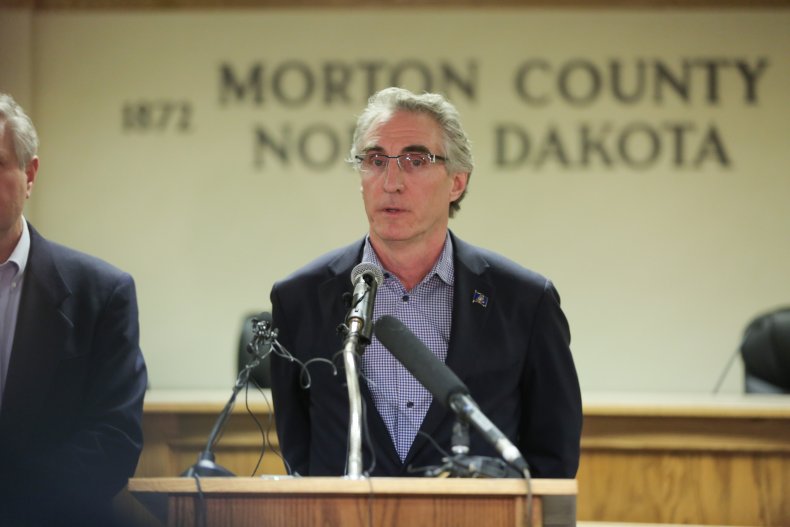 In his announcement, Burgum said these businesses can reopen on May 1 as long as they follow a not-yet-announced set of standards to help reduce citizen exposure to coronavirus.
"We've come a long way together, and when we started this, (I) said we're well-prepared and well-positioned," Burgum said. "I would say as we start this new phase, we're well-prepared and well-positioned."
Schools, however, will remain closed statewide as teachers continue online and mail-in instruction. Visitors won't be allowed to see friends and relatives in nursing homes yet either.
Furthermore, Burgum asked seniors and at-risk populations—like people over the age of 65, immunocompromised citizens, anyone with diabetes, obesity, a chronic heart or lung diseases—to wait an additional two weeks before patronizing reopened businesses.
The governor based his decision to reopen the state's businesses on eight criteria including the ability of the state's health care facilities to take on new patients, an increase in available testing and the capability to trace newly infected patients.
Although the state counties of Cass and Grand Forks have seen a rise in cases over the last two weeks, Burgum said he didn't want to keep their businesses closed for fear that county residents might travel to nearby counties to visit their opened businesses instead. Cass and Grand Forks contain 33 percent of the state's population.
Like other governors, Burgum has faced pressure to reopen businesses to avoid economic hardship for state residents. Earlier this month, 13 conservative state lawmakers signed a letter asking Burgen to reopen businesses to lessen the "immeasurable social and economic harm" it has taken on the state.
"The governor said today he's fine taking greater risks with the health of North Dakotans, and we hope people don't get sick or die as a result," said Kylie Oversen, chairwoman of the Democratic-NPL Values political party.
"We're concerned he's caving to orders from Washington and those in his party who have publicly refused to follow his executive order any longer. We will hold judgment until the new rules and guidelines are announced," Oversen said.
Correction: A previous version of this story said the reporter reached out to Governor Burgen's office for comment before publication, but the reporter left a voice message with a misdialed number.