North Dakota, Wisconsin and Missouri Report Most COVID Infections Since Start of Pandemic
Over the last 14 days, the states of Missouri, North Dakota and Wisconsin have had their highest-ever averages of new COVID-19 cases, marking a surge in three red states that initially experienced low case numbers early into the epidemic.
As of Wednesday, Missouri had a 14-day average of 1,419 newly confirmed COVID-19 cases a day, North Dakota had a 14-day average of 295 new cases a day and Wisconsin had a 14-day average of 1,160 new cases a day.
A White House "red zone" report released last week listed Missouri as the fourth highest state in the country for having 100 new COVID-19 cases per 100,000 state residents, according to KMIZ-TV. The report also listed Missouri's coronavirus positivity rate as the seventh highest in the nation with over 60 percent of all Missouri counties reporting moderate or high levels of community transmission.
The Missouri Hospital Association also reported three of the state's four highest-ever days for coronavirus-related hospitalizations last week.
Missouri is currently hosting Bikefest Lake of the Ozarks, a long weekend event that's expected to draw 125,000 people to several counties with the highest COVID-19 transmission rates. The event has some worried residents that it may create a new spike of infections similar to the 260,000 cases connected to the recent Sturgis Bike Rally held in South Dakota during early August.
Newsweek contacted Bikefest Lake of the Ozarks for comment.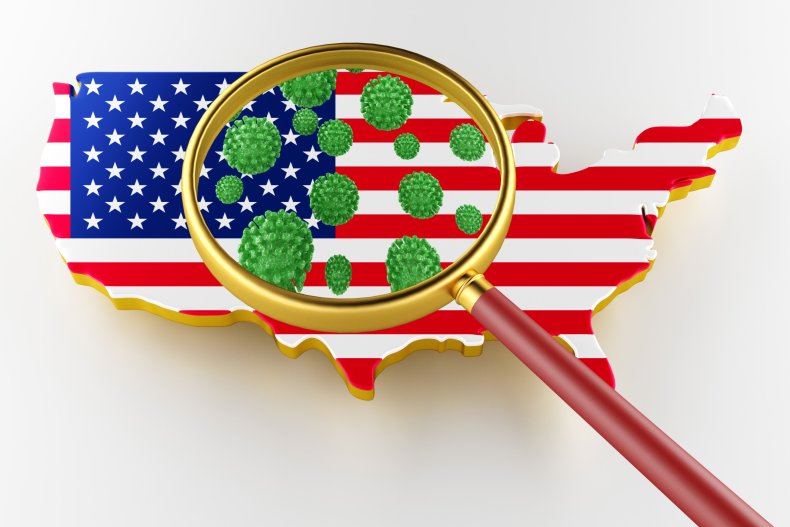 While North Dakota Republican Governor Doug Burgum had declared a state of emergency and urged residents to wear facemasks early on into the epidemic, the state has never implemented a statewide mandatory mask mandate.
On Wednesday, the Associated Press reported that a statewide educational campaign to persuade North Dakotans to wear masks and socially distance hadn't begun, even though the state had received $1.8 million in federal coronavirus funds for the campaign about a month ago.
On Thursday, Democratic North Dakota gubernatorial candidate Shelley Lenz unveiled her own COVID-19 response plan which included a mandatory facemask order and restrictions on indoor gatherings. She used the plan as a way to contrast her to Burgum, her political opponent.
On Tuesday, The New York Times revealed that Wisconsin has eight cities where COVID-19 cases are rising at an alarming rate. The publication placed those cities on a list of the 20 U.S. cities with the fastest increase of new coronavirus cases.
On Thursday, Republican President Donald Trump held a campaign rally in Wisconsin's Marathon County, a county that has seen a significant increase in cases in the past two weeks, according to the state's health department. Trump's rallies often feature maskless attendees not socially distancing.
Also, 42 players and staff associated with the Wisconsin football team have recently tested positive for COVID-19, according to the Associated Press. The team is part of the Big Ten Conference expected to resume games soon despite initially choosing not to due to the epidemic.