North Dakota's New COVID-19 Cases Are Double the Number of Hospital Beds Available in State
North Dakota's health system is not only facing a surge in coronavirus cases but also dwindling resources to care for those infected patients.
On Monday, North Dakota's department of health reported 475 new COVID-19 cases—a figure double the number of non-ICU hospital beds available in the state.
The state agency confirmed to Newsweek that there are currently 240 non-ICU staffed inpatient beds available across the state's 45 health facilities. As of Monday, October 12, there are 158 hospitalizations in North Dakota.
Only 20 ICU beds are available at this time and more than half of those beds are located in the city of Fargo, with six beds at Essentia Health, four at Sanford Health and one at VA Hospital. Fargo is part of Cass County, the county with the largest number of positive COVID-19 cases—902 active cases as of Monday.
Renae Moch, the director of Bismarck-Burleigh Public Health, told Newsweek the severity of the virus is taking a toll on all of the state's hospitals.
"The larger hospitals are always staffed and meant to be run at a high level of occupancy," Moch said in an email. "That is how they manage efficiency and margins for their facilities, but in my lifetime, North Dakota has not seen anything like this where all hospitals are being impacted at the same time."
"This has the potential to lead to the cancelation of elective surgeries to free up hospital beds, which means potential delayed care for patients. At its worst, we could have nursing ratios stretched to where care becomes potentially less safe," she added.
These concerns even greater in a state like North Dakota, where even before the public health crisis, there was a shortage of nurses—a critical problem exacerbated by the virus.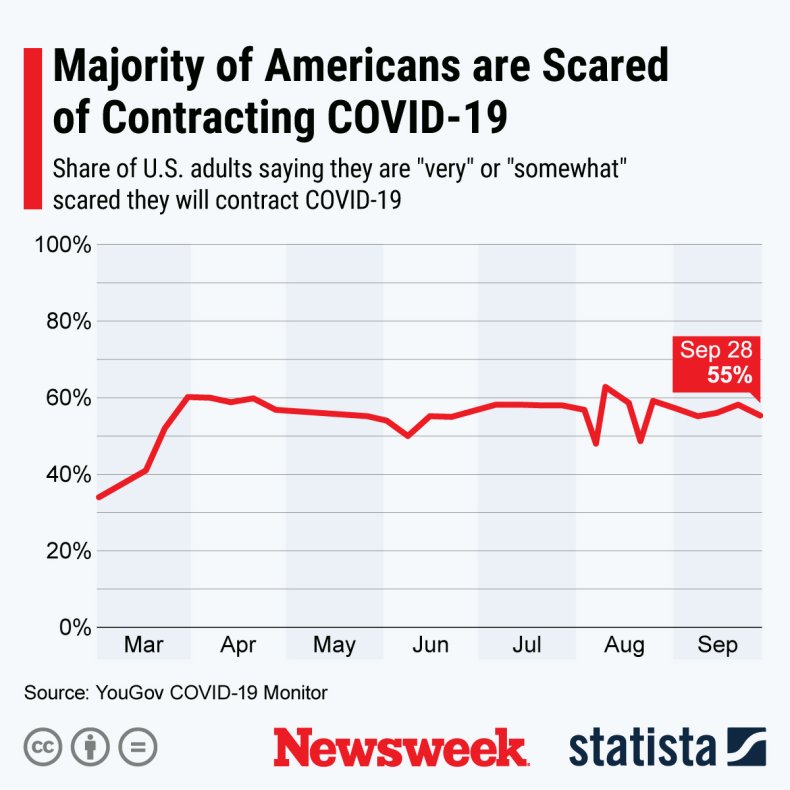 North Dakota has recorded a steady rise in infections since the July Fourth long weekend. On Friday, October 9, the state reported a record high of 651 new cases.
"The number of cases continue to climb due to the fact that many in the community are carrying on activities as they did prior to the pandemic," Moch said. "There are large gatherings and weddings taking place with no social distancing measures implemented and a majority do not wear masks in public which leads to increased cases and clusters."
With over 4,500 active cases, the department of health is currently reporting a daily positivity rate of nearly nine percent.
Despite the growing number of coronavirus cases, Republican Governor Doug Burgum has refused to issue a statewide mask mandate to help curb the spread of the virus.
"Our elected officials, at this point in time, have declined to institute mask mandates, or mandatory limits on gathering sizes," Moch said. "Instead, they have encouraged residents to take 'personal responsibility' to wear masks and socially distance."
While Burgum has said that "masks are essential," he said mandating the wearing of masks will not work in his state.
"I'm still hoping in my heart of hearts that North Dakota can step up and figure out a way to get it done [through] local leadership and local execution," he said in a September 8 press conference. "Maybe in some other states, [mandates] might work, but in North Dakota it doesn't matter what we do or what we say, there are people who will not wear a mask."
Burgum has argued that forcing residents to wear a face covering may only "create more divisiveness."
However, without government enforcement of health and safety guidelines, the state's coronavirus cases are solely dependent on the cooperation of the community.
"The lack of enforcement makes our jobs in public health very difficult as we try to reduce positivity rates in our state," Moch said.
Over the course of the pandemic, North Dakota has reported 27,737 confirmed cases of COVID-19 and 345 coronavirus-related deaths.
Newsweek reached out to the state department of health for additional comment but did not hear back before publication.