The North Face Flight Vectiv Review: Carbon Fiber Hits the Running Trails
The North Face debuted new trail running shoes that demand attention because they include a carbon fiber plate in the midsole. The addition of a carbon fiber plate has been a growing trend in road shoes because it allows for more energy return with minimal weight increase. On a firm surface, the benefits are consistent and pretty obvious. But adding a carbon fiber plate to trail shoes seems less certain to offer the same benefits because of the varied terrain. The question is, Does it work?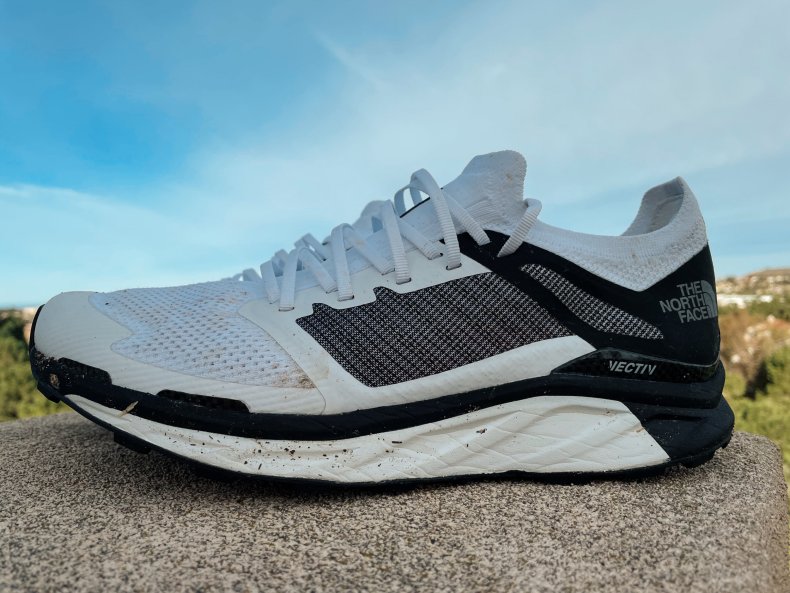 Including a carbon fiber plate typically bumps up a shoe's price quite a bit. The Flight Vectiv starts at $199, so it lands outside an impulse buy, even if you tend to be flexible with your running-shoe budget.
The summary here is that The North Face Flight Vectiv is a solid and very capable trail shoe. It's definitely worth considering. While a trail shoe with a carbon fiber plate doesn't seem to be as effective as a road shoe with one included, it does more than nothing.
Styling and Fit
The Flight Vectiv is an attractive shoe, initially available in the stark, but overall safe, black-and-white colorway. My wife is critical of plenty of running-shoe styles, but she complimented Vectiv's look, too.
The heavy use of white in a shoe designed to go off-road seems curious to me. Ultimately, though, dirt is a given here, and so it won't matter much after a few outings.
Be aware: Out of the box the Flight Vectiv does have a tight fit. I wear a U.S. size 10.5, and I almost couldn't fit my foot into the knitted-sock-style opening. Once my foot was in, the top section of the upper, which starts at the beginning of the tongue and extends about halfway down the laces, felt extremely constricting.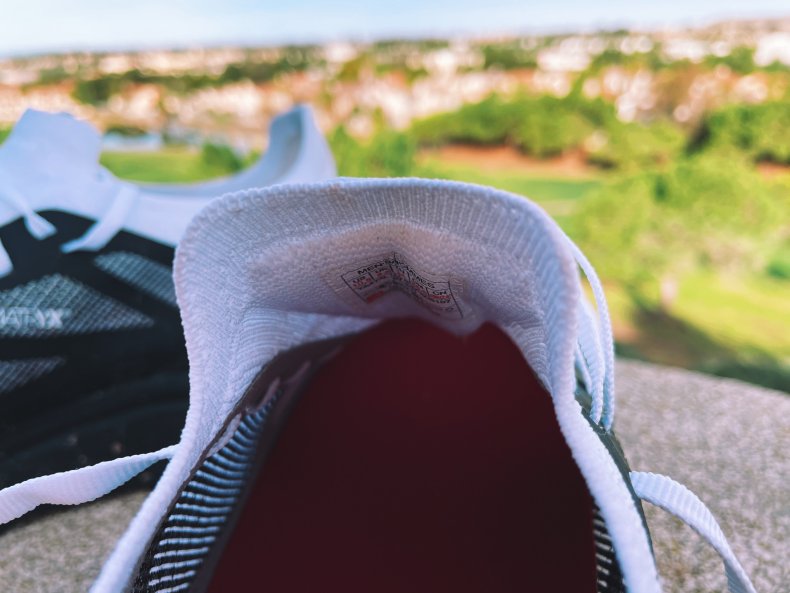 I wore the shoes around the house for about an hour before my first run to see if they would do some initial stretching. They didn't. After my first 30-minute run, I was aching to get out of them. Would sizing up from a U.S. 10.5 to a U.S. 11 make the fit better? Maybe. The shoe has enough length in the toe though, so increasing the size might present other unintended issues. Luckily, the tightness was not as pronounced on the second run. By the third run, the fit was starting to feel more secure and less constricted. By the second week of running in them, the squeezing sensation was gone.
Michael Thompson, senior director of footwear for The North Face, shared some insight into the sizing with me. "The sock-like, seamless bootee construction of the Flight Vectiv upper is intended to be snug and hug your midfoot. Depending on your foot type (high instep, etc.) it can initially be tight in this area. I have a higher instep, and I have noticed that they do fit snug at first and tend to relax a bit over the instep after a few runs."
It can be hard to get past the discomfort of a shoe if it's too tight on the top midfoot, but the other aspects of the Vectiv's fit were all delightful (which made the initial tightness all the more disappointing). The heel hook was thick and plush and felt fantastic. It kept my heel locked in, even with extreme hill climbs and descents.
Features
The Flight Vectiv's advertised features and specs:
Abrasion-resistant and superdurable Matryx panel—made with Kevlar and polyamide
Reinforced toe cap
3D carbon-fiber plate underfoot for multidirectional stability and forward propulsion
3D-molded heel counter
6 mm toe-to-heel offset
3.5 mm lugs for a rugged grip
TPE footbed
Sole Unit: VECTIV technology designed to maximize energy on the trail
Approximate weight (½ Pair): 10.05 oz. (285 G)
Stack height: 25 mm/19 mm
Performance
The feel of a carbon fiber plate, like the one Nike has added to several of its styles, has been immediately obvious when I've used the shoes for running on the road. I could sense the energy return in various ways. Saucony added a nylon plate to its Endorphin Speed, and that, too, has been discernible during my weekly 10K runs. The carbon fiber and nylon plates have a similar feel, though the latter is less pronounced.
The Flight Vectiv's carbon fiber plate was less noticeable, even running on the road before getting to the trails. The outsole and midsole are stiffer than a road shoe when it comes to dealing with uneven terrain, and I think that blunts some of the plate's raw impact.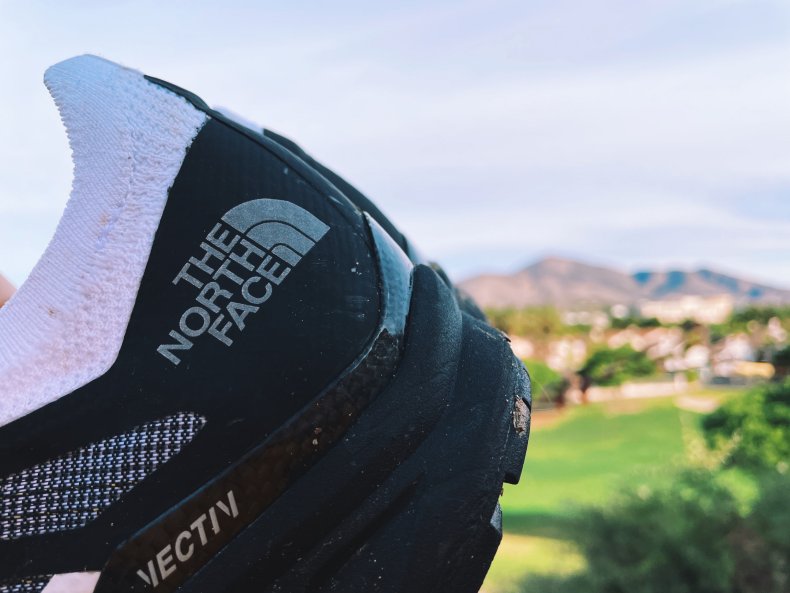 Hitting gravel paths and off-road trails put the Vectiv to the test, and they fared well over the first 35-plus miles. (Shockingly, they stayed cleaner than expected.) While using the Vectiv, I kept an eye on traction and energy return: Could they keep my feet from faltering in an off-road situation, and were they pulling their own weight to keep me moving forward?
Up steep dirt hills and rocky paths, the outsole performed as expected. The traction was impressive and held on to the elements well. I purposefully put the Vectiv's through puddles, rain and mud. The one time they didn't perform a miracle was up a steep hill that had turned to mud. It was too slippery for the 3.5 mm lugs to cut through. Still, throughout all the dry conditions they locked onto the ground quite well.
The upper sock's knit tongue is quite thin and breathable, but it doesn't feel flimsy. In light rain for 20-minutes or so, my socks still remained dry. My feet were cold, but that wasn't from being damp or sitting in a pool of water.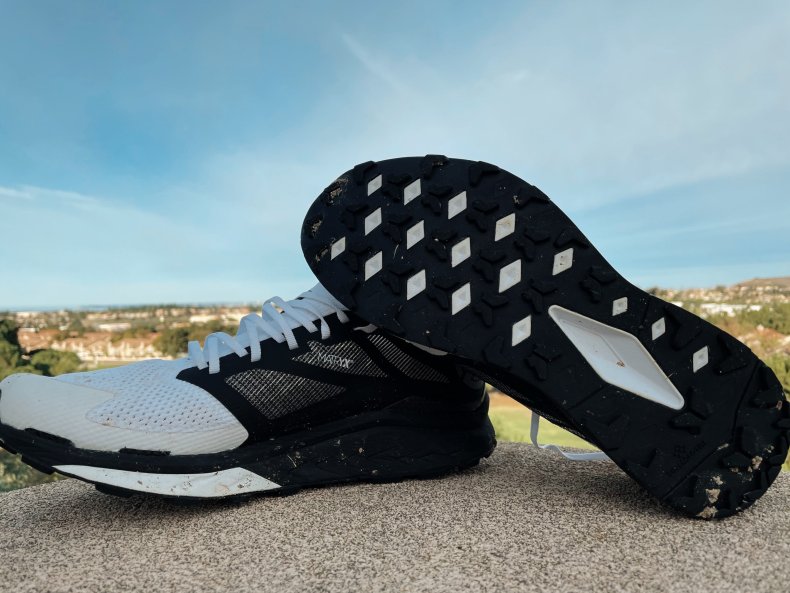 A shoe's long-term durability is always difficult to guess. I had two pairs of Zoom Fly 3 get holes in the same spot on the toe after a couple hundred miles, though none of my other shoes have ever had that same problem. Trying to guess how Vectiv's knit upper and outsole will hold up over the months is tough to tell. Right now, they look like they'll last for a long time and don't present any areas of concern.
In all the initial running across all types of terrain, off road and a little on the road, I found myself constantly trying to find a definitive answer to how much the Flight Vectiv's carbon fiber plate was boosting my performance—especially as I ran over rocks, patches of soft sand or dirt trails. I just couldn't find that answer. The addition of the plate is just less definable on uneven, varied terrain. I appreciated the shoe's solid, firm foundation, even though its overall stiffness takes some time to get used to. Unfortunately, I never had the moment I could point to and say, This is the reason Vectiv's carbon plate is a must-have feature.
Should You Buy the Flight Vectiv?
If you're looking for new trail shoes, give the Flight Vectiv a look. They're a great overall pick. The shoe is stylish, capable and might be able to shave some time off your trail personal record. The carbon fiber plate should boost the shoe's impact, a least a little bit, but it likely won't feel revolutionary.
Once more trail shoes incorporate a plated design, it will be a little easier to do direct comparisons. But for now, consider the Flight Vectiv a good trail shoe with a secret weapon. Though simply including a carbon fiber plate doesn't seem to be the magic bullet that it was when road shoes initially added the technology.
Buy at The North Face, Fleet Feet and Good Sports.
Newsweek may earn a commission from links on this page, but we only recommend products we back. We participate in various affiliate marketing programs, which means we may get paid commissions on editorially chosen products purchased through our links to retailer sites.