North Korea Says U.S. Ties Have 'Shifted Into Despair' Two Years After Kim Jong Un and Donald Trump First Met
North Korea's top diplomat has admonished the United States and its approach to affairs on the Korean Peninsula in the past two years since the historic meeting between supreme leader Kim Jong Un and President Donald Trump.
The two men became the first in their position to meet during a bilateral summit in Singapore on June 11-12, 2018. Their meeting sought to reverse course on relations that have for decades been defined by mutual animosity and, though the initiative initially met modest success, budding U.S.-North Korea ties have since steadily frayed as North Korean Foreign Minister Ri Son Gwon said in a press statement carried Thursday by the official Korean Central News Agency.
"What stands out is that the hope for improved DPRK-U.S. relations—which was high in the air under the global spotlight two years ago—has now been shifted into despair characterized by spiraling deterioration and that even a slim ray of optimism for peace and prosperity on the Korean peninsula has faded away into a dark nightmare," Ri said, using an acronym for North Korea's official title.
"The desire of the peoples of two countries to put a period to the world's most antagonistic relations between the DPRK and the U.S. and to open a new cooperative era of peace and prosperity runs deep as ever. Yet the situation on the Korean peninsula is daily taking a turn for the worse," he added.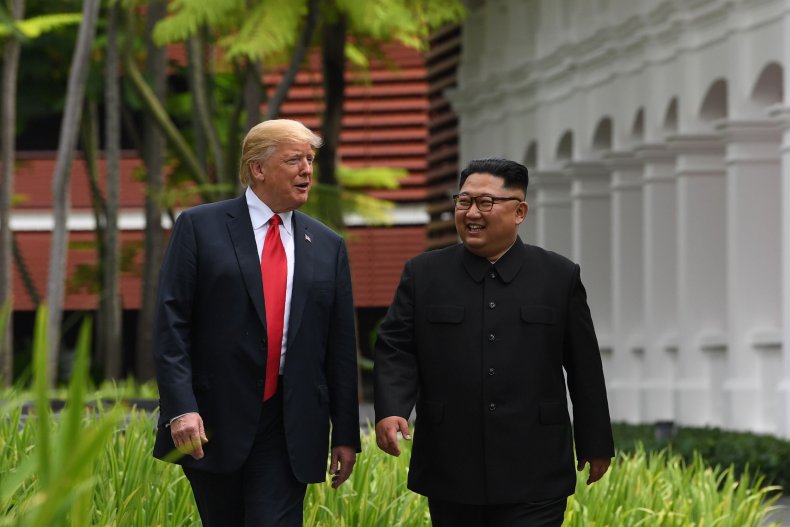 KCNA reported Monday that ruling Korean Workers' Party Central Committee Vice-Chair Kim Yong Chol and First Vice Department Director Kim Yo Jong—who is Kim Jong Un's sister—decided to sever all inter-Korean lines of communication in retaliation to South Korea's perceived inaction on the practice of defectors spreading leaflets disparaging the North Korean government, KCNA reported Monday.
The move was the most serious setback yet in what was once a promising reconciliation process between the two Koreas, who have been divided since the 1940s and went to war in the 1950s. Kim Jong Un met with South Korean President Moon Jae-in three times in 2018, twice before the North Korean leader's meeting with Trump and once afterward in rare summits that produced deals geared toward thawing long-frozen ties.
As no progress was made after subsequent U.S.-North Korea meeting in February of last year and a meeting between all three heads of state that June, the denuclearization-for-peace process stalled significantly, leaving inter-Korean ties to unravel as well.
In Ri's statement Thursday, he argued that North Korea had destroyed its nuclear test site, repatriated the remains of missing and detained U.S. troops who fought during the Korean War, released U.S. prisoners and suspended longer-range and nuclear tests, while the U.S. has continued to hold joint drills with South Korea and conduct flyovers viewed as provocative by Pyongyang.
"The secure strategic goal of the DPRK is to build up more reliable force to cope with the long-term military threats from the U.S.," Ri said.
North Korea has since resumed shorter-range missile testing and threatened to debut a "new strategic weapon" to the world after a year-end deal deadline imposed by Kim Jong Un passed without any agreement with the U.S. Both Moon and Trump have publicly expressed a desire to return to peace talks, though no further high-level meetings have been arranged.
South Korea's Unification Ministry has announced measures to crack down on the distribution of political leaflets at the border, even filing a criminal complaint earlier Thursday, however, there has been no discernible effect on Pyongyang's cold-shoulder to Seoul.
In a separate statement published Thursday, a North Korean Foreign Ministry spokesperson lashed out at the United Nations for expressing "regret" over the recent breakdown in ties between Pyongyang and Seoul. The unnamed official expressed "astonishment over such reckless remarks - devoid of the common sense of judgment."
"It is the shabby and double-dealing behavior of the UN Secretary-General that he does not say a word when the sovereignty of the DPRK, a full-fledged member of the UN, is severely infringed, yet he never misses opportunity to raise his subservient expression of 'regret' whenever the U.S. and its vassal forces are picking on our self-defensive measures," the spokesperson said.