North Korea Again Claims That Country Has No COVID Cases
In a new report to the World Health Organization (WHO), North Korea has again claimed it has recorded zero coronavirus cases, maintaining its self-described perfect record since the start of the pandemic.
The country has said that since 2020 it has not recorded a single case of the virus because of its efforts to quickly shut borders, prohibit tourism and quarantine tens of thousands of people.
On Wednesday, a WHO representative to North Korea said that the country has tested 23,121 people for the virus from the beginning of the pandemic until April 1 and that all results were negative, according to the Associated Press.
For more reporting from Newsweek's David Brennan, see below:
The regime began closing off the country's borders in January, 2020 as outbreaks appeared in bordering China and South Korea. The inter-Korean border is heavily militarized and nearly impassable, but the northern border with China is porous and a key source of imports and income for the impoverished country.
Nonetheless, Pyongyang, the country's capital, severely restricted the movement of people and goods across the border, slashing imports from China by some 96 percent in March 2020, compared with March 2019.
It was even reported that Kim Jong Un had left Pyongyang to shelter from the virus at the exclusive east coast seaside resort of Wonsan. The dictator disappeared from view for several weeks last year, prompting speculation he had died or was otherwise incapacitated. American intelligence officials suggested he was in Wonsan to avoid exposure to the coronavirus.
For all Pyongyang's grand claims of success, there have been reports of outbreaks within the country. Last March, the South Korea-based Daily NK website suggested that at least 1,800 North Korean soldiers had succumbed to the virus, with thousands more in quarantine after exposure.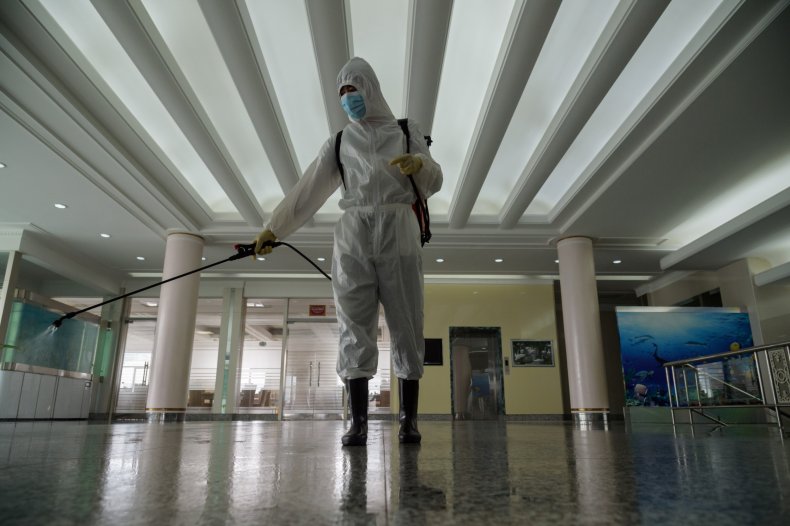 For more reporting from the Associated Press, see below:
At the beginning of the pandemic, North Korea described its efforts to keep out the virus as a "matter of national existence." It shut its borders, banned tourists and jetted out diplomats. The country still severely limits cross-border traffic and has quarantined tens of thousands of people who have shown symptoms.
In an email to the AP on Wednesday, Edwin Salvador, WHO's representative to North Korea, said the North said 732 people were tested between March 26 and April 1.
WHO officials say the North is no longer providing the U.N. agency with the number of people it quarantines with suspected symptoms.
Meanwhile, South Korea announced that it is temporarily suspending administrating AstraZeneca's coronavirus vaccine to medical workers and people in long-term-care settings 60 years old or younger as health authorities in Europe investigate a possible link between the shots and rare blood clots in adults.
South Korea has so far administered the first doses of coronavirus vaccines to about 1 million people after beginning its mass immunization program in late February.
The country's vaccinations have so far relied mainly on AstraZeneca shots produced by local firm SK Bioscience. The suspension comes as South Korea on Wednesday reported 668 new virus cases, its highest daily jump in nearly three months.